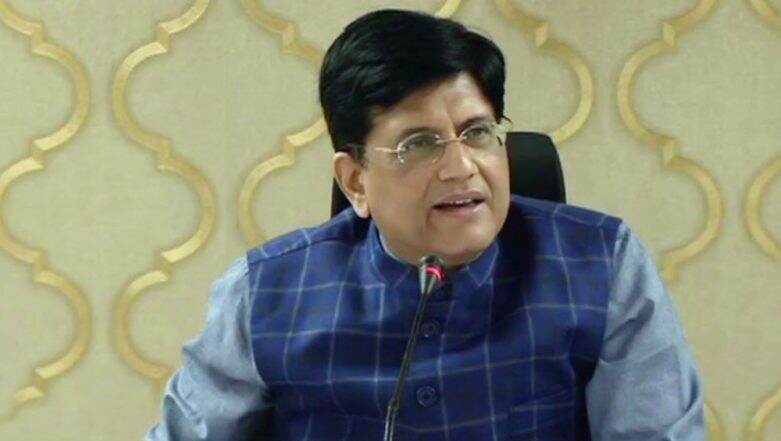 New Delhi, September 12: Union Commerce Minister Piyush Goyal made a gaffe on Thursday as he asked the media to not go into numbers for looking at India's development under the Narendra Modi regime, saying, "Maths never helped Einstein discover gravity." Attending a Board of Trade meeting on Thursday, Goyal lashed out at experts questioning the Modi government's $5 trillion economy dream in view of low GDP.
"Don't get into the calculations that you see on television. Don't get into this maths. Maths have never helped Einstein discover gravity. If we had only gone by structured formulae and what was past knowledge, I don't think there would have been any innovation in the world," Goyal said during the meet.
Watch: Piyush Goyal Says 'Maths Didn't Help Einstein Discover Gravity'
Why should Nirmala have all the fun? Piyush Goyal has just delivered a blockbuster dialogue

"Don't get into calculations about the economy. Don't get into maths. Maths never helped Einstein discover Gravity" 🙄

Millennials and Maths are the problem. Not Modi Govt. Understood? pic.twitter.com/JCoCIbdoxp

— Srivatsa (@srivatsayb) September 12, 2019
Goyal's statement, which is now going viral on social media, comes just days after Finance Minister Nirmala Sitharaman blamed the "millennial mindset" for automobile crisis in the country. Netizens are also wondering whether it was Albert Einstein or Newton who discovered gravity. Nirmala Sitharaman Blames Millenials' Mindset for Auto Slowdown, Says They Prefer Uber, Ola Over Buying Vehicles.
Watch: Piyush Goyal's Full Address at Board of Trade Meeting
On Tuesday, Sitharaman blamed the millennials and their mindset for the auto sector slowdown. The Finance Minister said that the automobile industry had been affected by the BS6 norms. She also said that millennials preferred cab aggregrators like Ola and Uber rather than "committing to buying an automobile."
Who Discovered Gravity?
It is said that in 1687, English Mathematician Sir Isaac Newton discovered gravity. This was further explained by Albert Einstein with the theory of general relativity. While Newton's theory was superseded by Einstein's general relativity, most gravitational calculations even today are made using Newton's theory as it is considered to be simpler.