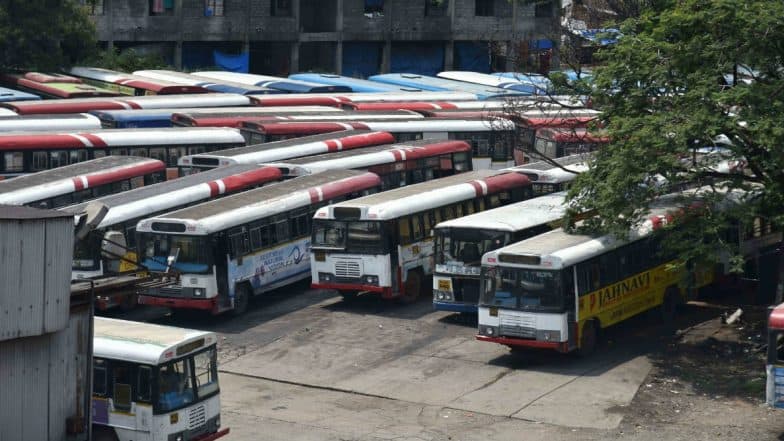 Hyderabad, October 7: After Telangana Chief Minister K Chandrasekhar Rao sacked 48,000 employees Telangana State Road Transport Corporation (TSRTC), a Joint Action Committee (JAC) of protesting employees have called for a meeting later in the day to chalk out their further course of action. Agitating transport employees alleged that KCR wants to privatise the TSRTC, adding that their strike was under the law. Nearly 50,000 employees are on indefinite strike since Friday midnight. KCR Govt Spent Funds Without Assembly Approval: Telangana BJP Chief.
"The chief minister is planning to privatise the RTC showing our strike as an excuse. He is making baseless allegations against the striking employees and resorting to intimidating tactics. We are not going to succumb to any pressures," JAC chairman E Ashwathama Reddy was quoted by Hindustan Times as saying. The KCR government on Sunday refused to tack back 48,000 striking employees issuing orders to recruit new employees and hire more private buses. Cracks Emerge in TRS, Two MLAs Question Pace of Development in Telangana Under KCR.
"We have given strike notice under the law. The Chief Minister has suspended about 50,000 employees who were on strike. This is injustice and against the rule. KCR has not given us jobs nor has he established TSRTC," Ragavulu, Zonal Secretary, said. Rao declared that there is no question of taking back the employees into the state-owned transport utility because they did not join the duties before Saturday evening deadline that was set by the government.
"Now only 1,200 employees left in TSRTC," a statement from Chief Minister's Office quoted him as saying. This means the government has sacked remaining 48,000 odd employees. No formal announcement about the sacking has been made though. Meanwhile, the protest rally called by striking leaders at Indira Park was called off as the Hyderabad Police refused to give permission for the same.
"We have specific information that the JAC leaders are planning to mobilise thousands of people. It might lead to disturbance to peace and create law and order breakdown. So, we won't allow any meeting at Indira Park," city joint commissioner of police P Vishwa Prasad was quoted as saying.