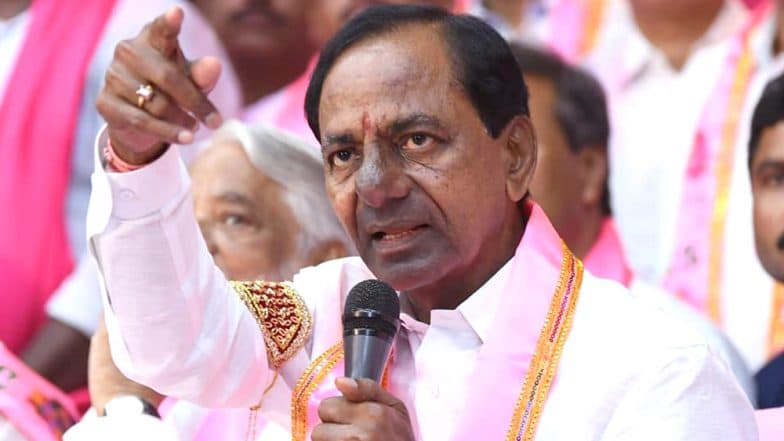 Hyderabad, September 5: A rift has come to fore in Telangana Rashtra Samithi (TRS) after two MLAs went public in questioning the pace of development in the state under Chief Minister K Chandrasekhar Rao, also known as KCR. Speaking at an event on Thursday, TRS legislator Rasamayi Balakishan said not much had changed in the education sector in the state over the last few years, News18 reported. Telangana: KCR to Implement Special Action Plan for Village Development.
The apparent criticism of the KCR government came a week after TRS MLA and state Health Minister Etela Rajender questioned the leadership of KCR. "Rajender and I can only speak the truth. We became a part of the Telangana movement based on facts and dreamt for a separate state. However, nothing much has changed since then except the name," Balakishan said at an event to celebrate Teachers' Day. Telangana: KCR Asks Collectors to Prepare Plan for Forests Revival in State.
Rajender, who represents Huzurabad Assembly constituency, was also present at the programme. A week ago, he too criticised the KCR government. "People and not individuals create. I never asked for ministry under the Backward Class (BC) quota. I got it on the basis of my agitation for separate state. We are not beggars and did not join the part mid-way. We are party's founders and brought it to power," he had said.
Following an intervention by TRS working president KT Rama Rao (KTR), who is also CM KCR's son, the health minister issued a statement saying his remarks were not aimed at any individual and that he believed in his leader, KCR. Earlier, KTR slammed TRS leaders who criticised the KCR government, saying those enjoying ministries should not forget it was because of the party.
Reacting to Rajednra's criticism followed by the clarification, the Congress party attacked KCR. "Rajender had revealed his pain but had to withdraw his statements out of KCR's fears," Telangana Congress working president and Malkajgiri MP Revanth Reddy.