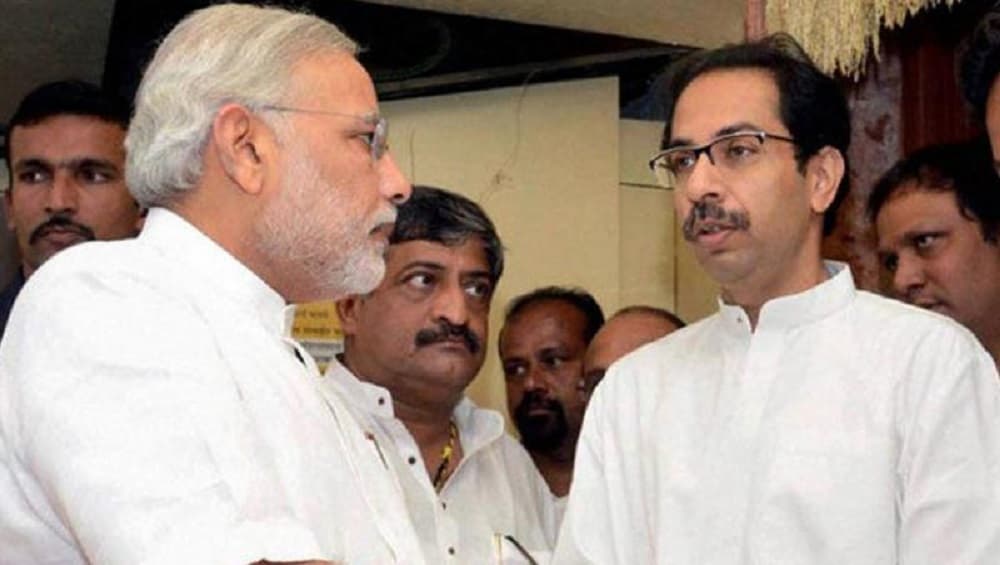 Mumbai, November 27: Maharashtra CM-designate Udhhav Thackeray on Wednesday sent an invitation to Prime Minister Narendra Modi for his swearing-in ceremony.  In addition to an invitation letter, Thackeray also had a word with PM Modi over the phone.  The oath taking ceremony is scheduled to take place on Thursday at 6:40 pm at Shivaji Park. The Shiv Sena chief will be the first member of the Thackeray family to hold a constitutional post. Uddhav Thackeray Swearing-In: Poster Carrying Old Pictures of Bal Thackeray With Indira Gandhi And Sharad Pawar Put Up Near Sena Bhawan.
On Wednesday, Uddhav Thackeray called on Governor Koshiyari at the raj Bhavan. He was accompanied by his wife Rashmi for their courtesy visit to the Governor's House. Late on Wednesday, Uddhav's son Aaditya Thackeray met Congress Interim President Sonia Gandhi and former Prime Minister Dr Manmohan Singh in Delhi and invited them to his father's swearing-in ceremony. Several other politicians, including all Congress Chief Ministers, have also been invited.
Uddhav, who spearheaded the Shiv Sena after taking over reins from his father Bal Thackeray, was on Tuesday unanimously elected as the leader of the Maha Vikas Aghadi, comprising the alliance of the Shiv Sena, the Nationalist Congress Party (NCP) and the Congress. A delegation of the Maha Vikas Aghadi late on Tuesday met Governor Koshyari and staked claim to form the government. Uddhav Thackeray to Take Oath as Maharashtra CM at Iconic Shivaji Park Today, Swearing-In to Witness Historic Shiv Sena-NCP-Congress Bonhomie.
The voting for 288-member Maharashtra assembly took place on October 21 and the results were declared on October 24. The BJP emerged as the single largest party with 105 seats. The Shiv Sena bagged 56 seats. The political stalemate erupted in the state after the Thackeray-led party refused to support the saffron party in the government formation. The Shiv Sena then formed an alliance with Congress and NCP.