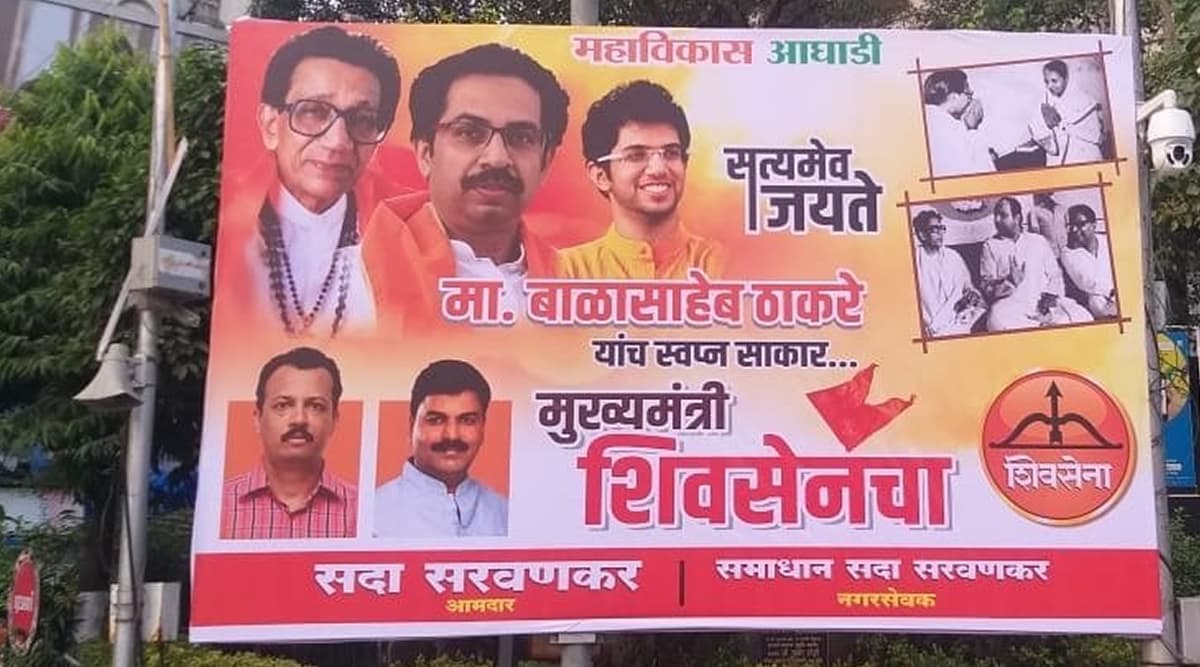 Mumbai, November 27: A day before the swearing-in of Shiv Sena President Uddhav Thackeray as the next Chief Minister of Maharashtra, posters with pictures of Bal Thackeray and Indira Gandhi were put up near Sena Bhavan in Mumbai. The poster read, "Balasheb Thackeray's dream fulfilled, Chief Minister from Shiv Sena." The poster also had images of Uddhav and Aadtiya Thackeray. Maharashtra Government Formation: List of Probable Ministers From Shiv Sena, NCP and Congress.
The hoarding which was put up near Uddhav's swearing-in venue, carried old pictures of Bal Thackeray with Sharad Pawar. Uddhav, who will be the first CM from the Thackeray family, will take oath as Maharashtra CM on Thursday at 6:40 pm at Shivaji Park. Governor Bhagat Singh Koshyari will administer the oath of office.
The Shiv Sena chief was elected as the leader of Maha Vikas Agadi - the alliance of Sena with Congress and Nationalist Congress Party (NCP) hours after Devendra Fadnavis resigned from the CM post on November 26. A delegation of the Maha Vikas Aghadi late on Tuesday met Governor Koshyari and staked claim to form the government.
Fadnavis's resignation came after the Supreme Court ordered a floor test in the Maharashtra assembly while hearing a petition of the Maha Vikas Aghadi against his swearing-in on Saturday. Rebel NCP leader Ajit Pawar also resigned from the post of deputy CM. Later, Pawar returned to Maha Vikas Agadi. Don't Be Surprised if Shiv Sena Comes to Power Even in Delhi, Says Sanjay Raut.
In the new government, the Shiv Sena and the NCP will have 15 ministers each, while 12 ministers will be from the Congress apart from the Speaker's post. The elections for 288-member Maharashtra assembly took place on October 21, and the results were declared on October 24. The Bharatiya Janata Party (BJP) won 105 seats. The Shiv Sena bagged 56 seats. The Congress and the NCP clinched 44 and 54 seats respectively. The political stalemate erupted in Maharashtra after the Shiv Sena refused to support BJP to form the government.