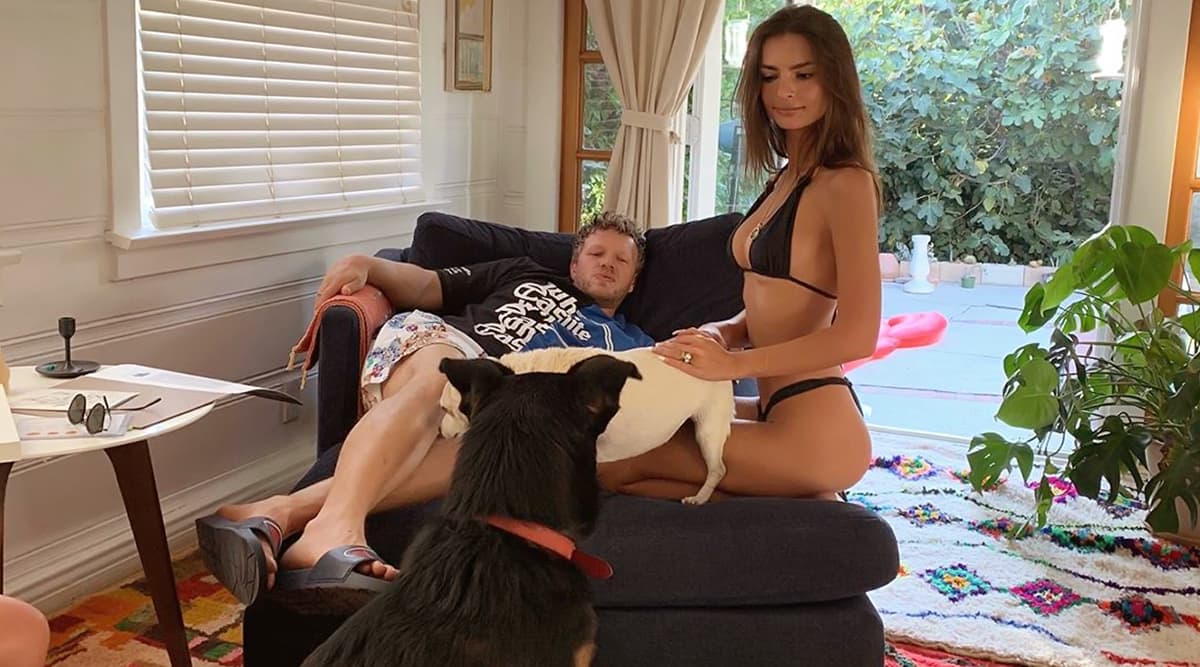 Emily Ratajkowski posted a smokin' hot picture of herself on Instagram in a barely-there black bikini that also featured her husband and two dogs. For, Ratajkowski that is just a normal Tuesday, BUT for us? We are still busy trying to breathe, first of all! All you can see in the picture is Emily posing casually looking sexy as hell in her living room and that's enough to make your day. Her husband, Sebastian Bear-McClard was seen lying in casual attires at home comfortably while in printed shirts and a deep blue coloured tee. We cannot be jealous of him enough for living with someone who can rock a racy bikini at home so brilliantly.
The family picture captured the relaxed mood in the living room of their California home. But Ratajkowski took away all our attention(after the cute dogs) as she sat on the large lounge chair with her legs tucked underneath her behind. Her itty bitty bikini had string detail and it is assumed that her bikini was a little something from Inamorata swimwear line.
Take a Look At the Picture:
View this post on Instagram
Emily Ratajkowski and super sexy bikinis make a superhit combo. Not only can she don a bikini at the beach but also in her living room like a fashion goddess. Not just that, she also plays with her bikini-bralet look creatively. Just a few of months back, Emily Ratajkowski aced one of the best fashion outings we saw on the first day of NYFW was of Emily Ratajkowski who wore a chic bikini top from her Inamorata Woman clothing line and HOW! All she had to do was throw a blazer on top of what she was wearing and BOOM.
Emily Ratajkowski doesn't just look amazing but is also a woke woman. Ratajkowski's armpit hair picture on the cover of Harper's Bazaar September issue is a perfect example. She wrote a mind-blowing essay on what it means to be hyper-feminine and it has all the answers you need.