The Met Gala is one of the biggest fashion events of the year and of course, the Kardashian/Jenner sisters always make sure to make it even more special with their extravagant fashion. Among the Keeping Up With the Kardashians clan, Kim Kardashian, Kendall Jenner and Kylie Jenner are regular attendees of the Met Gala and make sure to make heads turn with their outfits every year. Kim Kardashian first made her Met Gala appearance in 2013. This was the time when Kim has heavily preggers with North West but that didn't stop her from making a statement at the charity event. Kendall Jenner, on the other hand, made her MET gala debut with Topshop in 2014. Kylie Jenner made her first ever Met Gala appearance in 2016 and has been a regular ever since. Best Of Beyonce From Met Gala: How Queen Bey Continues To Prove That Her Style Game At The Red Carpet Is Ultra Cool!
Kim Kardashian at the Met Gala: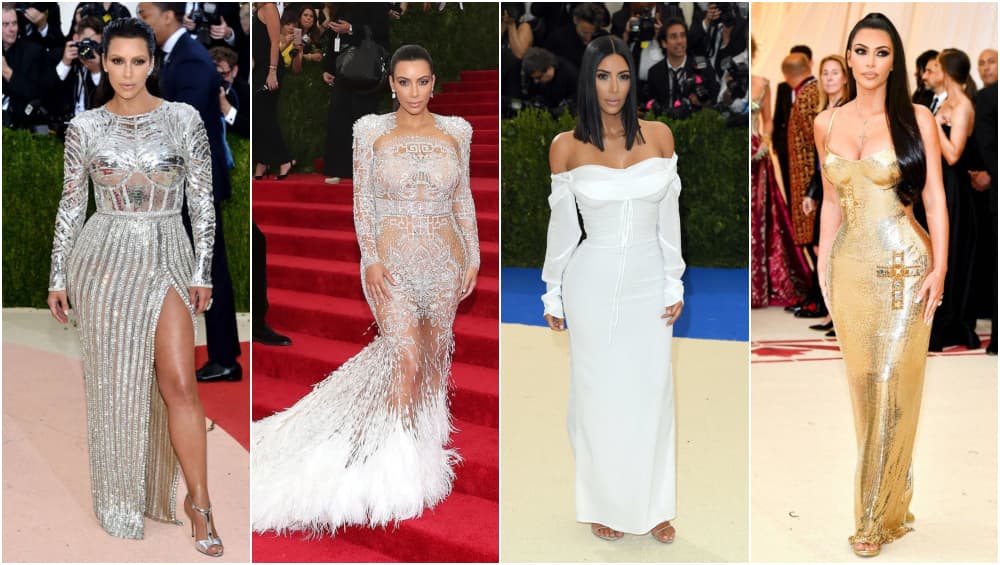 Kim Kardashian's Met Gala debut outfit in 2013 had left fans divided. It was a skintight custom Givenchy floral gown complete with matching gloves and a high leg slit. It not only received a lot of criticism from fashion critics but also became an internet meme of sorts. The year after that, Kim toned things down with a blue Satin gown by Lanvin. It was neither great nor bizarre
In 2015 though, Kim didn't repeat her mistakes and went for a Roberto Cavalli beaded sheer gown with feathers. That really caught everyone's attention and she even said it was one of her favourite looks. As for the 2016 theme, "Manus x Machina: Fashion in an Age of Technology", the KUWTK star went all out as she woe a dazzling Silver outfit by Balmain. Talk about being blingy all the way!
Just a few months after the much-reported robbery, Kim turned up in a simple avatar, an all-white Vivienne Westwood gown during the 2017 Met gala. Although, many think that her best outing at the fashion event has been last year when she looked like a golden statuette in the stunning Versace gown and nailed the "Heavenly Bodies" theme. Met Gala 2019 Celebrates Camp Fashion: Check Out Met Gala Themes of Last 19 Years.
Kendall Jenner at the Met Gala: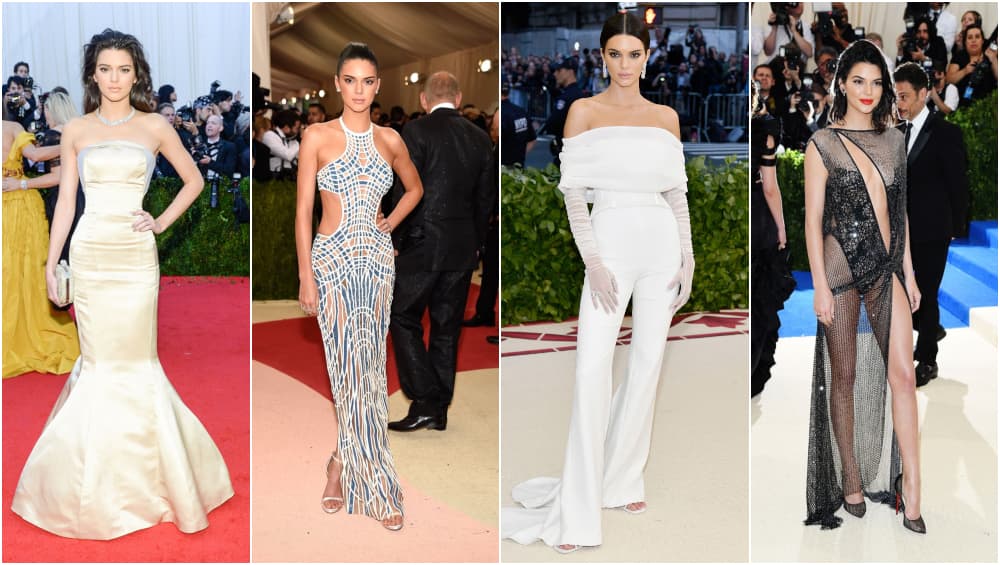 Kendall Jenner's style file has improved over the years. Her first appearance at MET gala 2014 was quite simple and we are yet to see the drama that was to unfold in the next few years. Kendall took things a notch higher in 2015 when she chose to go with a Calvin Klein emerald ombre Calvin Klein dress, laced up the side. She was just 19 but totally rocked that look. Year by year, Kendall kept making a statement. In 2016, Kendall Jenner wore a laser cut-out velvet Atelier Versace dress designed with blue Swarovski details. She looked stunning as he flaunted her perfect curves.
Although, Kendall truly made a splash in 2017 with a rather controversial outfit that left little to the imagination.  The dress's open back also revealed a major a matching black thong. In terms of sheer dresses, this look of Kendall Jenner is still considered to be a winner.  After her nude-dress drama,  the 22-year-old runway regular choose to simple for the 2018 Met Gala, wearing an off-the-shoulder white long-sleeve Off-White bustier with a matching set of wide-leg trousers and Tiffany & Co. jewels.
Kylie Jenner at Met Gala: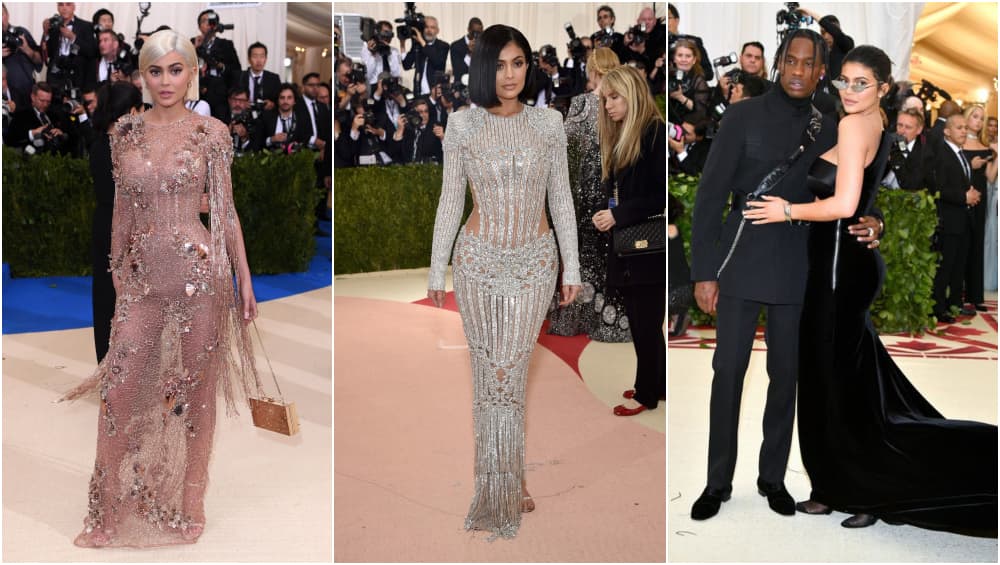 Kylie Jenner managed to make heads turn at her debut Met gala wearing an embellished Balmain gown.  The make-up giant heiress looked brilliant in her first appearance itself.  In 2017,  she sported a platinum bob wig and Versace, naked dress.  Kylie looked like a doll in the sheer dress and we totally loved the look.  In 2018, Kylie and Travis Scott attended the Met Gala red carpet together for the first time since she gave birth to their daughter Stormi. Kylie paired her Alexander Wang gown with dark shades.
With 2019's Met gala all set to take place in a couple of days, we can't wait to see what the Kardashian/Jenner sisters have in store for us. Tell us which of these looks did you find the hottest.