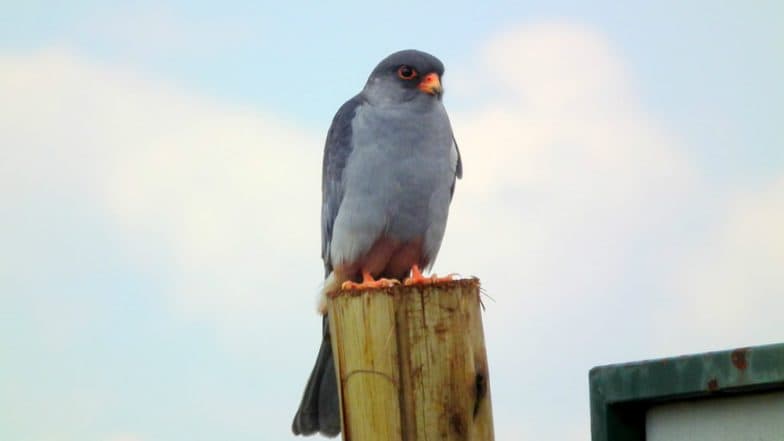 The Nagaland government organised a three-day event called Amur Falcon Conservation Week 2018 to promote eco-tourism and attract tourists.  Nagaland Governor, PB Acharya attended the inaugural event held at Polytechnic Institute, Ashaa in Wokha on Thursday. Department of tourism and department of environment, forest and climate change (EF&CC) organised Amur Falcon Conservation Week programme at Doyang Project Site, NEEPCO Wokha from November 8-10, 2018.
Amur Falcon is a small raptor bird of the falcon family which weighs around 150 grams. The males are mostly grey in colour and the females have dark-streamed cream. The species migrate to Wokha district in Nagaland during October. Thousands of falcons undertake one of the longest migrations to reach the Indian state during that time. World's Most Beautiful Bird Mandarin Duck Graces New York City's Central Park (See Pictures)
Over the years, most bird catchers in Nagaland have turned bird lovers. The birds eat various insects helping farmers and are now known as the friends of the tribals. While they breed in southeast Russia and northern China, they migrate across the Arabian Sea between their breeding and wintering grounds.
In Tamenglong, the tribals see these birds as messengers of God. They believe its arrival to be the indication of a good year and a bountiful harvest.  Amur falcons fly 5,600 km non-stop from Mongolia to northeast India in five days and nights. This is just a small part of its 22,000 km circular migratory journey with briefly halting in Myanmar.
While previously there used to mass hunting on these birds, recently people have come together in conserving the bird. The first Amur falcon dance festival was held in the district in 2015. The Amur falcon is protected under the Indian Wildlife Protection Act, 1972. Some highlights of this year's programme include zip-line thrill, zorbing, boating, angling, camping beside experiencing Lotha cuisines such as Doyang fish and vegetables.