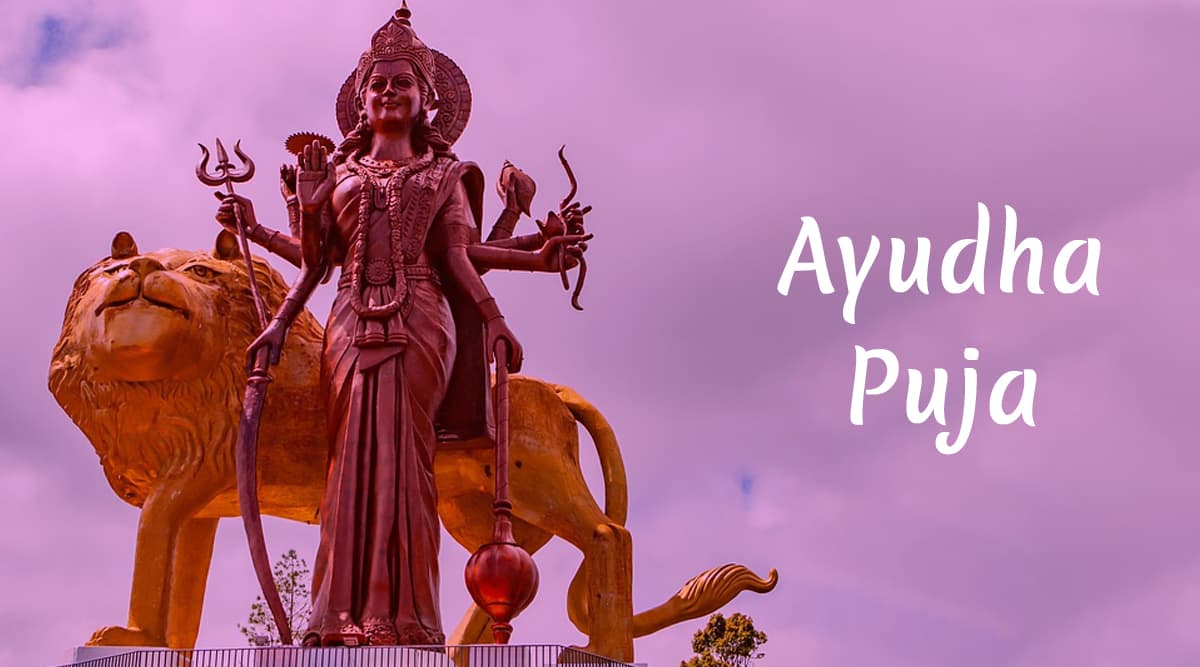 Ayudha Puja is an important part of the Hindu festival Navratri which is widely celebrated in India. Also known as 'Astra Puja' the observance means 'worship of instruments'. It falls on the ninth day of Navratri, a day ahead of Dussehra. Ayudha Puja 2019 is celebrated on October 7. For Ayudha Pooja, people worship tools which are used in one's daily life. People also keep weapons in front of Goddess Durga as she used it to kill demon King Mahashashur. Dussehra 2019 Date And Information: Know Significance And Celebrations Related to Vijayadashami.
It is believed that keeping the instruments in front of the Goddess will ritually purify it. In South Indian states, Ayudha Puja is celebrated as Saraswati Puja wherein children keep their books and other materials of study on an altar and pray to Saraswati for wisdom and understanding. Ayudha Pooja is widely celebrated in the states of Tamil Nadu, Telangana, Andhra Pradesh, Karnataka, Maharashtra and Kerala. Dussehra 2019 Ritual: Here's Why Apta Leaves or 'Sona' Are Exchanged on Dasara or Vijayadashami.
Ayudha Puja Story And Significance
According to Hindu mythology, Ayudha Pooja celebrates the victory of good over evil where, Goddess Durga who took the form of Chamundeshwari killed Mahishasura. The weapons she used in killing the demon were kept aside and never used again. According story says that on Vijaya Dashmi, Lord Arjuna took away his weapons from the Vani Trees which was kept hidden during his period of exile. As it happened on Viajayadashmi, the day is considered auspicious and hence is believed to be a great day to begin businesses.
Ayudha Puja Customs, Traditions And Practice
On Ayudha Pooja, people clean their tools, polish it and smear it with sandal paste and kumkum. It is then placed on an altar in front of God's idols and is decorated with flowers. While children keep their books and other instruments; elders keep tools related to their profession. Special sweet preparations made of rice and jaggery are prepared on this day.
While the day is celebrated to commemorate the victory of Goddess Durga's victory over the demon king, different regions of the country have varying celebrations attached to it. Although beliefs, traditions, customs and practice change in different parts of the country, the core element of the festival celebrates the victory of good over evil.