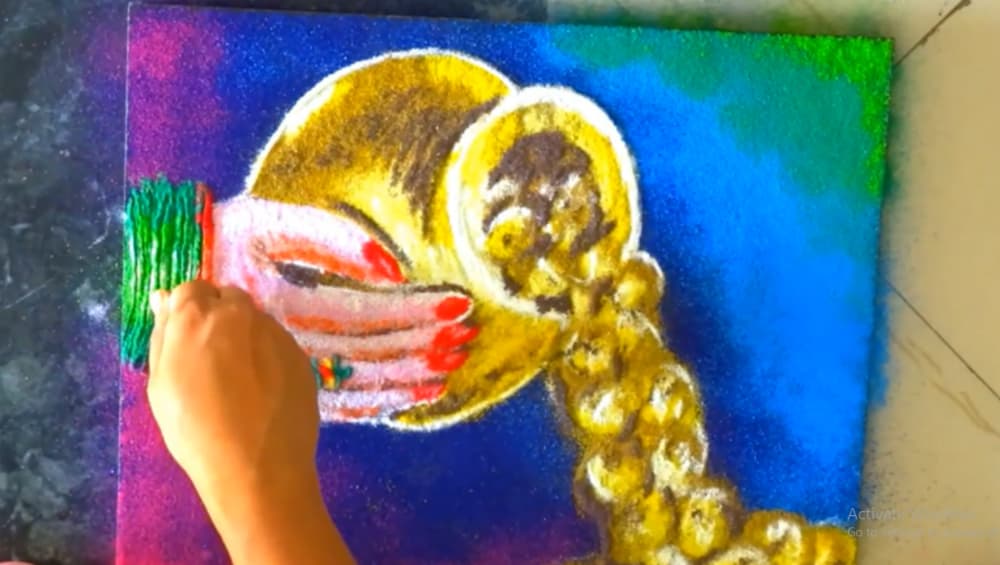 Most of us are yet to get over with the Navratri festival and here comes another celebration, knocking the door- Diwali. This year, the primary day of the festival of lights falls on October 27. And the auspicious festival of Dhantrayadashi is tomorrow, October 25, 2019. It is the first day marking the celebration of Diwali. The festival is not only limited to traditions and rituals. But the Diwali decorations of every household that charms the festive season. The decorations can ever be completed without the colourful patterns gracing the tiles at your house, welcoming Maa Lakshmi. Every corner should glow up with lights and earthen lamps, beautifully placed along with the rangolis and pookalams, being the centre of attraction. We understand there are a lot of other preparations to be done before you welcome Goddess Lakshmi. Hence, we present you the best and easiest Dhanteras 2019 special rangoli ideas and images. They are quick to prepare, and the pookalam designs are sure to impress the guests attending your Deepavali party.
Dhanteras Special Rangoli Design: 
The easiest way to create a beautiful rangol is to outline the design before you add colours to it. The video quickly guides you to make a colourful pattern keeping the Dhanteras celebration in mind. Rangoli Designs for Diwali 2019 With Marigold Flowers: Latest Rangoli Patterns and Pookalam Ideas to Celebrate Deepavali. 
Dhanteras Special Pookalam Pattern: 
This video too begins with the idea of drawing the pattern beforehand on the floor, before adding marigold flowers in it. Do not forget to place the elegant Kalash at the centre that signifies the celebration of Dhantrayodashi. The idea is simple and best for last-minute preparation of Pookalam pattern. Simple Rangoli Patterns With Colours and New Pookalam Designs With Marigold Flowers for Deepavali. 
Dhanteras Special Rangoli: 
This is the most effortless designs of all. With minimum effort, the artist shows you how to make a quick Rangoli for Dhanteras festival. Apart from the pattern, you can add any colour you want and finish the rangoli by adding some props such as an earthen lamp to brighten up space. Diwali 2019 Rangoli Designs Using Pulses, Grains and Flowers: Here's How to Decorate Your House Creatively This Deepavali. 
Dhanteras Special Rangoli Idea:  
This is slightly tough but is worth a try. The Rangoli pattern rightly describes the significance of celebrating Dhanteras. It is not advisable for beginners as the process is quite time-consuming. But like we said, worth given a try. Latest Dot Rangoli Designs For Diwali 2019: New and Easy Rangoli Patterns With Dots and Colours to Decorate Your House This Deepavali. 
These were a few easiest Dhanteras Rangoli and Pookalam ideas that you can try to grace the floors at your house. Celebrate the auspicious festival of Dhantrayodashi by creating these beautiful patterns at your home, while you light the earthen lamps to mark the occasion of Diwali.