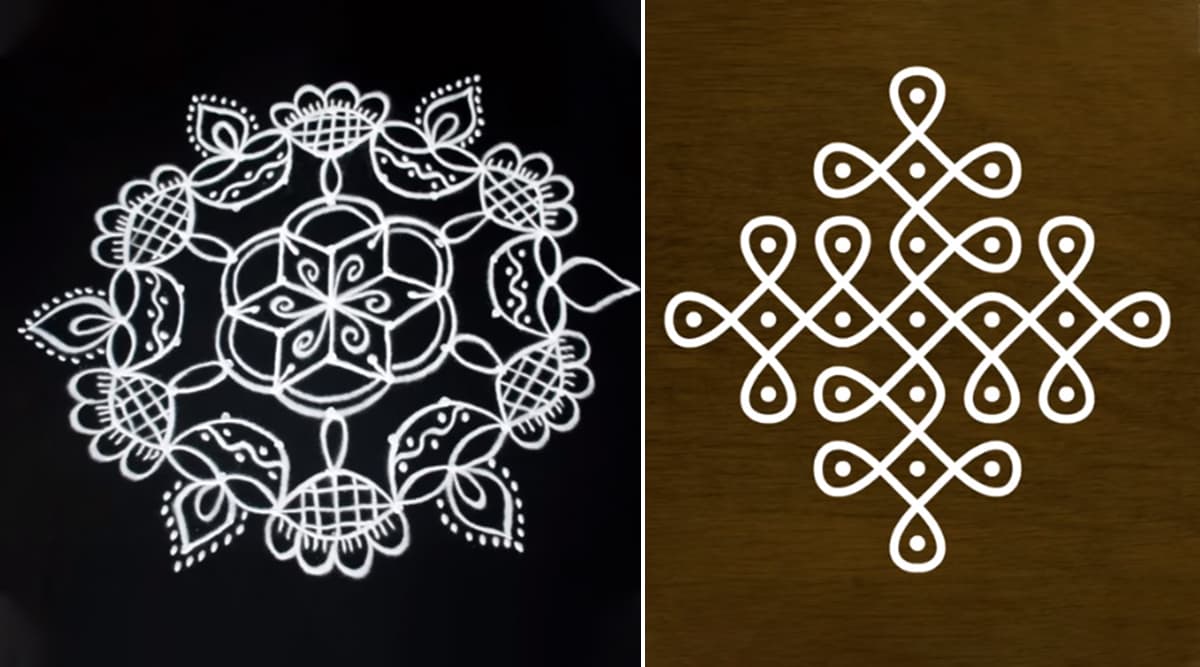 Diwali is around the corner and preparations have kickstarted everywhere. The festival which extends over five days witnesses various celebrations across India. While festivities and customs differ, the core essence of the celebration is the victory of good over evil. One of the age-old traditions followed during Deepavali is the making of rangoli patterns outside one's home. Drawing Rangoli is considered auspicious and signifies prosperity and good luck. It is made in different methods using different ingredients and in varying shapes, sizes and colours. And rangoli designs with dots is one of the popular and easy ways to make the art form. It is new, quick and easy to make and you can choose to add colours or keep it simple depending on your preferences. Easy Rangoli Designs for Diwali 2019: Simple Rangoli Patterns With Colours and New Pookalam Designs With Marigold Flowers for Deepavali (Watch DIY Videos)
People make it at the entrance of their homes welcoming Goddess Lakshmi who is believed to bring in good luck and prosperity. The patterns, lines, symbols and colours in a rangoli are believed to hold spiritual significance. To make rangoli people use rangoli powder, dry flour, rice powder, flowers, leaves and lamps. People make dotted rangolis with white rangoli colour of rice flour, both work well. As Diwali 2019 approaches, we bring to you multiple ways in which you can adorn your the entrance of your house. Diwali 2019: From Using Organic Rangoli Colours to Not Bursting Firecrackers; Here Are 5 Eco-Friendly Ways to Celebrate The Festival of Lights.
Simple Rangoli With White Dots:
If you want to bring the traditional touch to Diwali, but do not have enough time, then here is a five-minute rangoli tutorial. This will not only brighten up the festive spirit at your home, but help you do it the old way!
Beautiful Rangoli of White Dots:
If you have enough space at your door, then this rangoli design will suit your house' entrance. Although this may be a little time consuming, the end result is worth it. You can fill varying colours or choose to keep it simple in white.
Flower Rangoli Design Made From White Dots:
For those with a knack for creativity, this rangoli design will serve your purpose. It is sure to take quite some time, but you are sure to earn praises for making this rangoli. You can show off your artistry by bringing varying colours together.
Rangoli is traditional folk art and is known by varying names in different parts of the country. While these are some of the popular rangoli methods, you can make geometric shapes, impressions of deities, flowers, a scenery depending on your availability of time. We hope you have a great time this Diwali!