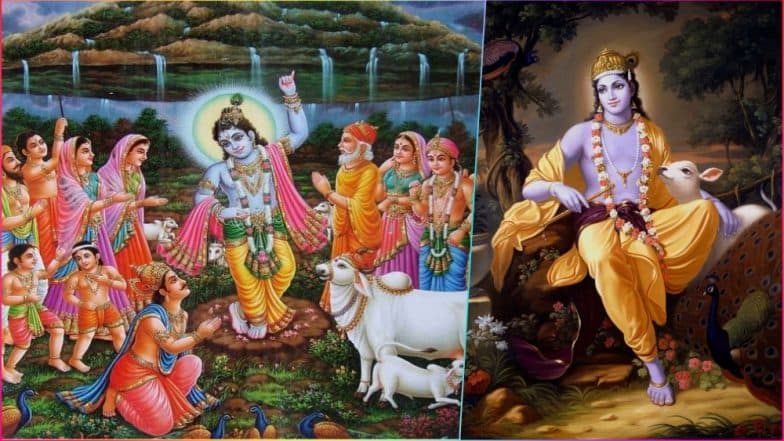 The next day of Lakshmi Puja on Badi Diwali, devotees celebrate a festival in honour of Lord Krishna. This festival is known as Govardhan Puja, or Annakut or Annakoot and takes place on the fourth day of Diwali or Deepavali, the Hindu festival of lights. This year, Govardhan Puja falls on November 8, 2018, Thursday. On this day, devotees especially the Vaishnavas greet each other with Lord Krishna photos and quotes. Govardhan Puja wishes, and images depict a young Krishna lifting Govardhan Parvat on his little finger as villagers surround him. We bring to you the mythological story behind Govardhan Puja origin and celebrations along with a beautiful collection of Govardhan Puja 2018 HD images, Annakut wishes, Lord Krishan images, wallpapers, WhatsApp stickers, GIF greetings to send on the day. Govardhan Puja 2018 Date: Know Significance, Story About Govardhan Parvat & Celebrations Related to This Diwali Observance.
So, what is the legend behind Govardhan Puja? As we all have grown up listening to the heroics of Lord Krishna in his bal avatar (as a child) from our grandparents, Govardhan Puja also narrates the great courage of the Hindu god. Krishna spent most of his childhood in Braj or Brijbhoomi, which had a low hill named Govardhan. The villagers known as Brajvasi used to worship Lord Indra, the Rain God. However, Krishna objected to it and said that everyone should worship Govardhan as it is the hill that provides them with all the natural resources and takes care of them. Govardhan Puja 2018 Date After Diwali: History, Puja Vidhi, Shubh Muhurat Timings & Rituals to Observe on Annakut Puja.
The villagers who respected Lord Krishna quickly agreed to the suggestion leaving Devraj Indra furious. Nursing a hurt ego, an angry Indra decided to teach the villagers and Krishna a lesson and poured heavily, initiated thunderstorms and flood. But little Krishna took upon the challenge and decided to tame Indra's egos, and he did it by simply lifting the Govardhan Parvat on his little finger. Villagers, herds of cattle and just about everyone took shelter below it. This continued for 7-8 days after which Indra realised his folly and stopped the rains. Govardhan Puja 2018 Wishes: WhatsApp Stickers, Picture Messages, GIF Images to Send Greetings on Annakut Festival.
According to Bhagavata Purana, the legend continues with villagers paying respect to Govardhan Parvat by preparing a 'giriyajna' - a "great offering of foods and delicacies to the mountain." Lord Krishna who takes the form of the mountain accepts the offerings, and from that day, Govardhan Puja is celebrated with much joy and excitement. Devotees celebrate this day by making a large quantity of vegetarian food depicting a mountain and offer to Lord Krishna. So that was the story of Lord Krishna and Govardhan Puja. Now here's a list of beautiful images of the Hindu god and the exciting festival.
Painting of Lord Krishna Holding Govardhan Parvat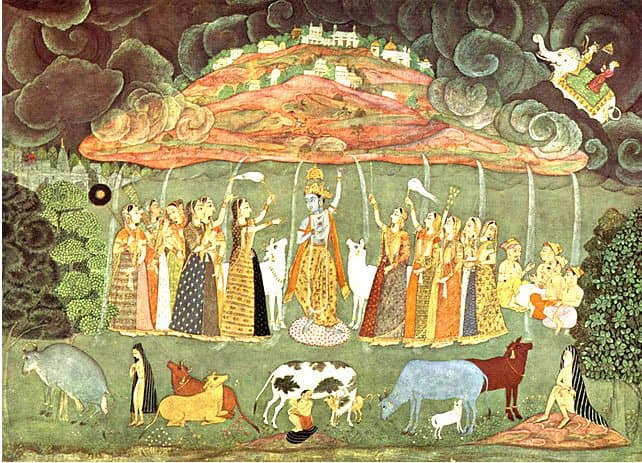 Wishing You All a Very Happy Govardhan Puja 2018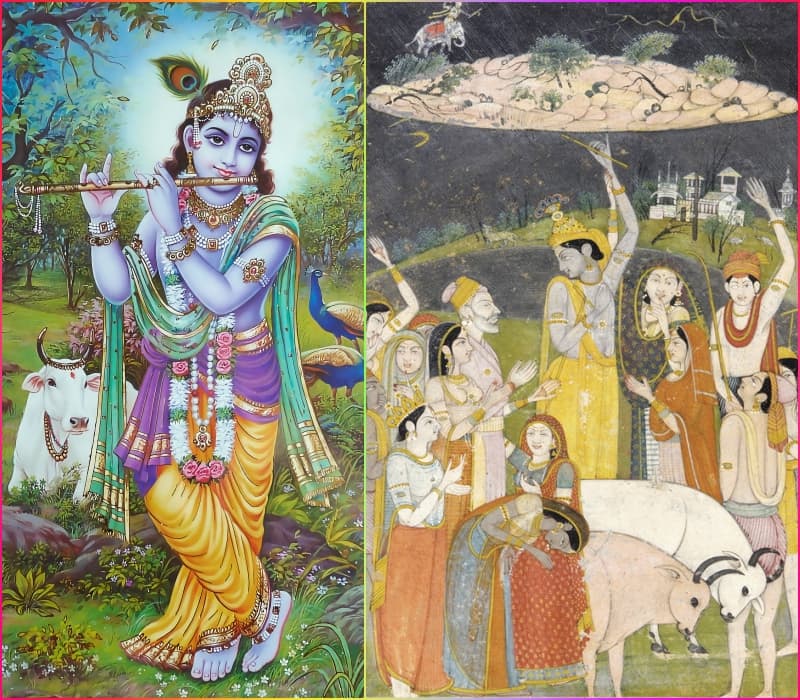 Govardhan Parvat (Mountain) Replica at Prem Mandir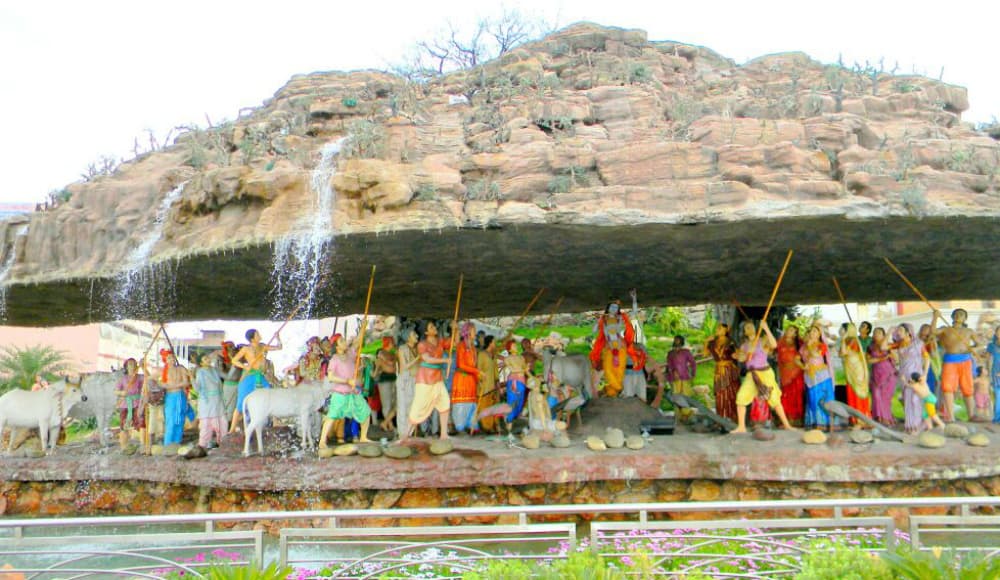 Lord Krishna Photos and Wallpapers in HD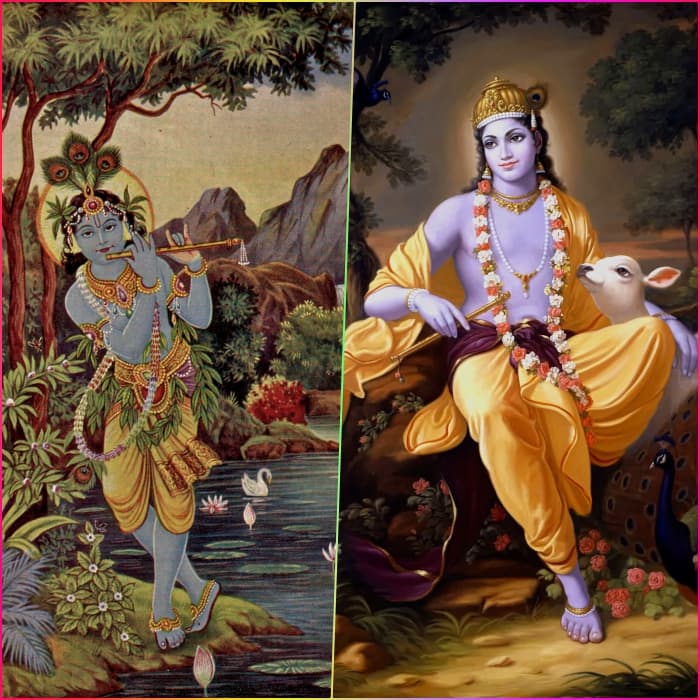 Govardhan Puja Image and Wallpapers in HD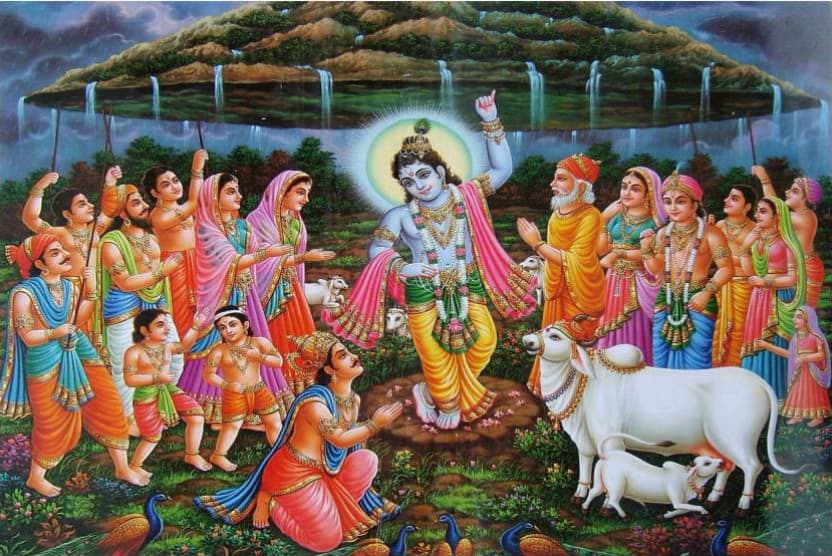 Another Beautiful Image of Lord Krishna
Illustration of Lord Krishna Holding Govardhan Parvat
Have a Very Happy Govardhan Puja and Annakut 2018
After Govardhan Puja, the fifth and last day of Diwali festival will see celebrations of Bhai Dooj, also known as Bhau Beej or Bhai Tika. Bhai Dooj 2018 will be celebrated on November 9, Friday. It has been a week-long Deepavali 2018 celebrations, which began with Dhanteras on Monday. We wish all our readers a very happy Govardhan Puja 2018.