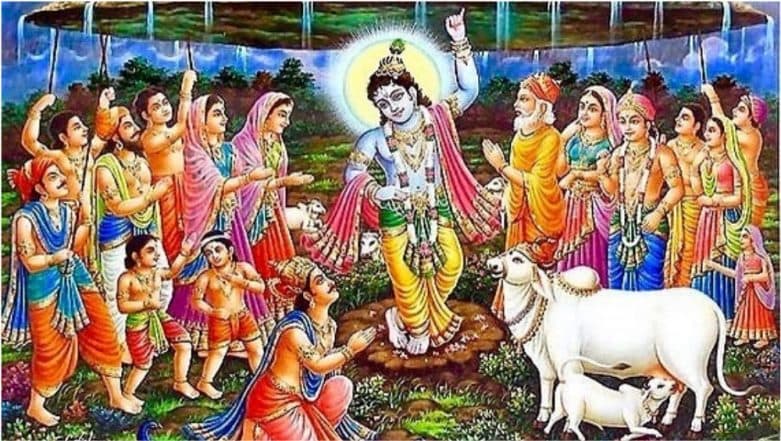 After celebrating the auspicious festival of Diwali, Hindu devotees observe Govardhan Puja. In the five-day festivities of Diwali, Govardhan Puja falls on the fourth day and in 2018 it will be celebrated on November 8. Hindus observe this festival to celebrate the victory of Lord Krishna over Lord Indra. Govardhan Puja falls on the next day of Badi Diwali and usually coincides with Gujarati New Year which is celebrated on Shukla Paksha Pratipada of Kartik month. There is an interesting mythological story associated with Govardhan Puja. Below we tell you the significance, shubh muhurat and rituals to follow on the day of Govardhan Puja. Govardhan Puja 2018 Wishes & Greetings: WhatsApp Stickers, Picture Messages, GIF Images to Wish on Annakut Festival This Diwali.
Story Behind Govardhan Puja
According to Hindu mythological legends, it was a common practice in Gokul, Lord Krishna's village, to perform Indra puja every year who is believed to be the God of rains. But little Krishna asked the village folks that why do they perform Indra puja when all their livelihood comes from Govardhan hill. Following Krishna's command, everyone decided to do Govardhan puja. Lord Indra got infuriated and gave torrential rains on Gokul. Villagers prayed to Lord Indra to stop the heavy rainfall and protect their harvest, but Lord Indra did not do that. Lord Krishna lifted the Govardhan hill with his little finger and held it up in air as an umbrella to protect the cattle and villagers. This continued for seven days and nights. Lord Indra realised and begged for pardon as he realised that Krishna to be the supreme God. Govardhan Puja 2018 Date: Know Significance, Legend & Celebrations Related to the Diwali Observance.
Govardhan Puja Muhurat 2018 (According to Drik Panchang)
Govardhan Puja Pratahkal Muhurat – 06:45 am to 09:00 am
Govardhan Puja Sayankal Muhurat – 03:43 pm to 05:58 pm
Pratipada Tithi Begins – 09:31 pm on November 7, 2018
Pratipada Tithi Ends – 09:07 pm on November 8, 2018
Govardhan Puja Items & Puja Vidhi
People perform Annakoot puja which includes making Chappan Bhog featuring 56 varieties of food items cooked with wheat, rice and gram flour. These delicacies are then offered to Lord Krishna. People then make a hill representing Govardhan hill with either cow dung or mud. The other puja samagri or items include two sugarcane sticks, fresh milk, yoghurt, batasha, pedas and chawal. People light diyas around the Govardhan hill. The main offering is sugarcane sticks. People perform the puja with roli and chawal and other food items are offered. Devotees then walk around the hill to seek blessings from Lord Krishna for the well-being of their families. People read Lakshmi katha on this day. In the end, a silver coin and batasha in the puja plate are given as offering. It is believed that women should eat first and start their meal by eating something sweet.
The Govardhan hill is considered as the personification of Lord Krishna himself heralding the gifts of nature. In Maharashtra, the same day is celebrated as Bali Pratipada or Bali Padva. The day commemorates the victory of Vamana, an incarnation of Lord Vishnu over King Bali and pushing of Bali in Patal Lok. It is also believed that due to the boon given by Lord Vamana, Asura King Bali visits the Prithvi Lok on this day.