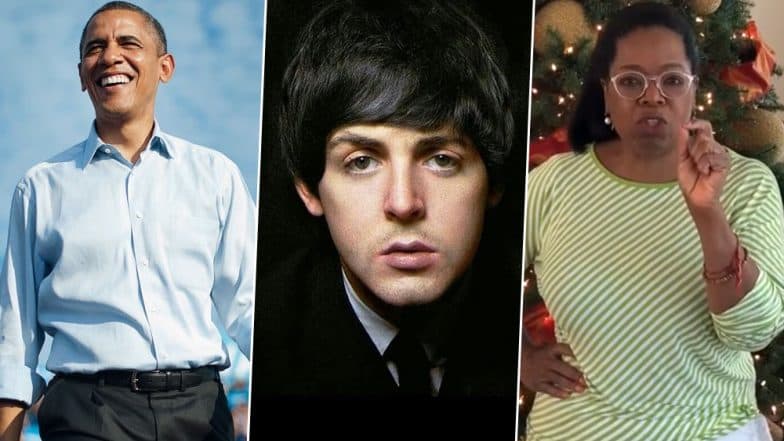 Left-handed people have struggled the most throughout their school life. Every written something and immediately had it smudged off? International Left-Handers Day is observed on August 13. The motive of this day is to celebrate the differences and uniqueness of left-handed people. The day started in 1976 by Dean R Campbell. It is dedicated to spreading awareness about the struggles and problems faced by left-handed people. We have a list of five celebrities who are left-handed. In a First, Oprah Winfrey in Sabyasachi Outfit, Turns Cover Star for Elle India Magazine's December 2018 Issue (See Pic).
Left-handedness isn't something you can spot right away. Here are five celebrities who are left-handed and not many people knew about this.
Paul McCartney
The Beetles frontman is left-handed and probably the most successful person on our list. Paul McCartney was considered one of the most influential band members and musicians in his time. The beetles were one of the most successful rock bands, and their music is still loved to this date.
Oprah Winfrey
The famous TV show host and producer is one of the most powerful people and the most influential person on this list. Oprah was tagged as "Queen of All Media" after her show The Oprah Winfrey Show was a massive hit.
Barack Obama
USA's first African American President was left-handed. All fellow lefties can take pride! Obama was a Harvard Law School graduate and also taught in University of Chicago Law School.
Morgan Freeman
The voice of God himself. Morgan Freeman has made a name in the industry, mostly with his enchanting voice. And now we can't think of anyone for the narration of god.
Lisa Kudrow
Known for her ditzy character as Phoebe Buffay in one of the most loved sitcoms, Friends. Lisa Kudrow is also a left-handed person. Maybe some already knew this one by seeing Phoebe play the guitar. Lisa Kudrow Opens Up On Her Battle With Body Image, Says Felt Like a 'Mountain Girl' Infront of 'Friends' Co-Stars Jennifer Aniston and Courtney Cox.
Are you left-handed? Or have you ever tried to write with your left hand looking at your left-handed friends? Spare your lefty friends some banters today and sympathise with their struggles.