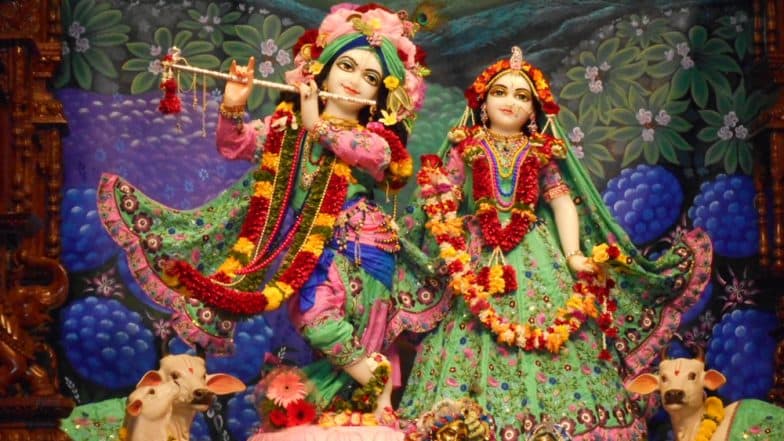 Krishna Janmashtami is celebrated with great fanfare in parts of India. The auspicious festival, also known as Janmashtami or Gokulashtami, is celebrated annually by the Hindu community. In 2019, Janmashtami will be celebrated in India on August 23-24. The special day celebrates the birth of Krishna, who is believed to be the eighth avatar of Vishnu. People who cannot visit the holy shrine, can witness the spectacular Puja online on the official site of ISKCON. Krishna Janmashtami 2019 Date: Significance, Gokulashtami Puja Tithi and Celebrations Associated With Lord Krishna's Birthday. 
The International Society for Krishna Consciousness (ISKCON), known colloquially as the Hare Krishna movement or Hare Krishnas, is a Gaudiya Vaishnava Hindu religious organisation. They have temples in various cities like Mumbai, Bengaluru, Pune, Kolkata. The live streaming of Krishna Puja on Janmashtami and live darshan at the ISKCON temple can be viewed online on their official website iskcon.org. 
The festival is usually observed on the eighth day (Ashtami) of the Krishna Paksha (dark fortnight) in Shraavana of the lunar Hindu Calendar and Krishna Paksha in Bhadrapad of the luni-solar Hindu Calendar, which overlaps with August and September of the Gregorian calendar.
The festival is majorly in Mathura and Vrindavan, where people gather in large numbers to commemorate the birth of Lord Krishna. The auspicious occasion is celebrated by several Vaishnava communities in Manipur, Assam, Bihar, West Bengal, Odisha, Madhya Pradesh, Rajasthan, Gujarat, Maharashtra, Karnataka, Kerala, Tamil Nadu, Andhra Pradesh and all other states of India.
It is an important festival particularly to the Vaishnavism tradition of the Hindu community. Devotees throng in large numbers in Krishna temples to take a look at the Laddu Gopal. Dance-drama enactments of the life of Krishna according to the Bhagavata Purana, devotional bhajans through the midnight when Krishna was born, fasting (upavasa), a night vigil (ratri jagaran), and a festival (mahotsava) on the following day are a part of the Janmashtami celebrations.