Holi, a festival of colours is celebrated with much enthusiasm in India. It is a festive occasion which has people literally painting themselves in colours and doing the same to others. Following the Holika Dahan, the Dhuleti or rangwali Holi is a day of merrymaking which has a lot of fun and dance routine. After celebrating Holika Dahan on March 20, people today will play and splash colours on each other. It is the second day of Holi 2019 and the excitement for rangwali Holi cannot be hidden. It is especially an exciting thing for the children when they can be their mischievous selves. Colours liven up the spirit of this festive day. While Indians celebrate having a messy affair on the day of Holi, we are not the only one. Similar zest of celebrations is seen in different parts of the world, only the festive occasions differ. People from different part of the world, mark celebrations which are just very similar to playing Holi. Holi 2019 Date & Holika Dahan Puja Muhurat: Significance, Mythology, Celebrations Associated With the Festival of Colours.
In India itself, the way of celebrating this festival differs from place to place. The Holika Dahan is celebrated everywhere with similar idea propagating good over evil. It is the playing with colours that differs from place to place. In some states, the rangwali Holi is played on the next day after Holika Dahan, while rangpanchami happens 5 days later in some states. The state of Uttar Pradesh sees diverse celebrations within. The towns of Mathura and Vrindavan have different celebrations like Lathmar Holi, Phoolon Ki Holi, Banke Bihari Temple Holi. There are thus diverse ways of ringing in one festival in India itself. Let us look at some other festivals around the world which also celebrate the idea of getting messy!
Festivals Around The World Which Are Similar to Holi
La Tomatina (Spain)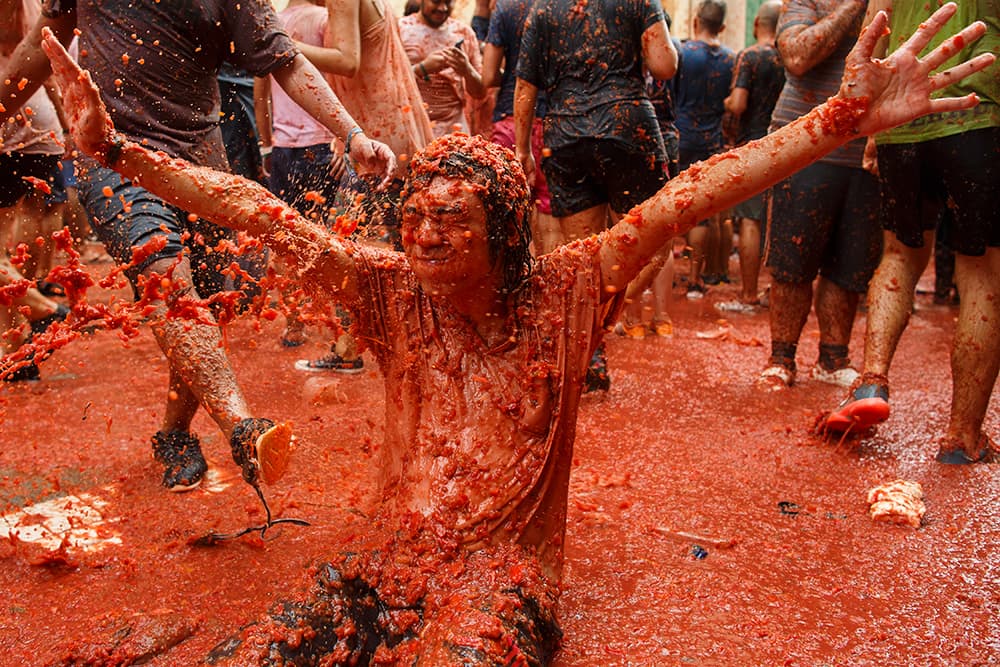 We are sure most of you must have thought of this when we said of messy festival celebrations. The La Tomatina which happens in the Valencian town of Buñol in Spain is world famous. People gather together and throw rotten tomatoes in each other. We saw a beautiful depiction of it in Bollywood film Zindagi Na Milegi Dobara. The idea here is just the same, the more the tomatoes, the more the squishy mess! Spain's Bunol Paints Itself Red Celebrating the Tomato Festival.
Battle of the Oranges (Italy)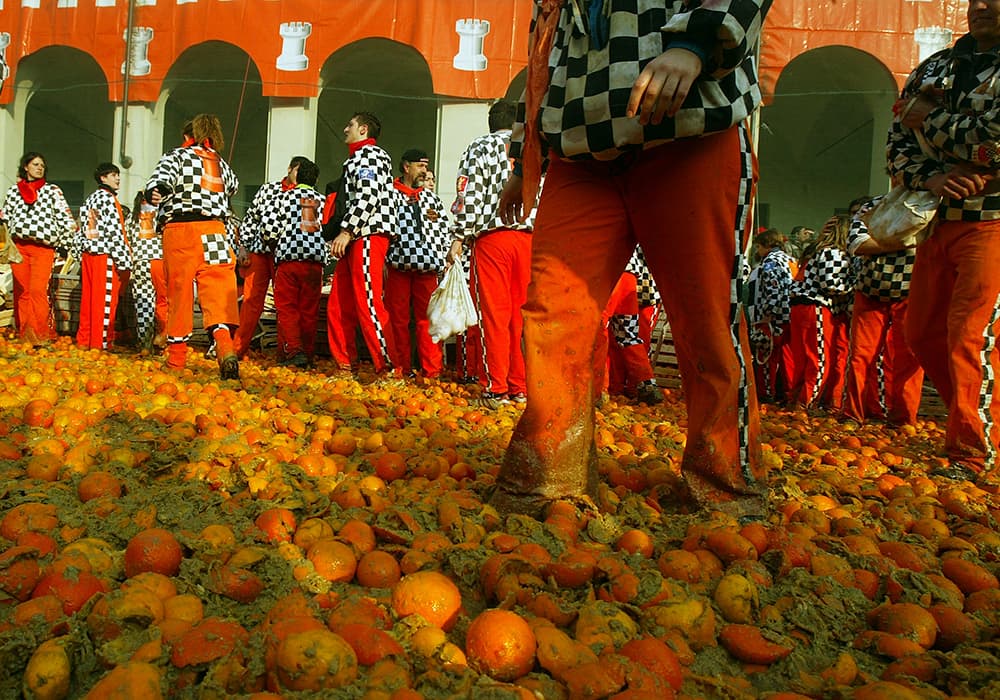 Battle of the Oranges takes place in the Northern Italian city of Ivrea. Instead of tomatoes in La Tomatina, people here throw oranges at each other. It is in fact, the largest food fight that takes place in Italy. People here divide themselves in two teams and spend the day pelting oranges at each other. It is believed that oranges are abundant in this region, hence they are used as weapons.
Songkran (Thailand)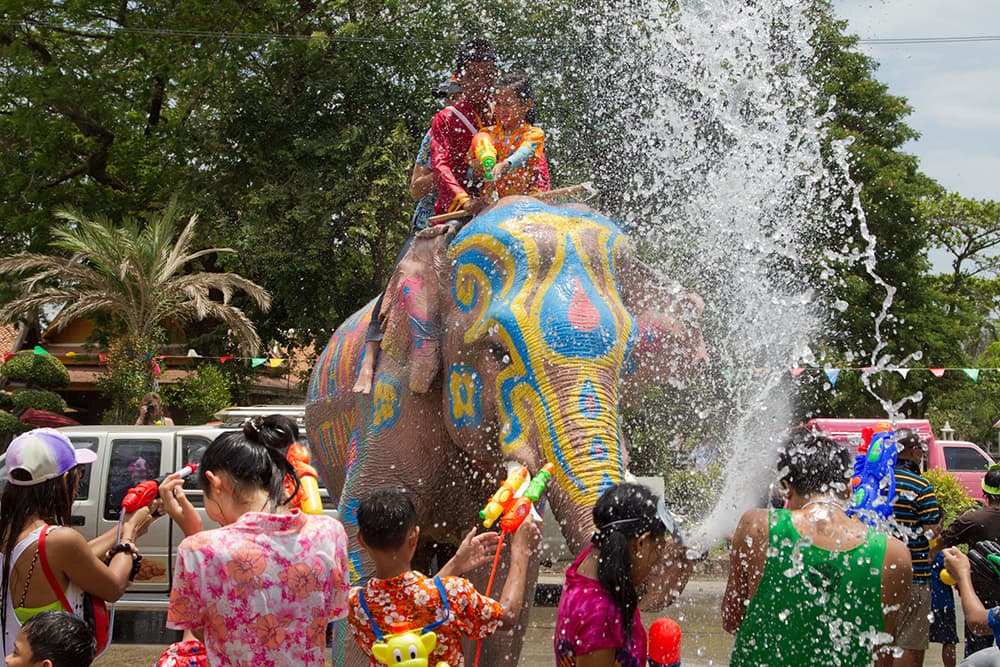 While in India, Holi has religious traditions connecting it to Lord Krishna and Radha, Thailand has new year celebrations very much like the spirit of Holi. ON each New Year's Day, they ring in Songkran, which involves throwing icy cold water on everyone. This celebration too sees colour splashing, but people here apply colour pastes instead of dry colour powder that we use.
La Batalla Del Vino, the Battle of Wine (Spain)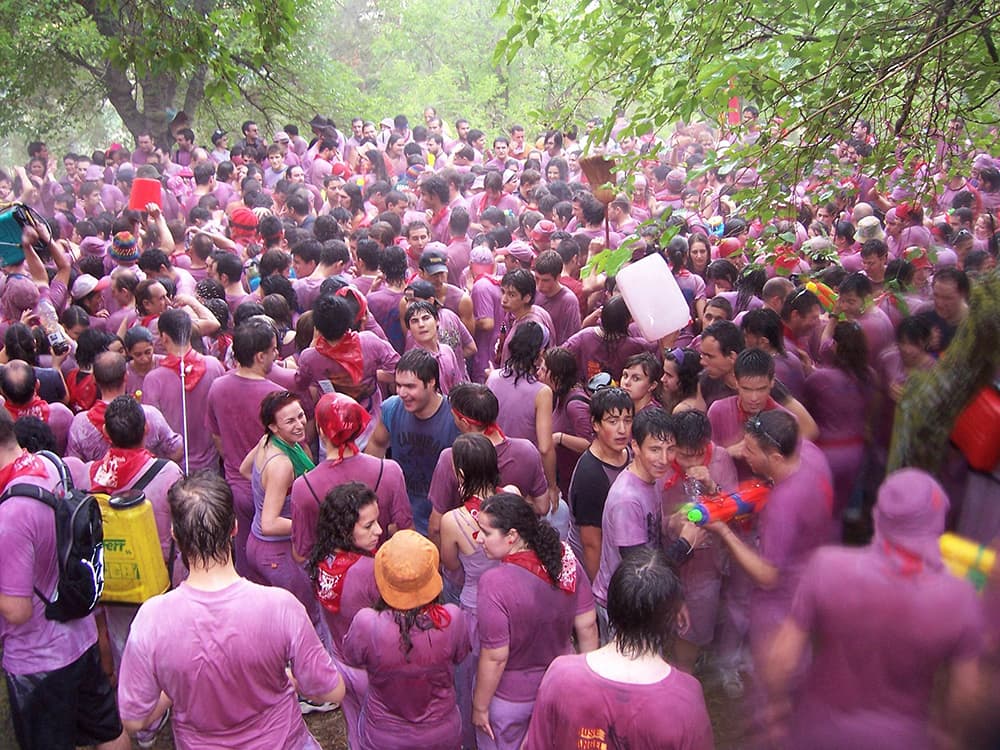 If you love drinking wine, then you must head to Spain for this another unique messy festival. Called the Haro Wine Festival, it takes place annually in the town of Haro and its all about splashing in wine! Other than wine tasting and drinking competition, the battle of wine sees barrels of wine being poured on each other. We are sure, this must be some different kind of high!
Chinchilla Watermelon Festival (Australia)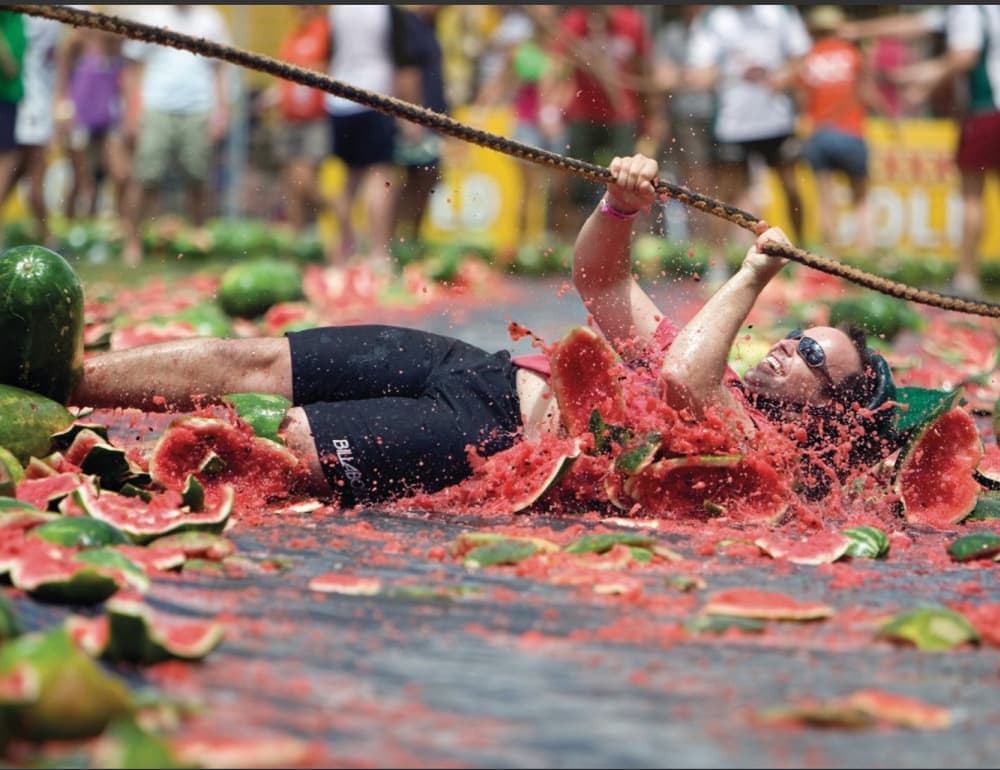 The Chinchilla town in the Queensland region of Australia is known as the 'Melon Capital of Australia.' The Chinchilla Watermelon festival sees a lot of games that are played with watermelons. One of the games in this one is the Melon head smashing, which means cracking melons on your head! So yes, the juicy melon is bound to get you messy. Melon skiing is also one of the sports in this festival. The Chinchilla Watermelon Festival takes place in the month of February.
Boryeong Mud Festival (South Korea)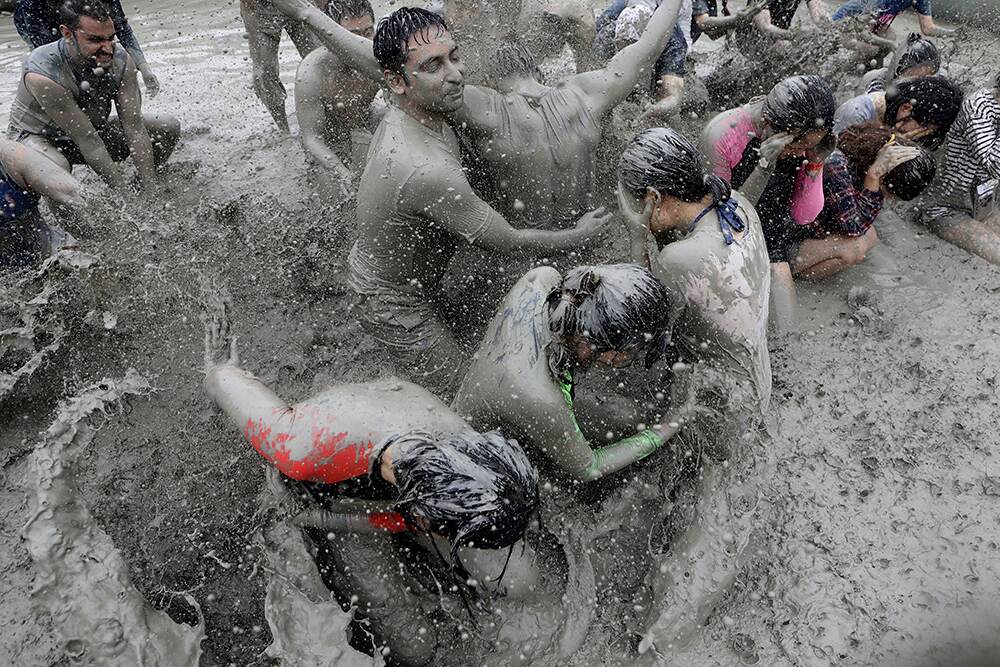 Taking celebrations literally in the mud is the Boryeong Mud Festival which takes place in South Korea. People gather in thousands and roll in the mud and totally enjoy getting dirty. It is said that the sand of these beaches is very rich in minerals and the festival started as a tradition to educate people about the richness of this mud. But it has over the years evolved into a proper festival which also has a mud carnival. There's no getting dirty like the ones in this festival.
Galaxidi Flour Festival (Greece)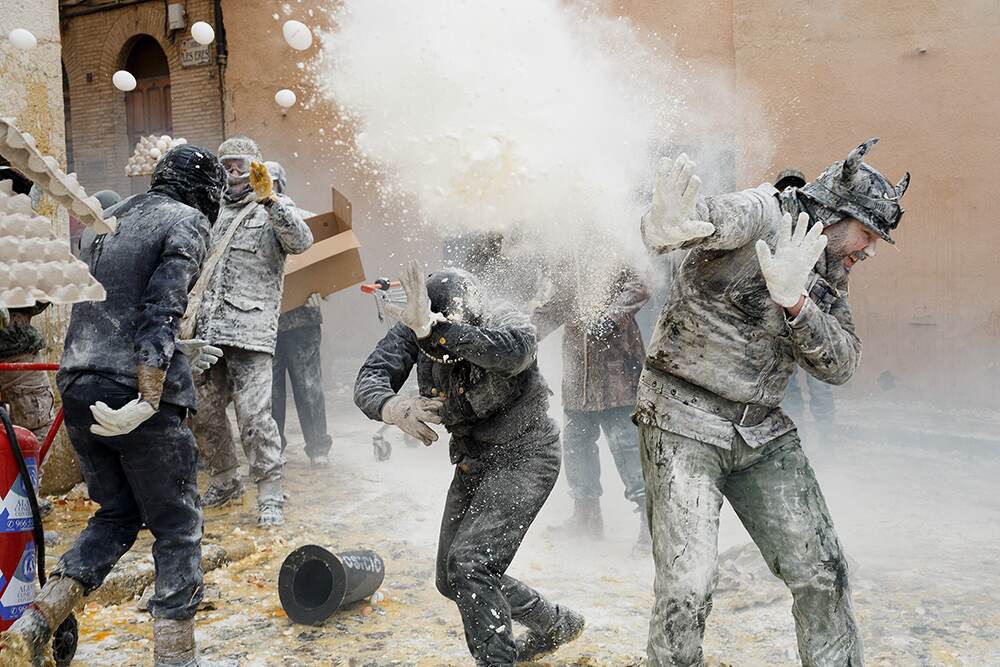 Galaxidi, a small town in Greece has people celebrating with tons of coloured flour. It is called as the Clean Monday Flour War but ironically there is nothing clean about it. It is an insane battle of people throwing flour at each other. About 1.5 tons of flour sacks are emptied and used for playing this festival. It is said that this festival started as a rebellion against the Ottoman rulers.
These are some of the festivals which see people wholeheartedly celebrating by getting dirty! Be it squishy fruits, flour or even mud, each of these festivals sees a wide array of fun and games, even carnivals, with more and more people joining in each year. It is indeed fun to know that we Indians also have Holi which calls out to each one to celebrate colours and be a part of the colourful celebrations.
(The above story first appeared on LatestLY on Mar 21, 2019 08:53 AM IST. For more news and updates on politics, world, sports, entertainment and lifestyle, log on to our website latestly.com).