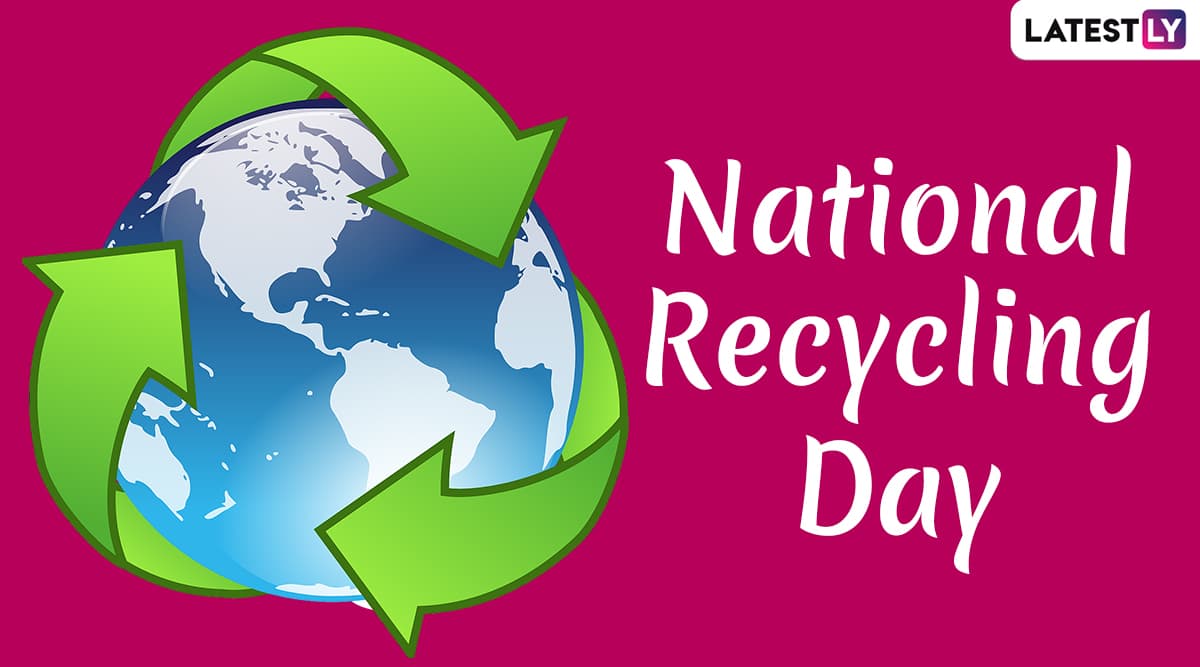 National Recycling Day is observed on November 15 every year to create awareness about waste accumulation, buying recycled products and the need to encourage recycling. Americans create 64 tons of waste in landfills during their lifetime, which is 246 million tons of waste each year. Considering the alarming amount of waste produced annually on Earth, it is essential to stop this practice and adopt eco-friendly ways. As we observe National Recycling Day 2019, we have compiled a list of reasons why recycling is important. Somali Refugees Recycle Plastic Waste in One of World's Biggest Camps (Watch Video)
"Reduce, Reuse, Recycle" is an important mantra to live by. If communities and government actively make efforts to wisely use resources without wastage, the situation can change. Stopping the use of single-use plastic, adopting environment-friendly products and recycling are steps in the right direction towards a better future. Here are some of the reasons why recycling is important. 'Plastic-Eating' Bacteria Discovered by Indian Scientists.
Saves Nature
Recycling helps conserve natural resources and keeps the environment clean. Recycling paper would mean fewer trees are cut. Similarly, recycling metals reduce the need for frequent mining, which causes serious pollution. Heavy production of glass is causing a sand shortage in the world. Recycling glass will thereby reverse the problem, reducing our dependence on sand.
Cheaper Than Waste Collection and Disposal
According to Lambeth Council in London in 2017 pointed out that "it is 6 times cheaper to dispose of recycled waste than general refuse". As we recycle more, less trash is generated, which in turn means there is little to be collected and disposed of. Recycling food and green waste also result in less waste in the bin. Organic waste also helps in creating good compost for growing more plants and vegetables.
Protects People
The ever-increasing demand for natural products has displaced people from their original lands. Especially those living in regions with abundant natural resources like forest, river, islands experience crisis as manufacturing waste and other garbage pollutes their homeland. Recycling existing products will lessen the demand for raw materials and not put the burden on locals and indigenous tribes. Indian Railways Install 1st Plastic Bottle Crushing Machine in Mumbai-Delhi Rajdhani Express.
Creates Jobs
Reportedly, 50,000 new jobs could be created in the UK by 2025 if 70 percent of our waste is recycled! Around 30,000 of the new jobs would be in recycling, while the rest 20,000 in supply chains and the wider economy.
Saves Energy
Making products from recycled good take less energy than from raw materials. Since energy is expensive and scarce, it is essential to conserve it. Recycling aluminium and steel helps conserve energy by 95 and 70 percent respectively. The amount of energy saved from recycling one glass bottle could be used to power an old 100-watt light bulb for four hours.
Here's Why Need to Recycle Plastic:
While recycling helps in optimising plastic use, reducing usage is more important. Plastic is one of the primary components of waste in landfills. It is necessary to find an alternative or completely avoid it. Recycling reduces the need to extract new raw materials from the Earth. It will thus help in saving resources for future generation and at the same time decrease waste.