The nine-day long festival to honour Goddess Durga is here! The fifth day of Navratri 2018 falls on October 14, which is a Sunday. On this day, devotees worship the fifth form of Goddess Durga -- Maa Skandamata. It is believed that when Goddess Parvati became the mother of Lord Skanda (also known as Kartikeya and brother of Lord Ganesha), Mata Parvati was known as Goddess Skandamata.  Devotees who worship the fifth form of the Goddess, get the benefit of worshipping Lord Kartikeya, her son. This quality is possessed only by Skandamata form of Goddess Parvati.  Navratri 2018 Dates, Days & Tithi Calendar: Shubh Puja Muhurat & Time for Aarti During Nine-Day Sharad Navaratri Festival.
Devotees who worship Skandamata shine with divine splendour and her worship is ultimately conducive to salvation. She is often known as "The Goddess of Fire". Let's know more about Goddess Skandamata, Skandamata Puja, Shubh Muhurat (auspicious timings), Puja Vidhi (rituals) mantras and Aarti. Navratri Colours 2018 for Nine Days: List of 9 Colours for Each Date to Wear During Sharad Navaratri Festival.
Etymology and Iconography:
Skandamata, the fifth form of Goddess Durga means 'Mother of Skanda'. The name of the fifth form of the Goddess comes from the word, 'Skanda' is which Lord Kartikeya, the 'War God' and 'Mata' is the term for mother. Maa Skandamata awards devotees with salvation, power, prosperity and treasures. It is believed that Maa Skandamata, who has the brilliance of the sun, fulfils all the desires of her devotees. Navaratri 2018: From Durga Puja to Dussehra, Check How the 9-Day Sharad Navratri Festival is Celebrated in 9 Different Ways in the Country.
Skandamata is four-armed and rides on a lion, which is her vehicle. She carries a lotus, a water material and a bell, with one hand is in blessing posture. Lord Skanda (Kartikeya), brother of Lord Ganesha can be seen in her lap. She possesses four arms out of which two often hold lotus flowers. Skandamata is seated on the lotus and is therefore called Goddess with a lotus-seat (Padmasana).
Maa Skandamata Puja Vidhi - Skandamata Mantra and Prarthana or Prayer of Skandamata: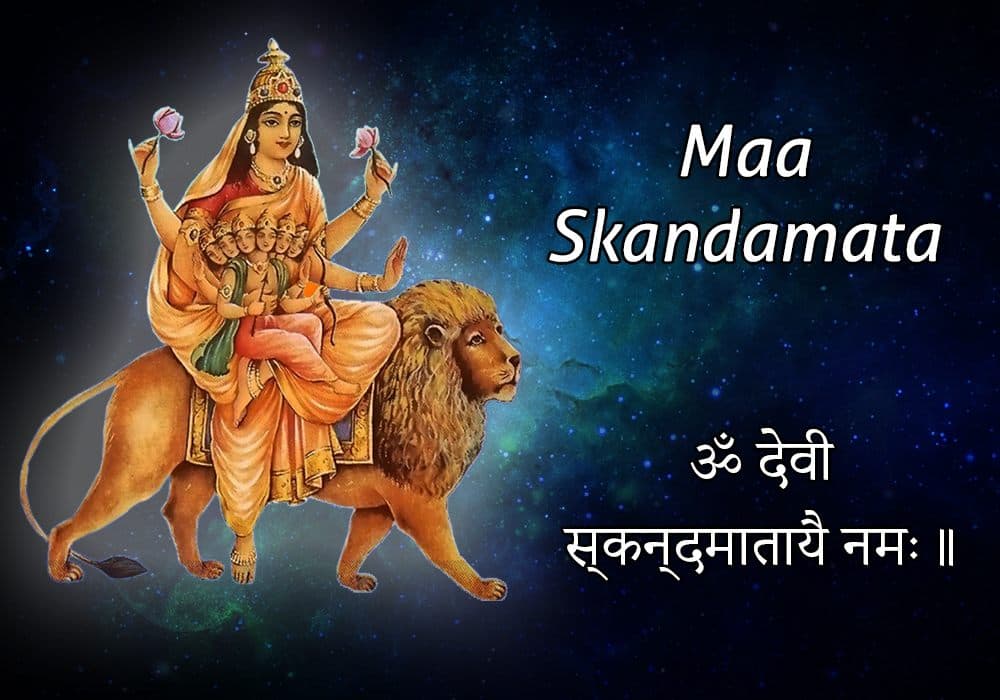 Skandamata Mantra - ॐ देवी स्कन्दमातायै नमः॥ Om Devi Skandamatayai Namah॥
Skandamata Prarthana:
सिंहासनगता नित्यं पद्माञ्चित करद्वया।
शुभदास्तु सदा देवी स्कन्दमाता यशस्विनी॥
Simhasanagata Nityam Padmanchita Karadvaya।
Shubhadastu Sada Devi Skandamata Yashasvini॥
Maa Skandamata governs the planet Mercury (Budha).
Navaratri falls in the lunar month of Ashwin during autumn. The festival, which commenced on October 10, is dedicated to the nine forms of Goddess Durga. The nine-day long festival will culminate on the tenth day with Vijaya Dashami or Dussehra, on October 18. Sharad Navaratri 2018: Nine Avatars of Goddess Durga, Navdurga Pictures, Mantras & Celebration Dates of Navratri Festival.
During these nine days, devotees observe fast to pay obeisance to the deity and comprise of celebrations, which symbolize the triumph of good over evil. Throughout the festivities, families and friends come together to pray, dance, and observe traditions in hundreds of different forms passed down from generation to generation.
(The above story first appeared on LatestLY on Oct 13, 2018 10:37 AM IST. For more news and updates on politics, world, sports, entertainment and lifestyle, log on to our website latestly.com).