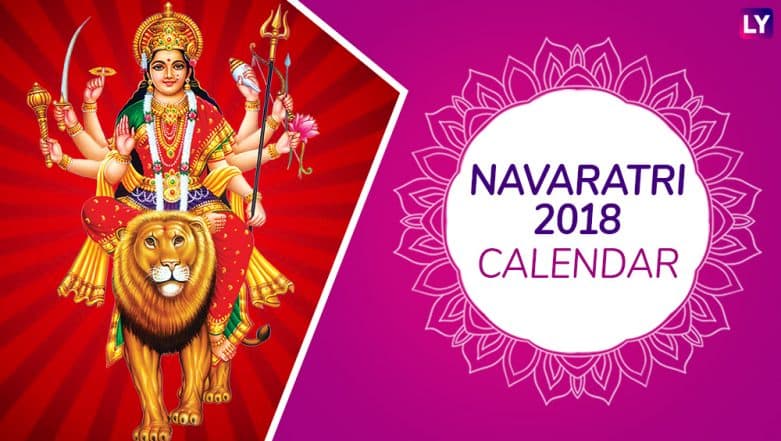 India will be celebrating Sharad Navaratri, the most significant nine-day festival of Navratri in honour of Maa Durga (Maa Parvati or Maa Shakti) from October 10, 2018, onwards. For devotees who will be observing fast and carry out puja rituals, it is important to know Navratri 2018 dates, nine days of celebrations in honour of Navadurga (the nine manifestations of Goddess Durga). The complete tithi calendar includes a schedule of Sharad Navaratri 2018 dates, shubh puja muhurat, time for Navratri aarti, Ghatasthapana shubh muhurat,  Kanya Puja date during the nine-day celebrations that will end with Vijayadashami or Dussehra on October 19, 2018. Navratri 2018 Date in India Calendar also has Navratri Parana time to break the fast. It is also very important to know the Navratri colours 2018 as one would dress accordingly on the nine days of Sharad Navaratri.
Navratri, which literally means 'nine nights' will see devotees venerate nine manifestations of Maa Shakti. These nine avatars of Navadurga are – Devi Shailputri, Devi Brahmacharini, Devi Chandraghanta, Devi Kushmanda, Devi Skandamata, Devi Katyayini, Devi Kaalratri, Devi Mahagauri and Devi Siddhidhatri. Devotees invocate the divine feminine form and do the Durga puja at home. As for the celebrations, it varies from place to place. In northern and eastern India, people in large numbers pay a visit to beautifully decorated Durga pandals, and grand processions are taken out. In western parts of the country, traditional folk dance, Garba or Dandiya nights are held. But the principal objective of Navratri 2018 celebrations for people remains to perform puja ceremony on shubh muhurat following correct customs and rituals. Navaratri 2018: From Durga Puja to Dussehra, Check How the 9-Day Sharad Navratri Festival is Celebrated in 9 Different Ways in the Country.
Sharad Navratri is observed in the lunar month of Ashvin (September–October) and is the most significant Navaratri that is celebrated with full fervour. Therefore, Shardiya Navratri is also known as Maha Navratri. The nine-day long Hindu festival is one of the biggest religious celebrations in the country that leaves everyone mesmerised with its beauty and colour. As per the Hindu calendar, Ghatasthapana on Pratipada tithi at shubh muhurat time will commence the Navratri puja ceremony.
Here's everything you need to know about Navratri 2018 Date in India Calendar. The 2018 Navratri calendar for Shardiya Navratri has details pertaining to day-wise puja ceremony dedicated to each manifestation of Goddess Durga. Get to know the  tithi calendar, shubh muhurat timings, along with aarti songs during puja ceremony details. It also includes Ghatasthapana shubh muhurat and Navratri Parana time to break the fast.
1. Navratri 2018 Day 1: October 10, Wednesday – Ghatasthapana Puja, Shailputri Puja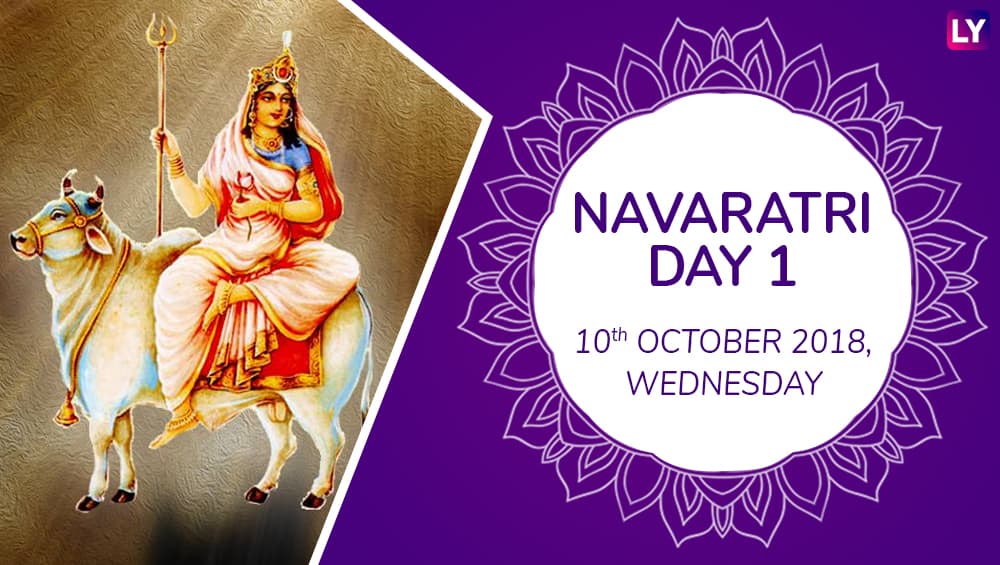 Shardiya Navratri begins on October 10, 2018. The first day of Navratri calendar 2018 falls on Wednesday, the reason why the first colour is chosen this time around is royal blue. Navratri puja starts with Ghatasthapana puja also known as Kalash Sthapana or Kalashsthapana on Pratipada tithi. Ghatasthapana is an important ritual of Navratri puja as it is done to invocate Goddess Durga and her nine forms for the festival. According to Drik Panchang, Shardiya Navratri Ghatasthapana is 06:22 to 07:25 on October 10 with the duration of an hour and two minutes.
After Ghatasthapana puja, devotees observing fast will worship Maa Shailputri, the first avatar of Devi Durga. Born to the King of Mountains, Parvat Raj Himalaya, Devi Shailputri is believed to govern Lord Chandra (moon), and anyone who is facing problems due to Chandra Dosh must pray to Goddess Shailputri. One must offer Jasmine flowers ('Chameli') to this form of Adishakti during Shailputri puja. Chandra Darshan, the first day of moon sighting after no moon day (Amavasya) also falls on Wednesday.
2. Navratri 2018 Day 2: October 11, Thursday – Brahmacharini Puja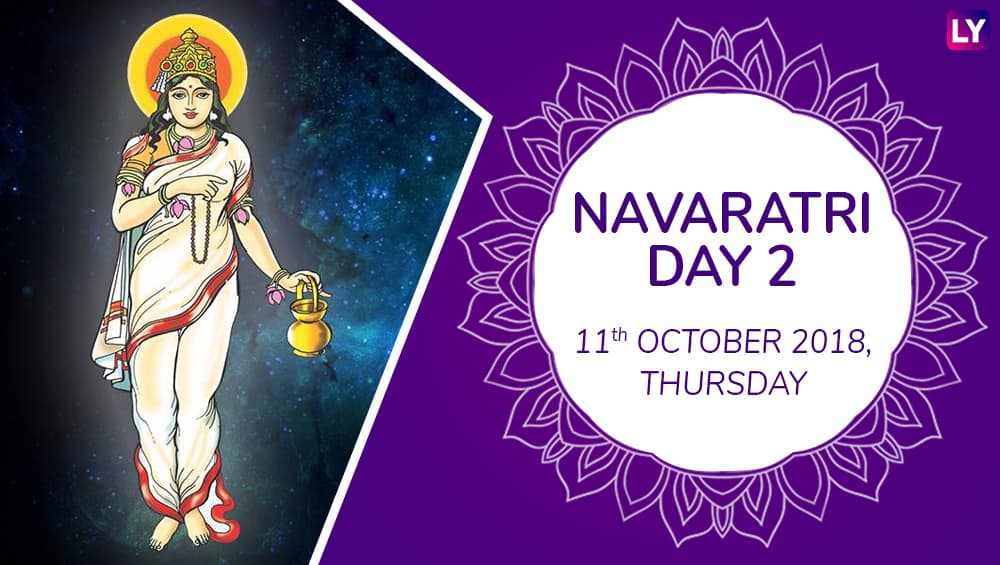 Navratri 2018-day 2 (Dwitiya) date falls on October 11, Thursday. People will be worshipping Devi Brahmacharini, the second avatar of Maa Shakti on the day. Brahmacharini is the unmarried form of Maa Parvati born to Daksha Prajapati. She governs Lord Mangal, the provider of all fortunes. Brahmacharini Puja Vidhi includes listening to vrat katha and praying to her by offering jasmine flowers. One must also donate sugar to Brahmins to please Maa Brahmacharini.
3. Navratri 2018 Day 3: October 12, Friday – Chandraghanta Puja, Sindoor Tritiya
Devi Chandraghanta will be worshipped on the third day of Navratri falling on October 12, 2018 (Friday). She is the married form of Goddess Parvati. Chandraghanta Puja must be done with her favourite flower, jasmine while chanting Chandraghanta puja mantra and stuti. Her blessings are powerful to eradicate sins, physical and mental sufferings and other troubles from devotees' lives. She also governs the planet Shukra (Venus). Sindoor Tritiya is also celebrated on the day.
4. Navratri 2018 Day 4: October 13, Saturday – Kushmanda Puja, Varad Vinayaka Chauth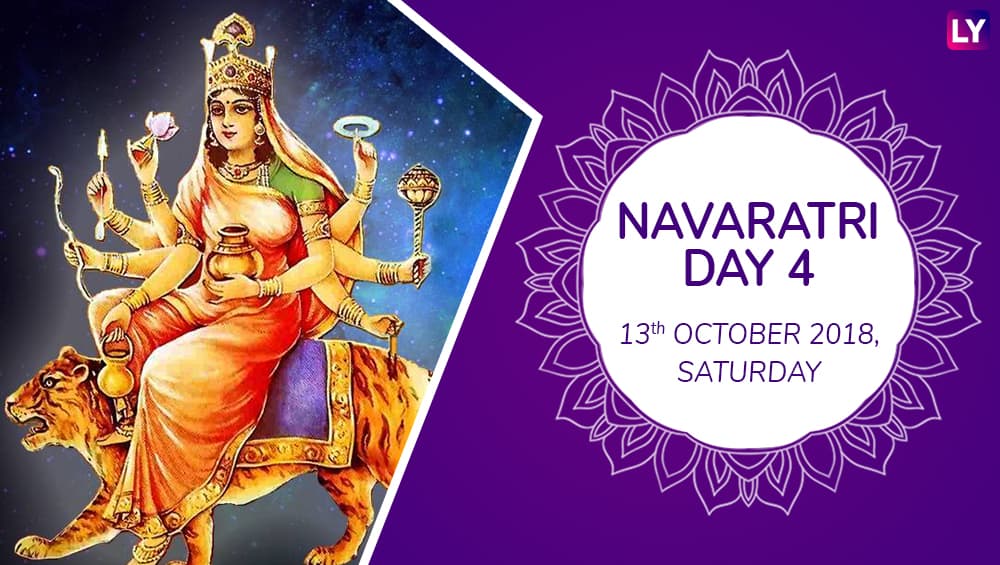 Kushmanda Puja will be performed on the fourth day of Shardiya Navratri 2018 falling on October 13, Saturday. Devi Kushmanda is the fourth avatar of Devi Durga who as per Hindu legends is believed to create the world with her divine smile. Devotees seek her blessings to improve their health and also be bestowed with wealth and strength. On Chaturthi, Varad Vinayaka Chauth is also observed.
5. Navratri 2018 Day 5: October 14, Sunday – Skandamata Puja, Upang Lalita Vrat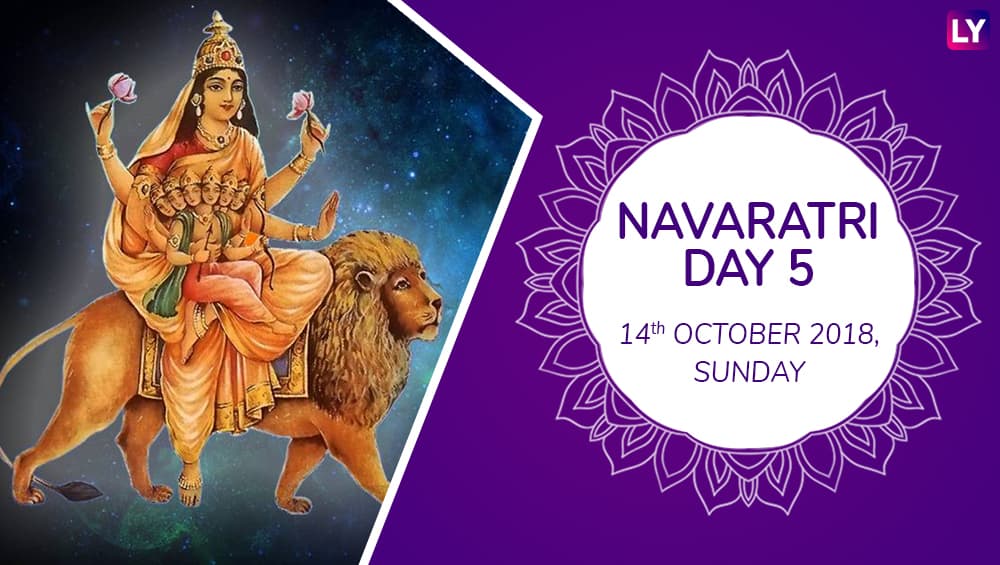 The fifth day of Navratri will be celebrated in honour of Devi Skandamata, the fifth form of Navadurga. In this form, Devi Parvati is seen as the mother of Lord Skanda, also known as Lord Kartikeya. Red coloured flowers such as hibiscus and roses are offered during Skandamata Puja falling on October 14, 2018 (Sunday) this time around. Lalita Panchami also known as Upang Lalita Vrat is a day-long fast observed for Goddess Lalita on the fifth day of Navratri.
6. Navratri 2018 Day 6: October 15, Monday – Katyayani Puja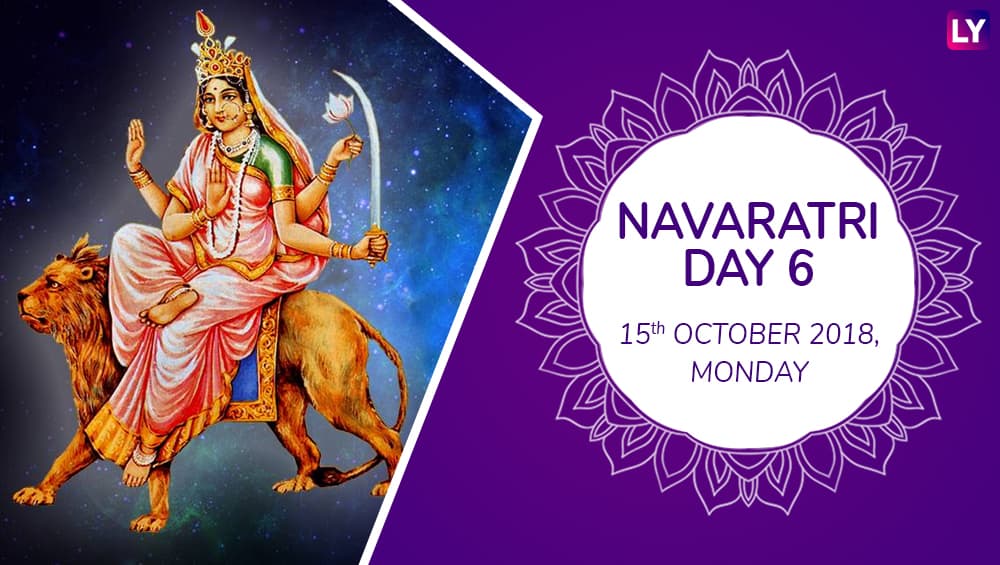 The sixth day of Sharad Navratri falls on October 15, 2018 (Monday) and is dedicated to Goddess Katyayani. This form of Maa Shakti is considered to be the most aggressive and violent who is ready to go on war. The Warrior Goddess is pleased by offering red coloured flowers by devotees during Katyayani Puja. While she might be associated with the fierce forms of Durga, Katyayani is widely worshipped by girls seeking desired partners for marriage on Shashthi.
7. Navratri 2018 Day 7: October 16, Tuesday – Kalaratri Puja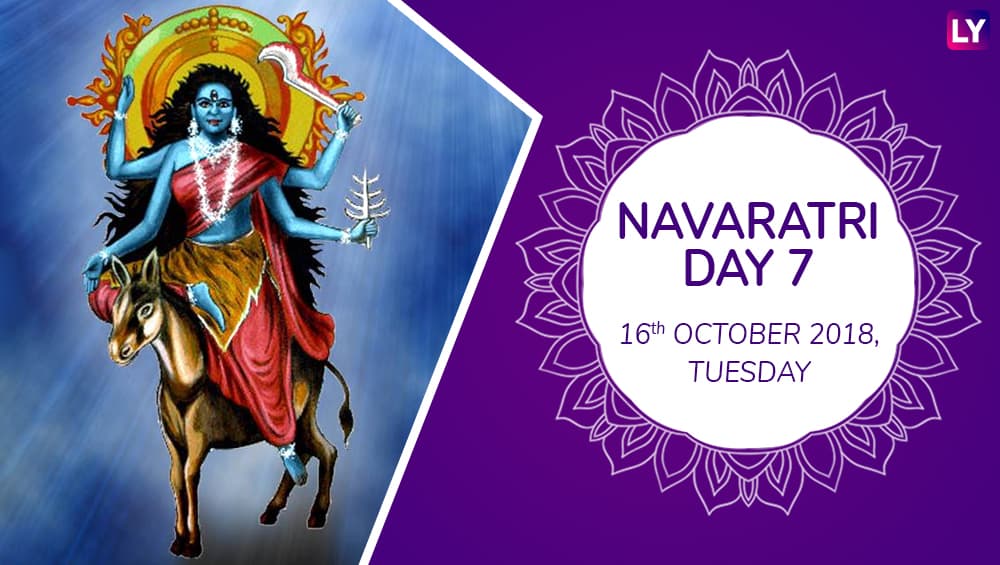 On Saptami, the seventh day of Navratri falling on October 16 (Tuesday), we all will be performing Kalaratri Puja. Once again, Devi Kalratri is one of the ferocious and fiercest avatars of Goddess Durga. She is also known as Goddess Shubhankari for Kalratri posses shubh or auspicious powers and blesses her true devotees with Abhaya and Varada Mudras. One must pray to Devi Kalratri with yellow and white night-blooming jasmine flowers (commonly called raat ki rani) to please her. She governs planet Shani, and anyone facing hurdles due to Shani must worship with much devotion to eradicating all obstacles.
8. Navratri 2018 Day 8: October 17, Wednesday – Durga Ashtami, Mahagauri Puja, Sandhi Puja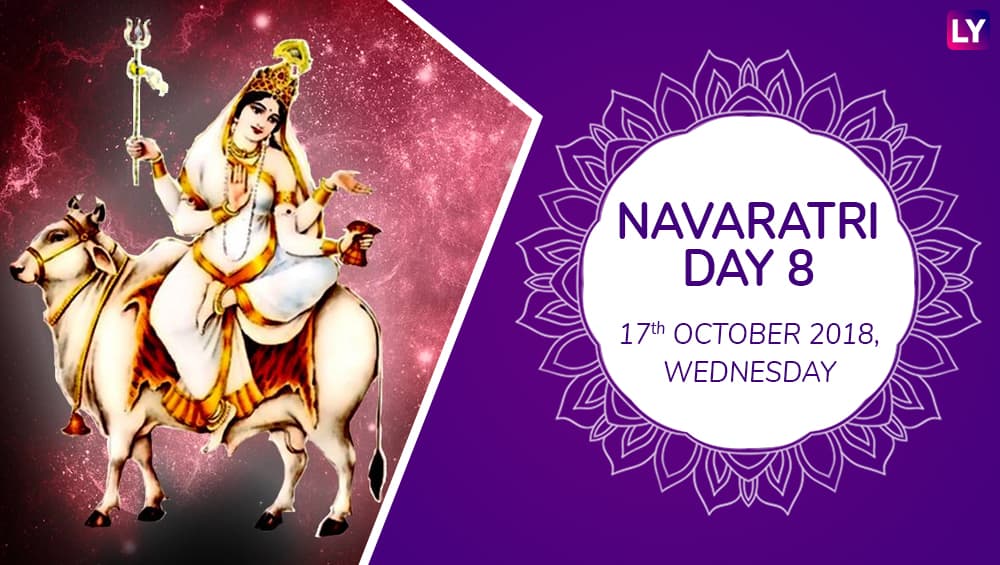 The eighth avatar of Goddess Durga is believed to the most beautiful form of Goddess Mahagauri. She is fair in complexion, carried white conch and rides the bull and is called Shwetambardhara due to her association with white colour. On Ashtami, the Navratri day eight falling on October 17 (Wednesday), we all will be performing Mahagauri Puja. Goddess Mahagauri has the power to fulfil all the desires of her devotees as per Hindu mythology. Apart from this puja, we will also be celebrating Durga Ashtami and Sandhi Puja.
9. Navratri 2018 Day 9: October 18, Thursday – Siddhidhatri Puja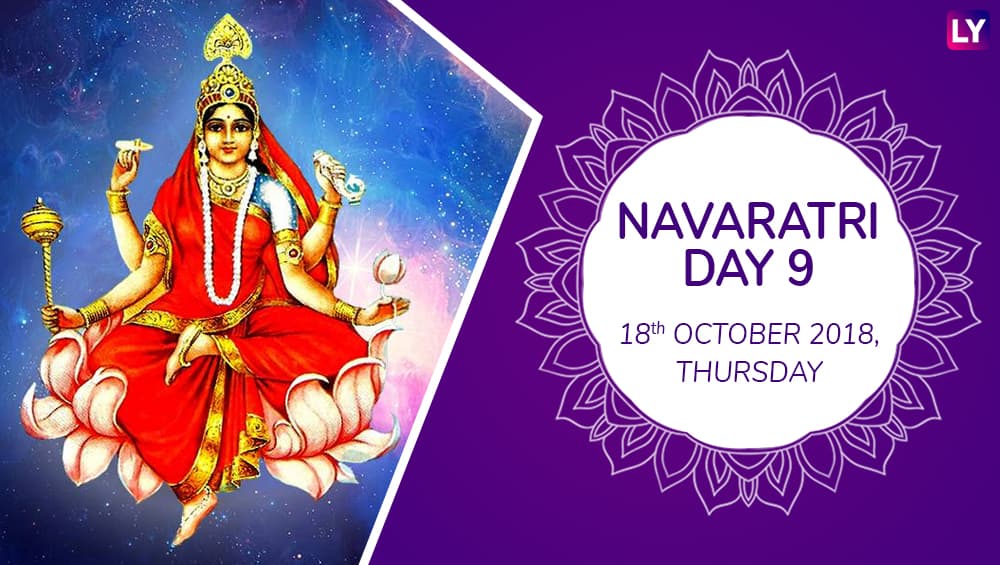 Siddhidhatri is the ninth and final form of Devi Durga. She is the goddess of achievements and perfections. She has the power to bestow all kinds of siddhi (supernatural powers) to her devotees, which includes humans and gods. Siddhidhatri Puja will be done on October 18, 2018 (Thursday). On the ninth day of Navratri, Ayudha Puja popular in South India takes place and is similar to Vishwakarma Puja with people worshipping their tools and vehicles. Navami Homa also known as Navami Hawan, an important ritual performed on Navratri will also be performed.
Kanya Pujan or Kumari Puja on October 17 or October 18
Kumari Puja, also called Kanya Pujan or Kumarika Puja is a significant ritual during Navratri and Durga Puja. In this, nine young girls of age two to ten years representing various forms of Durga – Kumarika, Trimurti, Kalyani, Rohini, Kali, Chandika, Shanbhavi, Durga and Bhadra or Subhadra are invited to house and worshipped as the Goddess. Special food or prasad is prepared for them and given gifts. According to Drik Panchang, Kanya Puja is advised to be done on Ashtami that is on October 17. But many families observe it on Navami as well, which will be on October 18.
Navratri Parana on October 17 or October 18
Navratri Parana is an important ritual of breaking the Navratri fast. Without performing Parana, the nine-day long puja ceremony will not be considered complete. Now, Navratri Parana is mostly done after Kanya Puja. So, if people who do Kanya Puja on Ashtami (October 17), they can end it on the day, while others will do it the next day after doing the Kumari Puja on Navami. As per Drik Panchang, Navratri Parana time is after 15:28 on October 18, 2018.
Dussehra, Vijayadashami and Durga Visarjan on October 19, 2018, Friday
The tenth day of Navratri festival is associated with grand celebrations. It was the day when good won over the evil. On Vijayadashami, Maa Durga in her most divine and powerful form killed the evil buffalo demon, Mahishasura to restore Dharma in the universe. Durga is also called Mahishasura Mardini. And after her stay on the earth with her devotees, Maa Durga bids goodbye with Durga Visarjan taking place on Vijayadashami. Meanwhile, in the northern and central part of India, Dussehra will be celebrated following the same good over the bad legend. During Dussehra celebrations, effigies of demon king Ravana will be burned representing the mythological character's death at the hands of Lord Rama.