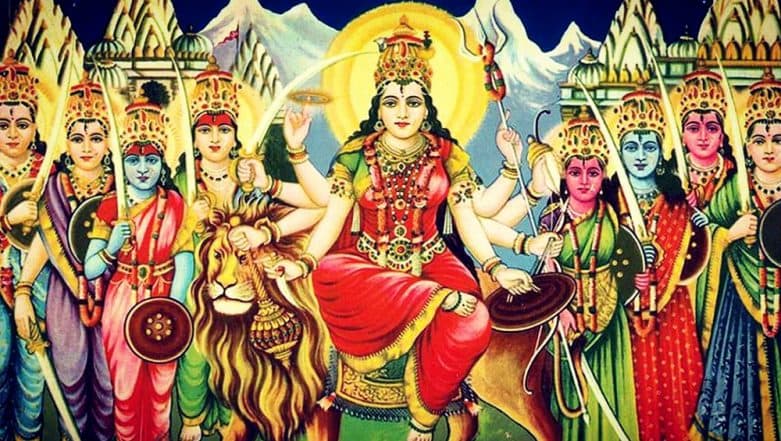 Navratri, the ten-day autumn festival centred on worshipping Shakti in all her forms is finally here. During these nine holy nights, the Mother Goddess Durga, who represents all the cosmic energy in the world, will be worshipped across the nation. Maa Durga is also know by other names such as Adi Parashakti, Devi, Bhavani, Amba, Parvati and Yogmaya. She is the central deity of Shaktism and one of the most important gods of the Hindu pantheon. Although she is projected as a loving, protective maternal deity, she can unleash her fierce form to combat demonic forces that stand for adharma. There are nine manifestations of Maa Durga known collectively as Navdurga, each representing a facet. She is commonly depicted riding a tiger or a lion and carrying weapons in each of her multiple arms. Navaratri 2018 Dates & Tithi Calendar: Shubh Muhurat & Time for Puja and Aarti During Nine-Day Sharad Navratri Festival.
All the other festivities aside, Navratri is predominantly about worshipping the nine forms of Durga Maa known as Navdurga. Each of her manifestations – Shailaputri, Brahmacharirni, Chandraghanta, Kushmanda, Skandamata, Katyayani, Kaalratri, Mahagauri and Siddhidhatri – is worshipped on each of the nine nights of Navratri. Here's every form of Ma Durga explained. List of 9 Colours for Each Date to Wear During Sharad Navaratri Festival.
Shailaputri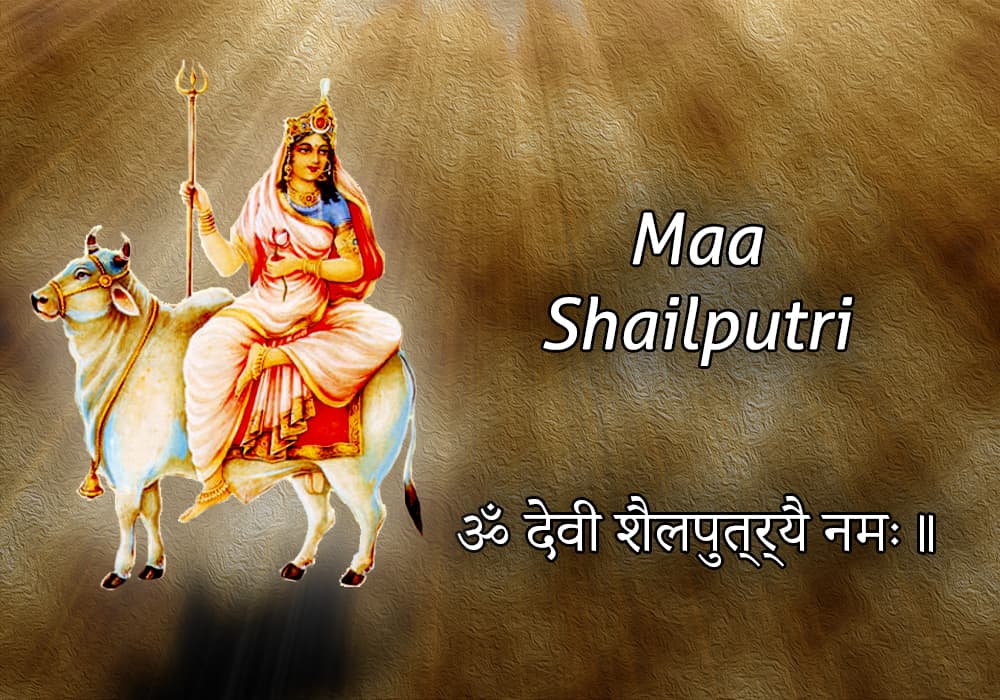 Shailaputri is the first form of Ma Durga, who is worshipped on the first day of Navratri. Her name literally means "daughter of the mountains" in Sanskrit. It is believed that after her self-immolation in her life as Sati Devi, the Goddess reincarnated in the house of Lord Himalaya as Shailaputri or Parvati.
Unlike Ma Durga, who is depicted with multiple hands, Maa Shailaputri is shown with two hands and she rides a bull instead of a tiger.
The puja for Maa Shailaputri begins with Ghatasthapana. In 2018, the muhurat for Ghatasthapana starts at 06:22 am and ends at 07:25 am on October 10. In a shallow clay vessel, three layers are made with mud and seven seeds comprising of sesame, barley, rice, til, moong, millet, chickpea and wheat. A little water is added to the grains so that they get some moisture. In a vessel filled with Gangajal, supari, coins, durva grass and a mixture of rice and turmeric powder (Akshata) are put. Five mango leaves are placed at the neck of the kalash and a coconut is placed on top. The mantra for Ma Shailaputri is:
ॐ देवी शैलपुत्र्यै नमः॥ Om Devi Shailaputryai Namah॥
Brahmacharini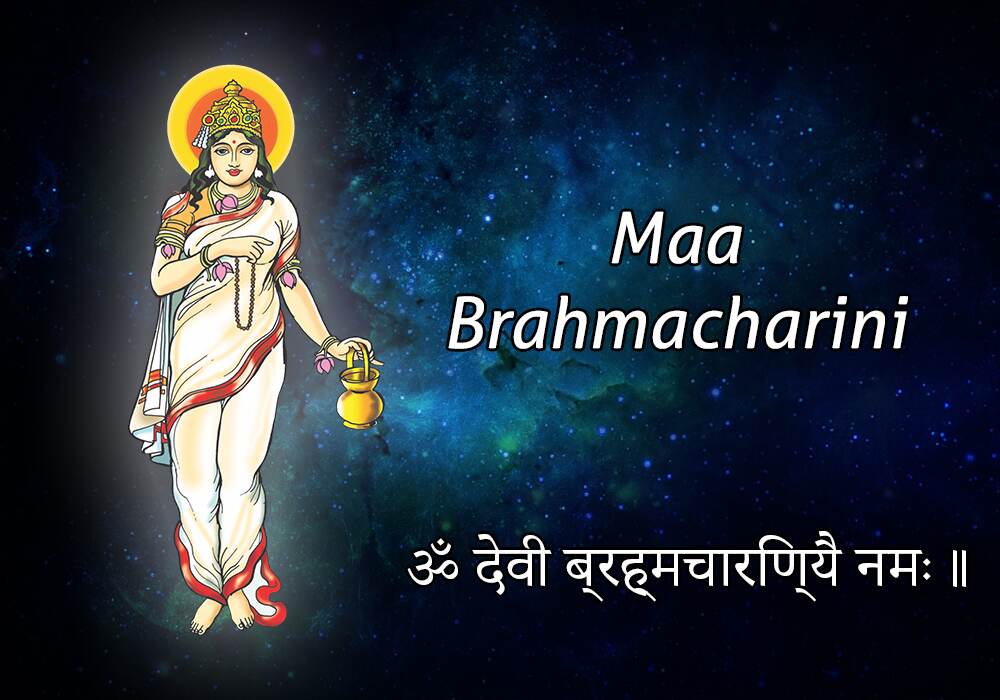 On the second day of Navratri, October 11th, Durga is worshipped in her Brahmacharini form. She is depicted wearing white saree, holding a japa mala or the rosary in one hand and a kamandal in the other. After the Mother Goddess' Kushmanda avatar, she took birth in the house of Daksha Prajapati as Sati. The unmarried form of the Mother Goddess is venerated as Brahmacharini.
Brahmacharini is worshipped with lotus and hibiscus flowers, beetle leaves, cloves and milk. Usually, she is worshipped on the dwitiya tithi, but this year it doesn't fall on the second day of Navratri but on the October 10th itself. The mantra for Brahmacharini is:
ॐ देवी ब्रह्मचारिण्यै नमः॥ Om Devi Brahmacharinyai Namah॥
Chandraghanta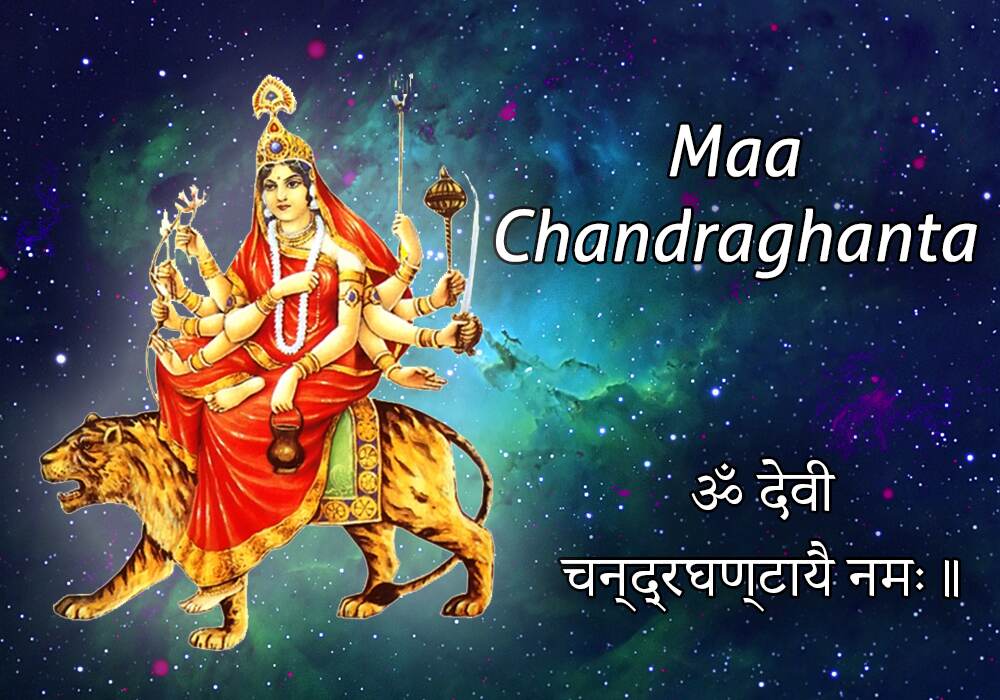 In contrast to Goddess Brahmacharini, Goddess Chandraghanta is the married form of Maa Durga. After she gets married to Shiva, the Goddess bedecks her forehead with the sign of the crescent moon shaped like a bell or ghanta. She is a manifestation of a warrior goddess, armed for war with weapons. Worshipped on the third day of Navratri, Maa Chandraghanta puja will take place this year on the second day October 11 or dwithiya tithi.
For the Puja, offerings that are white in colour, like jasmine, milk, kheer, etc. made of milk products are placed in front of the Goddess. The mantra for Chandraghanta is:
ॐ देवी चन्द्रघण्टायै नमः॥ Om Devi Chandraghantayai Namah॥
Kushmanda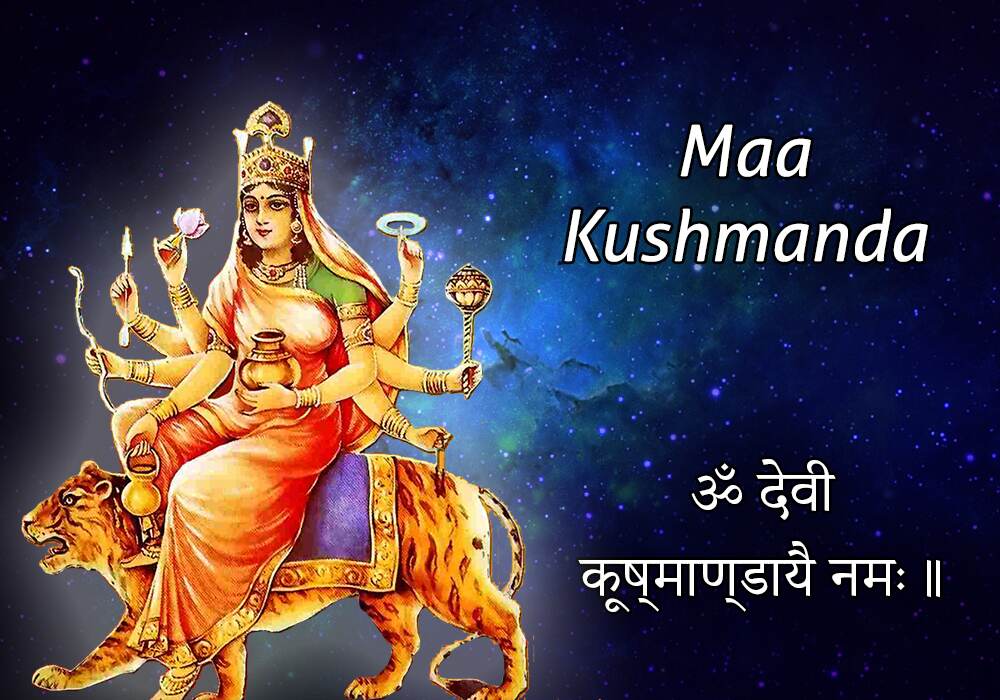 Maa Kushmanda is said to have created the world with her smile. According to legends, she is said to live inside the sun, sending out the energy of the sun to the rest of the universe. The fact that she can reside inside the sun is a testimony to her powers. The sun luminosity is due to the radiance of her own body.
Maa Kushmanda is worshipped on the 4th day of Navaratri. This year, Kushmanda puja will be held on October 12. To worship Maa Kushmanda, devotees have to make an offering of cardamom, pumpkin, fennel seeds, Vermillion, dhoop, red clothes, bangles and red flowers to the Goddess. Before praying to Goddess Kushmanda, one has to bow down to her holding flowers. The mantra for Maa Kushmanda is:
ॐ देवी कूष्माण्डायै नमः॥ Om Devi Kushmandayai Namah॥
Skandamata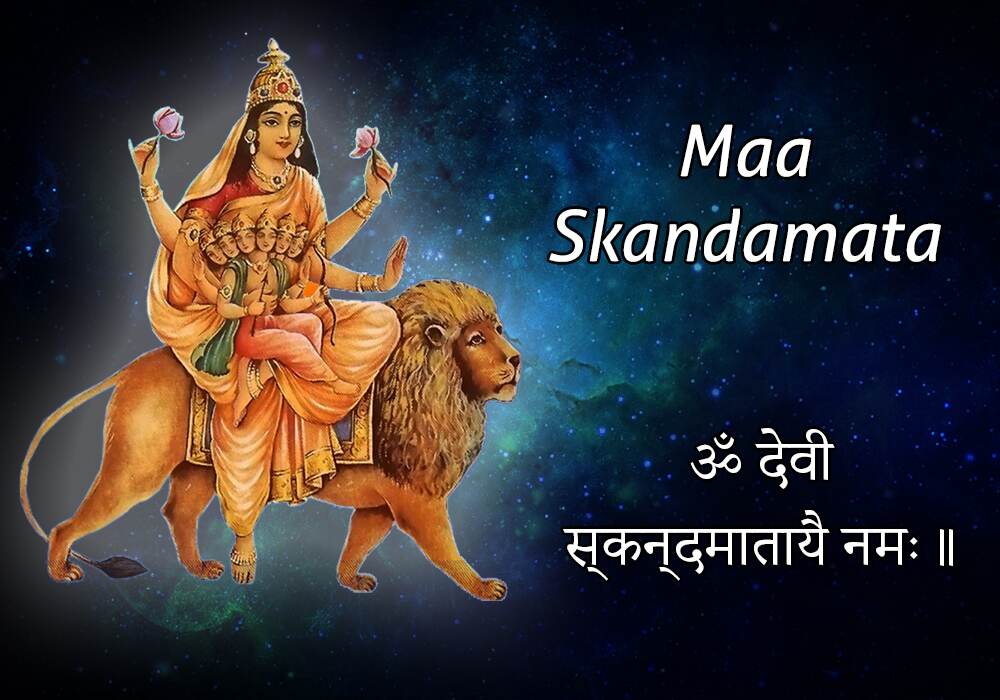 Maa Skandamata's name literally means the mother of Skanda, the God of War, known also by the name Karthikeya. She is depicted riding a lion, armed with weapons in each of her four hands. A wish-granting Goddess, Skandamata blesses her devotees with prosperity and salvation. She even grants wisdom to an illiterate.
She is worshipped on the 5th day of Navratri. This year, in 2018, Skandamata puja should be performed on 13th October or Chaturya tithi. To perform the puja, bow down to Maa Skandamata with flowers in your hands. Offerings are made in the form of red flowers, lotus flowers and bananas. The mantra for Skandamata is:
ॐ देवी स्कन्दमातायै नमः॥ Om Devi Skandamatayai Namah॥
Katyayani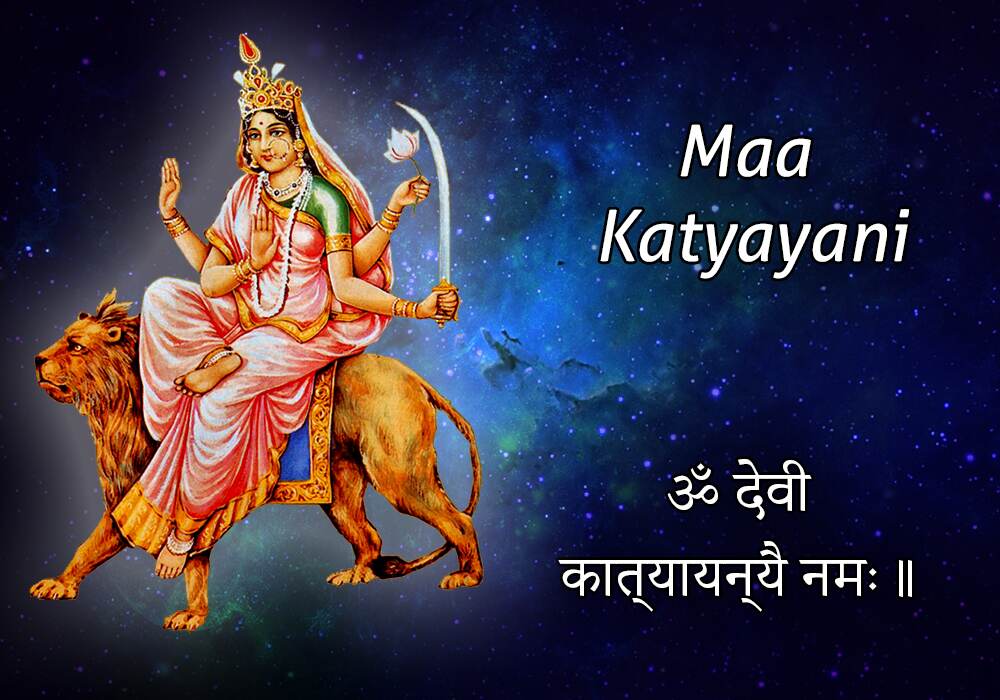 The Mother Goddess was said to have incarnated as Goddess Katyayani to slay the demon Mahisasura. She was born to Sage Katyayan and was thus named Katyayani. She depicted riding a lion and has three eyes and four arms. She holds up a lotus and a sword in two of her hands. She is worshipped on the 6th day of Navratri. This year, Katyayani puja will take place on October 16th.
Goddess Katyayani is worshipped for a happy married life as the Goddess is said to worship couples and remove obstacles such as kundli dosha. To worship the Goddess, devotees start by applying the holy tilak on the forehead and drinking thirth accepted with both hands. Offerings such as sandalwood powder, Akshata and flowers are made to the Goddess. The idol of the Goddess is then bathed in milk, curd, honey and sugar. The mantra for Maa Katyayani is:
ॐ देवी कात्यायन्यै नमः॥ Om Devi Katyayanyai Namah॥
Kalaratri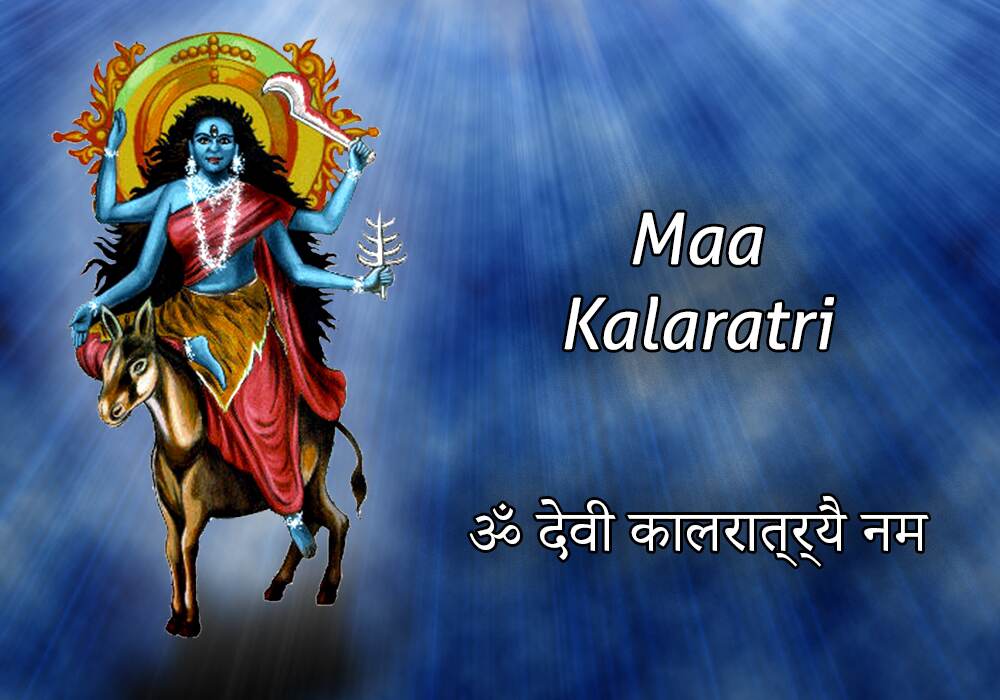 Kalaratri is the seventh manifestation of Goddess Durga. She is the fiercest form of the Goddess and the most terrifying. According to legends, she is known to have removed her radiant golden skin to kill two demons named Shumbha and Nishumba. Her appearance itself is said to preclude the doom of evil men. In her terrifying form, she has dark, dense hair. She holds a sword and thunderbolt in two of her hands. Her vehicle is a donkey.
During Navratri, she is worshipped on the seventh day or Saptami. This year, Maa Kalaratri will be worshipped on October 17th.
On the seventh day of puja, Maa Kalaratri is presented with jasmine that blooms at night. To begin, Ganesha puja is performed, followed by a shodasopachar puja and a concluding aarti. Her mantra is:
ॐ देवी कालरात्र्यै नमः॥ Om Devi Kalaratryai Namah॥
Mahagauri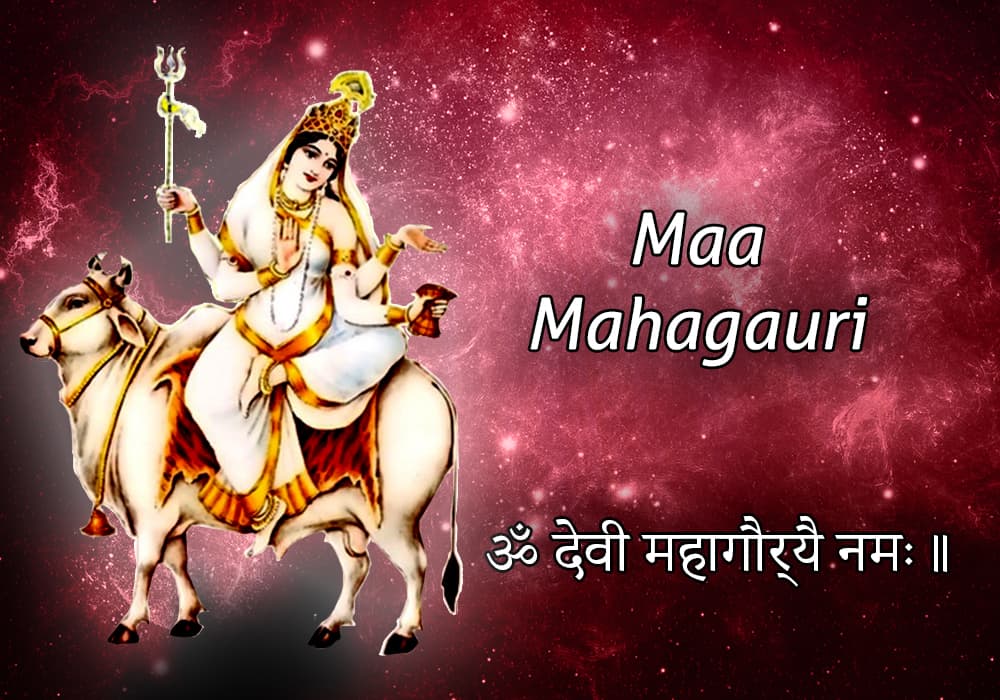 Mahagauri is the eight manifestation of Ma Durga, worshipped on the eighth day of Navratri. Her name means "extremely fair", a reference to Goddess Parvathi's radiant skin. The Goddess wields supreme powers to fulfil her devotees' wishes. She is depicted holding a trident and a tambourine in her hand. Her vehicle is a bull.
She is worshipped with an offering of night-blooming flowers, lamps and perfumes on the eighth day or Ashtami of Navratri. The Goddess is pleased when devotees wear clothes in the colours of white and yellow and prepare foods in these colours. The mantra for Mahagauri is:
ॐ देवी महागौर्यै नमः॥ Om Devi Mahagauryai Namah॥
Siddhidhatri
Siddhidhatri is the ninth and final form of Navdurga. Her name means "giver of wisdom." In this form, she is depicted sitting on a lotus, holding a lotus, mace, Sudharshana Chakra and a conch in each of her four arms. Her vehicle is a lion. She is worshipped on the ninth day or navami of Navratri. This year, Maa Siddhidhatri will be worshipped on October 18th. The mantra for Siddhidhatri is:
ॐ देवी सिद्धिदात्र्यै नमः॥ Om Devi Siddhidatryai Namah॥
On these nine days of Navratri, nine different manifestations of the Mother Goddess Durga will be worshipped. According to traditions, all her nine forms have emerged out of the three major forms of the Goddess – Mahasaraswati, Mahalakshmi and Mahakali. Each represents the energies of the holy triumvirate of Brahma, Vishnu and Rudra.
The nine manifestations of Maa Durga, when worshipped during Navratri, not only helps remove the obstacles in our path but also aids us in our spiritual growth.