India is the land of festivals, fairs and fasts. And January 2019 is full of it. The four-day harvest festival of Pongal is here, an occasion that marks joy and cheer. Dedicated to the Sun God, Pongal is celebrated primarily in the state of Tamil Nadu. Thai Pongal corresponds to one of many harvest festivals such as Makar Sankranti, Uttarayan, Tila Sankranti, Lohri, Magh Bihu, and others celebrated throughout India. And as is the case during other festivals, people are excited about wishing their loved ones with a series of wishes, greetings, photos, images, and quote messages. Well, that's why we are here. We bring to you a lovely collection of Pongal 2019 wishes, Pongal images, Pongal wallpapers in HD, Pongal 2019 WhatsApp Stickers, Pongal Hike stickers, Pongal Gif greeting videos, animated stickers and more. All of this is available online for free downloads. Easy Pongal 2019 Rangoli Designs: New and Simple Beautiful Kolam & Rangoli Patterns to Decorate Your House This Thai Pongal (Watch Videos).
May the festival of the harvest season, be one that brings along with it, all that's best and everything you're so deserving of. This is our heartfelt wish for everyone who will be celebrating Thai Pongal 2019, beginning from January 14 (Bogi Pandigai) with main day of Pongal Pandigai falling on January 15 and end on January 17. When speaking of Pongal, an image of a village scenery with oxen, sugarcane and pot of rice pops in our minds. Like any festival, Thai Pongal has its customs, rituals and traditions attached to it. Pongal is one of the most important festivals celebrated by Tamilians not only in the Indian state of Tamil Nadu but also at the Indian Union Territory of Puducherry and Tamil people living outside in other countries like Sri Lanka, Malaysia, Mauritius, South Africa, United States, Australia, Singapore, Canada and the United Kingdom. Pongal Fashion 2019: Traditional Outfits Style Tips for Tamilian Harvest Festival.
HAPPY THAI PONGAL 2019 WHATSAPP STICKERS
Download your favourite Thai Pongal WhatsApp Stickers from Google PlayStore. You have various options such as - Tamil Pongal Images, Mattu Pongal Images, Pongal Kolam videos - Sankranthi Muggulu designs, Thai Pongal Stickers: WAStickerApps, and Pongal Stickers For Whatsapp.
While everyone wants to celebrated Pongal at home with their families, extended family, relatives and friends, but not always it is possible. So, if you're someone who is away from home or have someone away from the family, it is always the best way to re-connect with them on these special occasions. Let this Thai Pongal be memorable for everyone in your life. All it takes is a text message, a colourful photo or an animated WhatsApp or Hike sticker. No wonder the demand for beautiful Thai Pongal images is so much. Pongal 2019 Calendar: Know Dates And Significance of the Harvest Festival Celebrated in Tamil Nadu.
Happy Pongal 2019 HD Images, Wallpapers and Messages
Keep scrolling down if you're searching for Pongal wishes, Pongal images 2019 in Tamil, Pongal wishes in Tamil, Pongal wishes images, Pongal images, Pongal images HD, Pongal images Telugu, Pongal images cartoon, Pongal GIF, Pongal images HD free download, Pongal wallpaper HD download, Pongal wallpaper Tamil. Feel free to download them and share with your family and friends.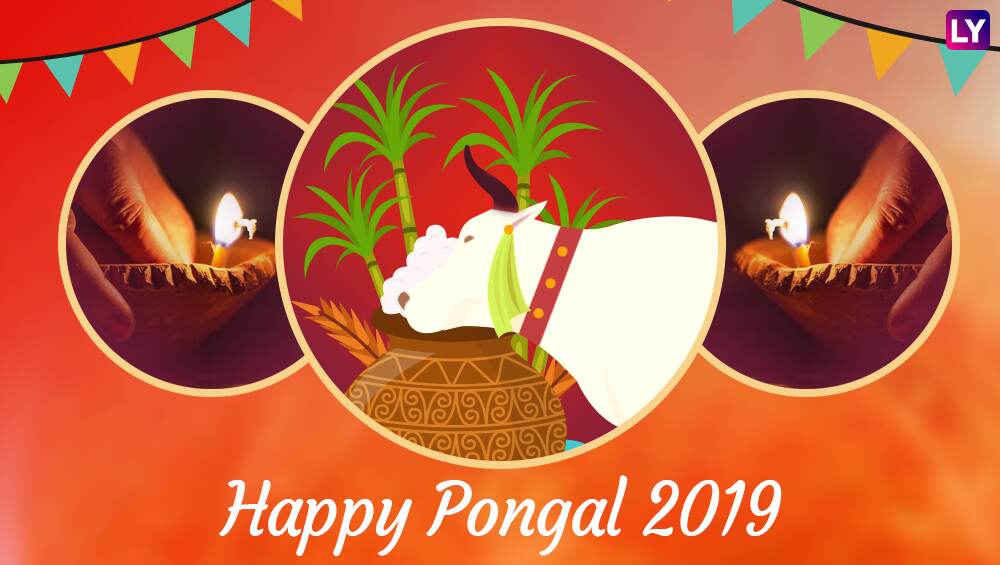 WhatsApp Message Reads: Wishing that this festival brings good luck and prosperity and hoping that it is joyous, and fills your days ahead with happiness. Have a wonderful Pongal 2019.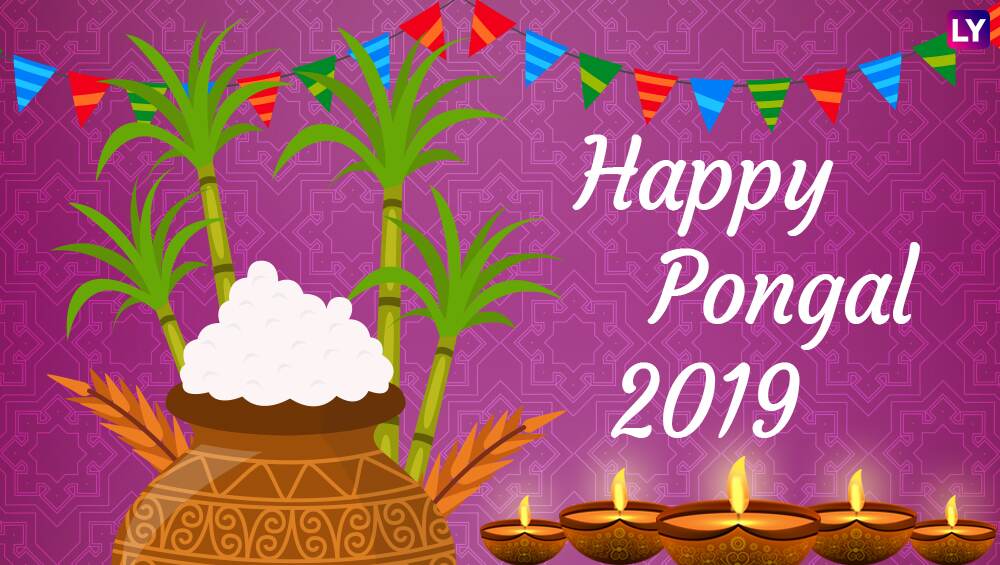 WhatsApp Message Reads: Begin this year with love and Smile forget all your worries for a while wish you Happiness and All of the cheer lets celebrate. Happy Pongal 2019.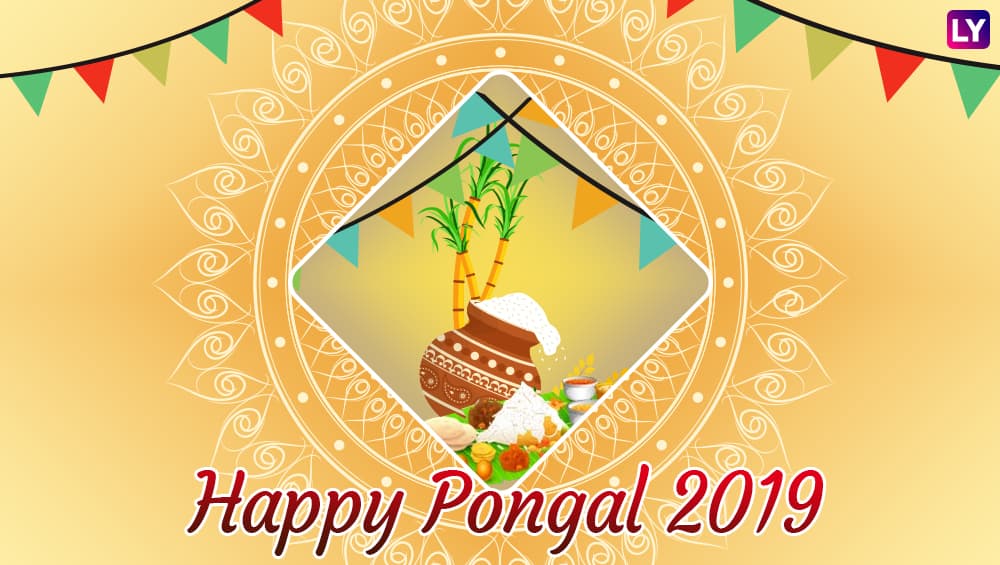 WhatsApp Message Reads: May the Sun God shower his warmth on this happy day of Pongal. May the sugarcane offer its sweetness on this joyous day of Pongal. Happy Pongal 2019 to all.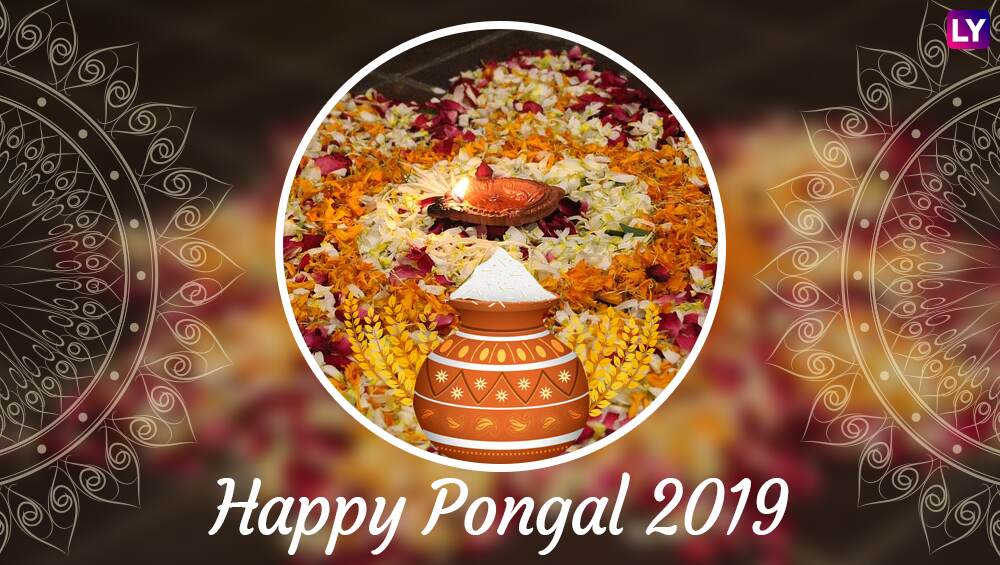 WhatsApp Message Reads: Pongal marks joy and cheer and brings along everything that's best. May the festival of harvest season be one that brings along with it all that's best and everything you deserve. Have a memorable Pongal 2019.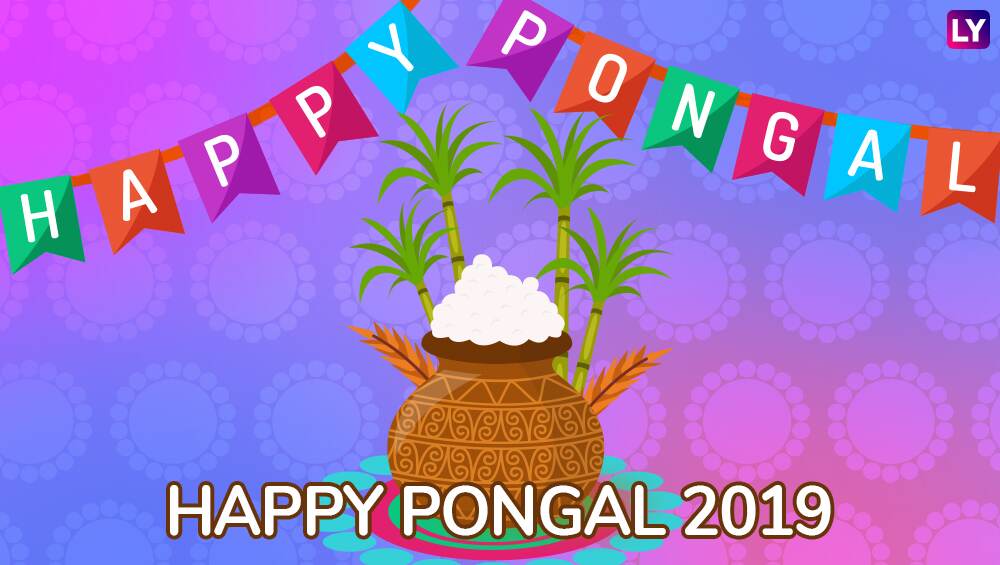 WhatsApp Message Reads: Wish you a very Happy Pongal, Pot rice to Sun God, Sugarcane to Cow and Ox, Sweet rice to You and Me, Good milk to Friends and Family.
Happy Pongal 2019 GIF Images and Animated Stickers
WhatsApp stickers have been a big hit last year and GIF greeting videos have always been a favourite among people. It is always fun to see a moving, dynamic photo than a simple image. This is why here are few Pongal GIF greeting image, Pongal 2019 GIF messages, Pongal WhatsApp stickers, Happy Pongal 2019 GIF with names, Happy Pongal 2019 wishes GIF and more.
WhatsApp Message Reads: Wishing you & your family a very Happy Pongal. May the almighty bless you all with the best of health, wealth and prosperity. Wishing you a Happy Pongal!
WhatsApp Message Reads: Hope this festival marks the beginning of a harvest season, that is happy and cheerful and one which brings with it good luck and prosperity for always. Greetings on Pongal 2019.
WhatsApp Message Reads: "Warm thoughts reach out, to all those who are held dear, as the auspicious festival that marks the beginning of the harvest season, draws near. As the festival of Pongal is here, hoping it ushers in good days, that are filled with happiness and cheer, and the fervour it symbolises, stays with you throughout the year. With best wishes."
That's it from our end. We hope the above list of Pongal wishes, quotes, greetings, photos, images, wallpapers, WhatsApp stickers, Facebook status, SMS text messages and more come handy to you in spreading joy and happiness on the Pongal day. We at LatestLY wish you and your family and friends, a very Happy Thai Pongal 2019.
(The above story first appeared on LatestLY on Jan 14, 2019 03:26 PM IST. For more news and updates on politics, world, sports, entertainment and lifestyle, log on to our website latestly.com).