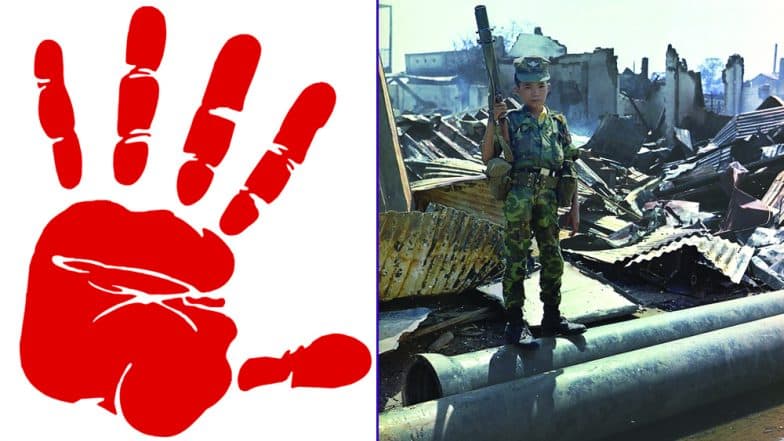 Red Hand Day is observed on February 12th every year raising awareness about children being inducted into the military. The day also known as International Day Against the Use of Child Soldiers campaigns to stop the use of child soldiers below the age of 18. Today there are hundreds and thousands of children who are forced into the army each year. Red Hand Day is a call to help stop stealing childhood from young humans and to aid those affected.
International Labour Organization (ILO), a United Nations agency that has strict laws against child labour is also fighting this problem. Encouraging recruitment of child soldiers, guns and other weapons are made lighter for their easy use. Boys below 18 are inducted and are deployed as fighters, porters, cooks, messengers or spies and girls are used as sex slaves. While there are organisations trying to help children, there is an urgent need for an international solution. Jamaat-ud-Dawah's 'Child' Soldiers: Hafiz Saeed Preparing Army of Minors to Continue Jihad Against India.
Different events are organised on Red Hand Day encouraging children's participation. Children are asked to dip their palms in red paint, press it to a white paper and let it dry. Such palmprints are collected and sent to politicians demanding an action towards the issue. Raising awareness about the day, Red Hand biscuits, Red Handballs, Red Hand T-Shirts are distributed among people. UN: 10,000 Children Killed, Maimed in Conflicts Worldwide.
Watch the video below:
The large scale induction of child soldiers is due to the increasing number of conflicts in places around the world. It is difficult to estimate the accurate number of children being forced into these jobs as in conflict zones UN or other third parties are not allowed. However, according to a 2017 report by Child Soldiers International, a UK-based non-governmental organization that works to prevent the recruitment, use and exploitation of children by armed forces and groups, there are possibly more than 100,000 children in state and non-state military organizations around the world. US Imposes Sanctions on Iranian Network for Supporting Child Soldiers.
Watch the video below:
According to the United Nations, countries including Afghanistan, Central African Republic, Democratic Republic of the Congo, Iraq, Israel and State of Palestine, Lebanon, Libya, Mali, Myanmar, Somalia, South Sudan, Sudan, Syrian Arab Republic, Yemen, Colombia, India, Nigeria, Pakistan, Philippines, Thailand were known for having child soldiers. After 2008, Sierra Leone, the Democratic Republic of Congo, Liberia and Côte d'Ivoire were removed from the list.
This global map shows the trends in the military exploitation of children based on three different criteria mentioned below:
Ratification of OPAC (the Optional Protocol to the Convention on the Rights of the Child on the involvement of children in armed conflict)

Minimum recruitment age

Use of children in hostilities
According to a report in mizzima, more than 1,700 child soldiers in Myanmar were recently reunited with their parents. A defence ministry official said that about 800 military officers and other army personnel who were involved in recruiting them have been punished. There is a German Coalition to Stop the Use of Child Soldiers. Know their demands against this inhuman practice by clicking here.