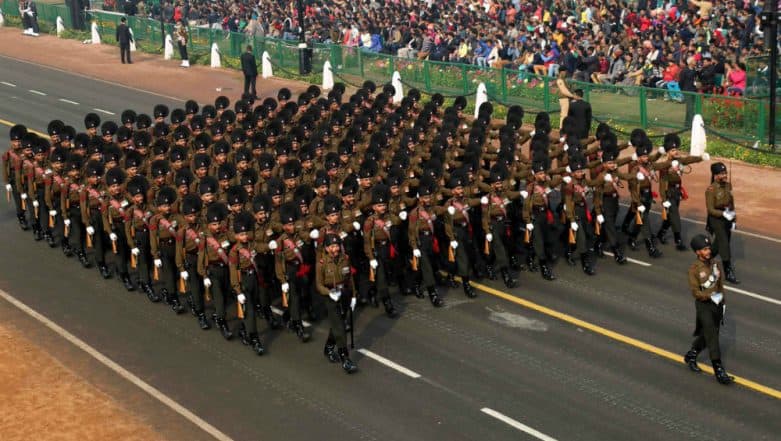 The citizens of India are all ready to commemorate the historical time—Republic Day 2019. On January 26, the nation will celebrate the 70th Republic Day and like every year, this year also people will gather to attend the grand parades and many events which would take place in many parts of the country. The Delhi Republic Day parade 2019 is the largest parades marking the Republic Day celebrations in our country. It takes place at the Rajpath, New Delhi and is regarded as the major attraction for the celebrations of 26th January. The Defence Minister of India has announced this year's list of states who will participate in the Rajpath Republic Day 2019 parade. Evolution of the Indian National Flag Tiranga From 1906 to 1947. 
According to the Defence Ministry, the selected states who will display their floats are Jammu and Kashmir, Gujarat, Uttar Pradesh, West Bengal, Maharashtra, Punjab, Arunachal Pradesh and Goa. Besides, the tableaux of Delhi and Andaman and Nicobar will also be part of the parade.
Watch Sneak Peak of 2019 Republic Day Parade
Planning to skip the #RepublicDay2019 Parade?? Let us help you reconsider. Watch this #SneakPeak into what you would be missing. pic.twitter.com/ydvEKlMFOt

— PIB India (@PIB_India) January 23, 2019
Apart from the various states, six ministries would be showcasing their tableaux that includes the Ministry of Home Affairs (CISF), Ministry of Housing and Urban Affairs (CPWD), Ministry of Railways, Ministry of Power, Ministry of Drinking Water and Sanitation, and Ministry of Agriculture and Farmers Welfare (Indian Council of Agricultural Research). 12 National Symbols of Incredible India & Their Importance That You Should Know. 
The Delhi Republic Day Parade runs for around three hours. It begins with the arrival of the President of India, escorted by a posse of bodyguards on horses. The Prime Minister of India lays a wreath at the Amar Jawan Jyoti, India Gate to pay respect to those who lost their lives in war. The President of India raises the National Flag; the National Anthem is played, and a 21-gun salute is given. The Republic Day Parade is led by the three divisions of the armed forces—Army, Navy and Air Force who show their strength.