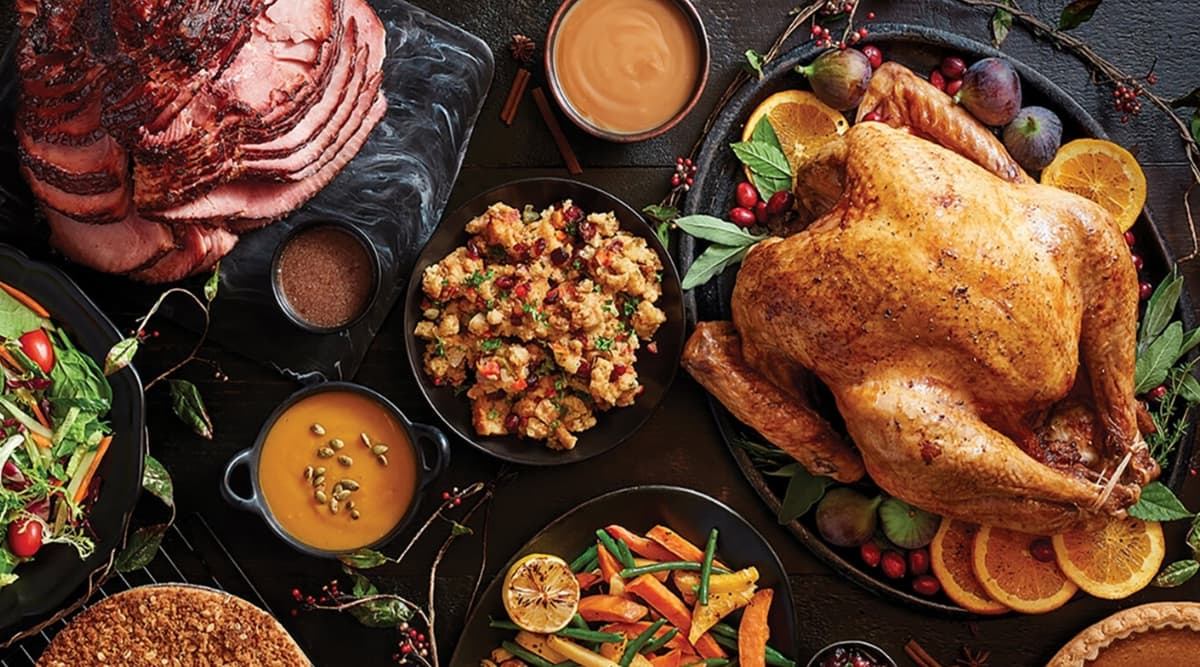 Planning and curating a Thanksgiving party can be a daunting task, to say the least. What should you have on the menu and where should you start? How do you get those creative juices flowing and bring out a menu that your guests will remember? You can stick to the apples like pumpkin and apples or go crazy with flavours like peanut butter and cream. From quick and easy dinner recipes that does not skimp on the flavour to meatless vegetarian delicacies, we have got you covered.
For Starters:
Rosemary Sesame Pecans
These pecans can be the perfect appetiser for the holiday season. Crisp and crunchy, these treats could easily be packaged up and given as hostess gifts. Just preheat your oven to 300°F and line two baking trays with parchment paper. In a mixing bowl, whisk together rosemary, sugar, salt and sesame seeds. In another bowl, whisk the egg whites until they are lightly frothy. Add the pecans and the herb mixture and toss to coat evenly. Spread the pecans on baking sheet and bake for 25 minutes until the nuts are roasted. Thanksgiving 2019 Dinner Recipes: From Roast Turkey to Pumpkin Pie, How to Prepare All the Traditional Favourites on Turkey Day. 
For Sides:
Green Beans with Caramelised Onions
If you are a minimalistic and do not like to go over the top, you must try your hands at this recipe. In a large non-stick pan, heat a tablespoon of olive oil, and add onions, kosher salt and granulated sugar. Cook until the onions are deep golden brown, remove from heat and season with salt and balsamic vinegar. Bring to room temperature and refrigerate the onions for a day. In a large boiling pot of salted water, cook green beans until crisp and tender. Drain and toss the beans with one teaspoon oil and season with salt and pepper. Transfer the beans to a platter and top it with fried onions.
Creamy Mashed Potatoes
Just cream, butter and salt is all you need to impress even your pickiest guest. Bring some water to boil in a pot, add the potatoes and boil for 20 more minutes or until the potatoes can easily be pierced with a fork. Drain the water from the potatoes and transfer them to a bowl. Add butter, cream, salt and pepper and beat until they are thoroughly mixed. Adjust the taste with the salt and cream. How to Butter Turkey Under the Skin For Thanksgiving Recipe? Watch Video To Get Crispy Turkey Skin. 
For the Main Course:
Curried Pumpkin Soup
This soup is rich in flavour and light for butter and cream. Preheat the oven to 350°F and marinate half pumpkins with coconut oil, ghee and butter. Roast the pumpkin for 45 minutes until tender and allow it to cool. Now melt some water in a pot and add onions and allow them to brown. Add garlic and ginger, stir, and cook for some time, until the garlic slightly brown. Add coriander, cumin, and cloves, and constantly stir until spices become fragrant. Now add coconut milk, and pumpkin, and bring to a boil. Blend the mixture until smooth and serve the soup with a dollop of Greek yogurt and a pinch of parsley or cilantro leaves.
Herb Butter Roast Turkey with Pan Gravy
While preparing this flavourful herbed turkey with gravy, you may want to eat several tablespoons before the Thanksgiving supper. Preheat the oven to 400°F and the v-rack of the roasting pan with a heavy duty tin foil. Use a parking knife to poke holes in the pan. Braise the inside and outside cavity of the turkey with butter and sprinkle the turkey with salt. Now place the turkey in the v-rack and add a cup of water to the bottom of the pan. Stuff the turkey with lemon, garlic and herbs and roast for 45 minutes on both sides. Remove the turkey on a plate and let it rest for 30 minutes before serving. Thanksgiving 2019: Why is Turkey a Specific Delicacy For This Feast Dinner?
For Dessert:
Apple Crisp
Preheat the oven and butter the baking dish. In a mixing bowl whisk together some flour, oat, brown sugar, baking powder, cinnamon and salt. Rub butter into the dry mixture until it comes together into small crumbles. In a bowl blend together melted butter and flour and then mix in water, vanilla and lemon juice. Then stir in brown sugar, cinnamon and pinch of salt. Now toss apples with butter mixture in a bowl and pour into prepared baking dish. Simple with the apple crisp topping and bake in preheated oven until apples are tender. Allow it to cool slightly before serving.
Also keep in mind your kitchen space while you are planning your menu. If your oven is small and is going to be taken up by the turkey, go for sides that you can prepare on your stove. Also, double check that your turkey-roasting pan fits in the oven.