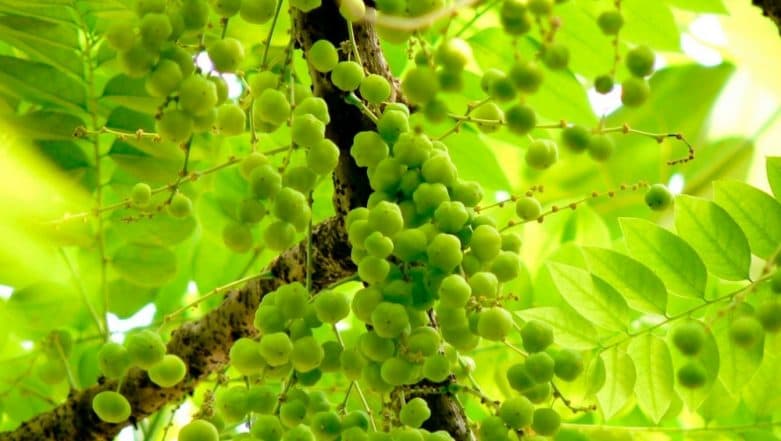 Monsoons are a great time of the year. But they bring with themselves a host of health and beauty-related problems. One of the biggest challenges of monsoons is hair fall. The changing weather and excessive humidity in the atmosphere weaken hair roots, causing their breakage and fall. If you are alarmed by the number of hair stands collecting on your hairbrush, you need to act fast. There are some quick tips such as avoiding frequent hair washes and styling tools, conditioning your hair and following a healthy diet to prevent hair fall in monsoons. But in this week's Home Remedy of the Week, we will focus on how to use amla (Indian gooseberry) for hair fall. Hair Fall and Hair Thinning in Women: Expert Lays down Precautionary Measures and Diet Tips to Prevent Hair Loss. 
How Amla Prevents Hair Fall
Amla is one of the richest sources of vitamin C. It's loaded with antioxidants, kaempferol, flavonoids and gallic acid. Consuming amla can itself help improve your health, thereby impacting your hair growth. Vitamin C deficiency can often lead to hair fall. By having amla every day, you can plug your nutritional deficiency and prevent loss of hair. Keto Hair Loss: How to Prevent Thinning of Hair on the High Fat, Low Carb Ketogenic Diet.
But you can also use amla topically to improve blood circulation to your scalp. When the blood flow to your scalp is boosted, the hair roots receive the right amount of nutrition. This strengthens to hair follicles and the hair itself. Massaging amla juice or oil on your hair roots can help you reduce hair fall to a great extent.
How to Use Amla or Gooseberry for Hair Fall
Amla can be used in the fresh form or in the dried, powdered form, which you can easily buy from an Ayurvedic store.
• In case of fresh gooseberries, create a pulp by grating amla and then adding it to coconut oil.
• Heat the oil till all the water from the amla disappears.
• In case you are using powdered amla, add it to the oil and heat it till all the nutrients are released.
• Massage this nutrient rich oil into your scalp focusing on the roots.
• Keep the oil on your scalp for 20 minutes to one hour.
• Wash off with water and shampoo.
You will notice that within weeks of using the amla treatment, your hair fall would have reduced. Since gooseberries are also rich in antioxidants, it can also stimulate the hair roots. You will see that your hair is longer and darker.
You can also use amla in hair packs made of fuller's earth (multani mitti) or henna (mehendi). But if you are prone to colds, avoid using wet hair masks in the monsoons. A good diet will also help you prevent hair fall in the monsoon months. But remember to use a mild shampoo and avoid using styling tools that are harsh on your hair roots.