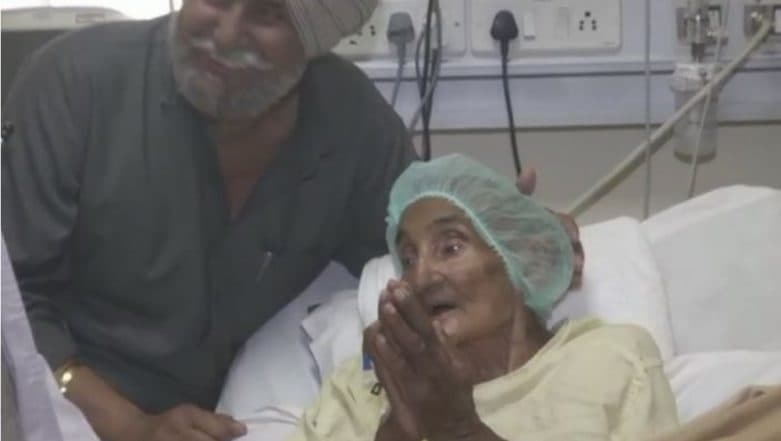 In a medical miracle, a 118-year-old woman Kartar Kaur Sangha was operated upon and successfully fitted with a pacemaker. According to ANI, Sangha was fitted with a pacemaker at a hospital in Ludhiana. The doctor Ravindra Singh, who handled her case, said that her age has been corroborated according to her brother's birth record and two-three other records. Her 90-year-old daughter also provided them with proof. The Punjab native could now be featured in the Guinness Book of World Records and the Limca Book of Records.
Here's the Tweet by ANI:
Punjab: Kartar Kaur Sangha- 118 years old as claimed by family- was operated upon successfully and a pacemaker was implanted, at a hospital in Ludhiana. pic.twitter.com/dDVLpLHjg6

— ANI (@ANI) March 7, 2019
Before Sangha, the record for the oldest person to undergo surgery in the world was held by Kunjithamma, a 114-year-old from Tirur, Kerala in 2017. She had undergone the operation at Nadakavu hospital in Malappuram, Vadakkanchery, according to Mathrubhumi News. The surgery was to set her fractured bone right. Oldest Person on Earth? Bolivian Woman Julia Flores Colquea May Claim at Age of 118.
Surgeries on seniors as old as 65 years are considered risky and the risk increases with age. The elderly are poorly equipped with dealing with physical stress and usually do not survive complications of a surgical procedure like excessive blood loss. Even regular operations like appendectomy, that may be safe for the youngsters, could be risky in the older folks. The World's Oldest Person Chiyo Miyako From Japan Dies at the Age of 117.
Risks of the pacemaker surgery include bleeding, allergic reaction, infection or bruising. The fact that Sangha survived the pacemaker surgery speaks volumes about her own health and her doctor's expertise.