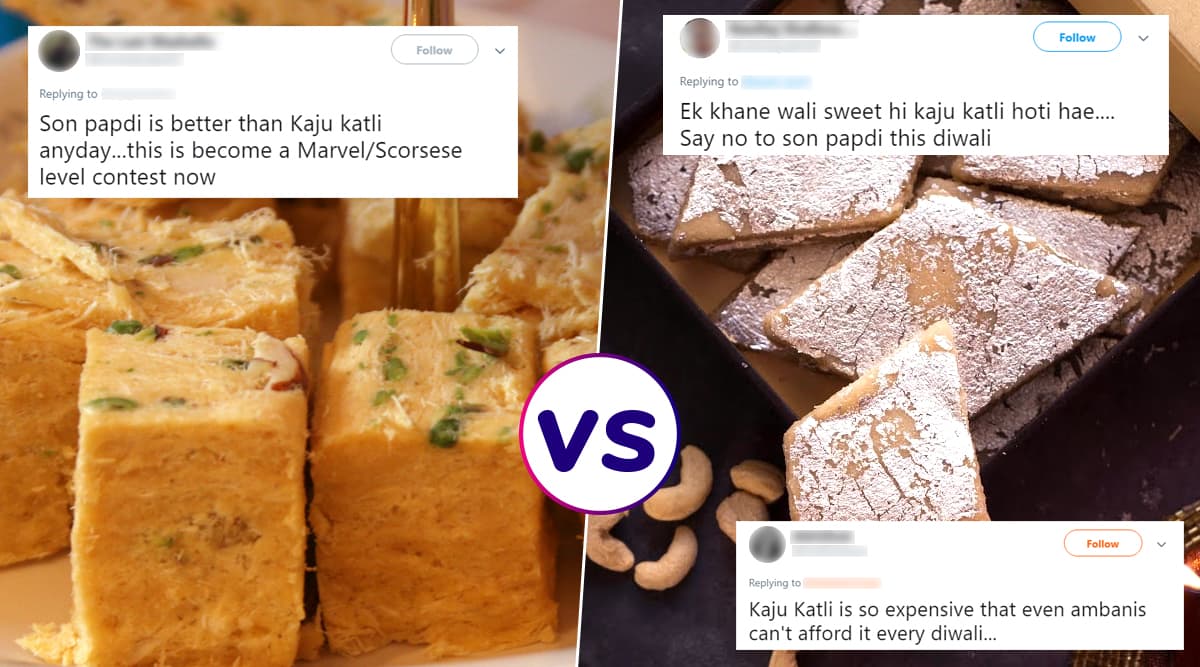 The festival of lights Diwali is here, and so are the funny memes on soan papdi! Every year, throughout the festive time, hilarious tweets on Diwali surface online. This year it is the battle between soan papdi and kaju katli. Nobody knows who's the best sweetmeat of the festive season. But currently, the internet is divided with opinions on which sweet should rule Diwali 2019. Yes, they taste different and are priced differently, but that does not calm the netizens. They are fuming over which is "the better sweet" for the festival of lights. The battle continues as funny tweets and jokes have taken over the social media platforms. Diwali 2019 Brings With It Soan Papdi Memes! Funny Jokes and Tweets on Not-So-Favourite Diwali Sweet Start Trending Online. 
Kaju katli is a cashew-based sliced sweet and has always been a star of Diwali celebrations. Sweet shops are filled with these delicious delights. But soan papdi is its close competitor! Every year, these gram-flour based sweets become commonplace and soan papdi memes surface online during  Deepavali. Tired of seeing boxes of soan papdi everywhere, the internet collectively screams for its ban. The cube-shaped sweets will always find its way out to enter your homes on Diwali. Soan papdi as good as kaju katli when it comes to festive favourites. And now, this debate of kaju katli vs soan papdi has started a meme war on the internet. This Sonpapdi Song From Aunty No 1 Will Drive Away Your Blues of Getting Soan Papdi During Diwali 2019. 
Check the Viral Tweets:
The only reason people have acquired the bland taste of Kaju Katli is coz it's expensive.

It's the rich man's Son Papdi.

— Gabbbar (@GabbbarSingh) October 26, 2019
Laughing Out Loud:
Guests come.

Mom serves a plateful of Kaju Katlis. Guests share just one Kaju katli among them. "Bhabhi ji bas abhi nashta karke aa rahe hai"

Guests leave.

Me & my brother jump at the leftovers, finish the bread rolls.

Nobody touches the Kaju Katlis.

— Gabbbar (@GabbbarSingh) October 26, 2019
Too Exaggerated, But Yeah!
Kaju Katli is so expensive that even ambanis can't afford it every diwali...

— AbhiShek (@ImAbhishek28) October 26, 2019
We Must Save it for the Guests!
u mean rich or middle class ....as kaju katli is for some special relatives or knowns and for rest soan papdi 🙄

— karunfreesoul (@karunfreesoul) October 26, 2019
Totally!
Son papdi is better than Kaju katli anyday...this is become a Marvel/Scorsese level contest now

— The Last Washello (@humanprojector) October 26, 2019
Everyone Is:
Ek khane wali sweet hi kaju katli hoti hae....

Say no to son papdi this diwali

— NeeRaj ShaRma.... (@cubicequation8) October 25, 2019
No Complaints Ever!
Like how can someone ask you to chose between Kaju Katli and Son Papdi

I am like idc just give me both. I will eat.

— ✰ (@aaditeaa) October 24, 2019
From assisting your mother in 'Diwali ki safai' to wrapping gifts and sweets for near ones, Diwali is all about sharing, caring, having fun, and "passing the parcel" with boxes of soan papdi. We can never ignore that. It is not easy to decide which the better sweet is for Diwali.