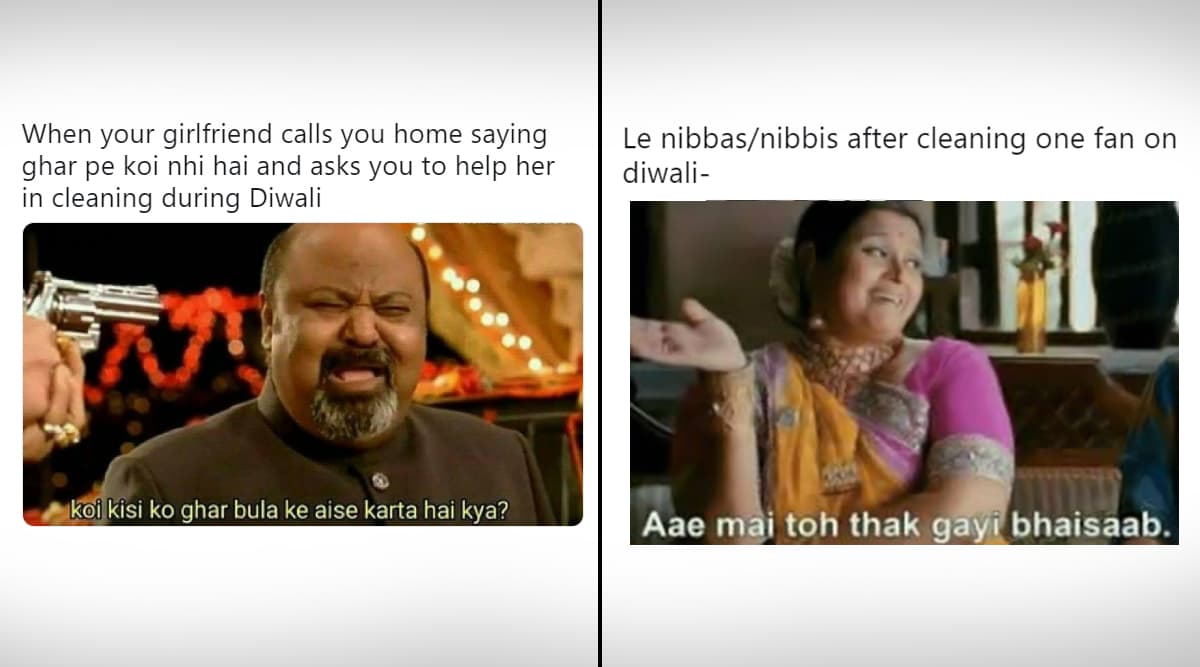 The festive vibe has begun in India, after bidding adieu to Maa Durga on Dusshera, we are now readying up for the festival of Diwali. One of the most awaited festive celebrations throughout the year, Diwali evokes so many pleasant memories and festive celebrations. And while all of us think about the new clothes we will wear, yummy feasts with special sweets, catching up with relatives etc, our mother reminds us of something we choose to forget ⁠— Diwali cleaning or Diwali ki safai. Decorating homes with lights and lanterns, cleaning the house and making rangoli is the very start of these festive traditions. And with Diwali cleaning, there are funny jokes and memes that are shared online which all of us can relate. Netizens are sharing the same spirit and posting some fun jokes, TikTok videos and memes on Diwali cleaning which you can scroll through while you hold the broom! Diwali 2019 Calendar: Know Dates of Dhanteras, Lakshmi Puja, Bhai Dooj and Other Important Days of The Festival of Lights.
Each household has a cleaning session before any festival and since Diwali is a time for family gatherings, there is even more emphasis on decorating house. Several people host Diwali parties, get their homes newly painted, prepare the best of interiors, all of which start with cleaning the house. And whether you like it or not, you have to make time to join your family in making the house spic and span. And as most of us while our time on social media, there are funnier jokes and memes that are being shared online. Some have even shared TikTok videos on Diwali cleaning. Diwali House Cleaning is a Great Way to Bond With Family, Finds New Study!
Troll Level: Diwali Cleaning
When your girlfriend calls you home saying ghar pe koi nhi hai and asks you to help her in cleaning during Diwali pic.twitter.com/IuxtD3NXwD

— Cyasten (@Cyasteng) October 14, 2019
Give me Rasna!
Le nibbas/nibbis after cleaning one fan on diwali- pic.twitter.com/7aTFuzG9mW

— 🆂🅰🆃🅰🅽 (@Noob_trolleR_) October 15, 2019
Break Toh Banta Hai!
Me, after 5 minutes of #Diwali Cleaning 😥😥 #Diwali2019 #CleanIndia pic.twitter.com/GpDiWDHrL9

— Not Guilty! (@LawyerOnHire) October 13, 2019
Everyone's Praying Right Now
*When you came to know that today is sunday and you are going to do house cleaning*#Diwali pic.twitter.com/VEDbv3VRhW

— Anurag (@sarcasm_iz_lub) October 13, 2019
Relatable
When Your Mother calls you for Diwali cleaning. Retweet if you have helped her. #nagpur #jabalpur #raipur #bhopal #Housekeeping #Diwali2019 #diwalikisafai #SwachhBharat #swachhbharatmission #swachhbharatabhiyan pic.twitter.com/eSWHdwwrGL

— Aquarians Digital Agency (@aquatians) October 16, 2019
That Hurt
Today's painful photo in Diwali cleaning 😁 pic.twitter.com/Rbh9OKKkio

— Fasih Fassu (@FasihFassu) October 16, 2019
Funny TikToks are Here Too
Husband planned sunday being lazy but then wife turned into a Diwali cleaning day.... 😜😜🤪 pic.twitter.com/QZoY52p0L5

— Sweetie pie 💃 (@n_hiral) October 14, 2019
Cleaning Hack!
Diwali cleaning .... check the brilliant idea ... pic.twitter.com/CmFY24Xzwa

— Mysterious Me 🇮🇳 (@roykajal) October 14, 2019
That's Quiet Helpful
Crush - Can you help me in diwali cleaning at home ?

Me - pic.twitter.com/dUYSTwoqmJ

— शिvam (@Oye_Protein) October 29, 2018
Diwali ki Safai song
Na isq me...

Na judai me....

Sabse jyada dard hota hai....

.

.

.

.

.

Diwali ki safai me !!!!!

😂😂😂😂😂

I'm going through this torture! !!!

— 🎶🎶 🅰NANDIT🅰 🎶🎶 (@ak22400011) October 16, 2019
Oops
She Waved At Me From Her Window

And I Waved Back At Her From Mine

Later I realised

Diwali Ki Safai Me Khidki Ke Sheeshe Saaf Kar Rhi Thi.😂

— Š十尺ÕM๛尺P (@Aalsibanda01) October 14, 2019
Been There?
Pic1- How i refuse to my mom to do Diwali ki safayi with her .

Pic2- After 5 mins pic.twitter.com/uWeraCWXUd

— Hunटरर ♂ 🥳 (@nickhunterr) October 26, 2018
We are sure you relate to at least some of these memes and funny tweets if not all. But it is actually fun in cleaning when you find some old things which you forgot you even had. Diwali cleaning also evokes a kind of nostalgia in a way. And how much ever one tries to stay away from cleaning the mess, you just can't. It is a festival after all. Wish you all have a Happy Diwali cleaning session.