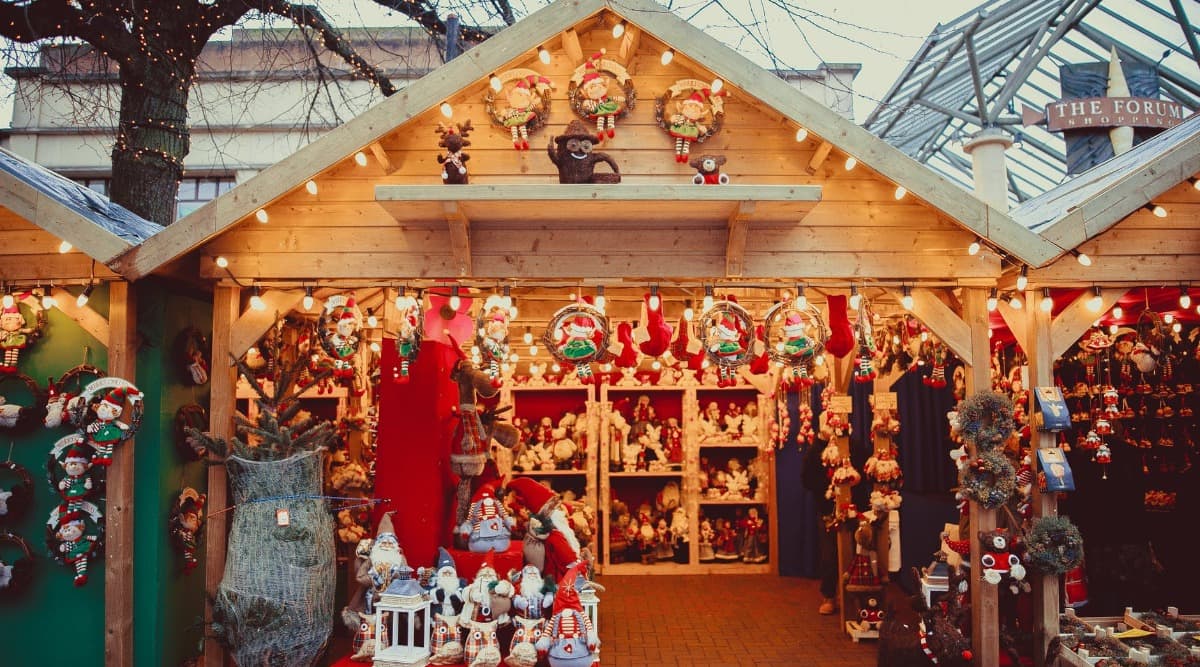 Christmas is around the corner and festive markets are operating full-fledged. Christmas markets are popular around the world where everything relates to the festival is sold. From traditional markets, fairs to modern celebrations, these markets are a celebration in itself. As the festive season approaches, we have listed down popular Christmas markets from around the world. It is said that Christmas markets originated in Germany and are also known as Christkindlmarkt which translates to 'baby Jesus market'. Christmas 2019 Traditional Foods: From Stollen to Panettone, 9 Delicacies Around The World That Are Part of the Holiday Feast.
In many countries, Christmas markets are a part of the festival's tradition and hold great importance. They set the festive spirit ushering in the fun and goodness of togetherness. Christmas markets are popular in Europe and so it is in the United States. From fairy lights, baubles the smell of gingerbread, wine, Christmas trees, Santa Claus costumes, there is nothing like a stocked up Christmas market. Check out the list of world popular Christmas markets from across countries. Tis the Season! Mesmerising Christmas Tree Pics That Will Get You Ready For Happy Holidays.
Cologne Cathedral Christmas Market, Germany
Located in front of the historic Cologne Cathedral, the market fills the air with the smell of freshly baked cakes. It has about 150 stands where everything from handicraft, gifts, food and drinks are available. Christmas programmes and performances are held there for children. The market which began on November 25 will end on December 23.
Old Town Square Christmas Market, Prague
Two main Christmas markets are located at only a five minutes distance from each other in Prague. While one is in Old Town Square and the other one is in Wenceslas Square. Both markets are open from  November 30 until January 6. You can relish barbecue porks, blood sausages, muffins and conkers at these markets. It has every from folk dance, music performances and is a place of merriment. Christmas 2019 Special: 6 Cute and Romantic Ways to Propose Your Partner and Kiss Under the Mistletoe!
Christmas Village, Philadelphia, the United States
While Europe is popular for Christmas markets, so is the United States, Christmas Village in Philadelphia is an outdoor holiday market. More than 80 vendors set up their stores there in wooden booths. They have everything from gifts, treats and all things Christmasy. Christmas Village began on November 28 and will end on December 24.
Basel Weihnachtsmarkt Christmas Market, Switzerland
Basler is one of the three main Christmas markets in Switzerland. Over 180 traders set up their stalls at this European Christmas Market. They are connected to each other with beautifully decorated streets, windows and homes. From wooden chalets, crafts, delicious food items to thin crust pizza, this market boasts of everything nice and beautiful.
ICE Village – Amsterdam, The Netherlands
Amsterdam's Museumplein turns into beautiful a beauty during Christmas with live music, market stalls, food and drinks. You will find something for everyone in this market. The market began on December 13 and goes upto December 26.
The concept of Christmas markets spread during the Middle Ages from towns like Germany, France and Switzerland. Today Christmas markets are present all over the world and are a celebration in itself. Some have even developed themselves to have ice skating rinks, foam snowfall, light shows and much more ushering in thousands of visitors.