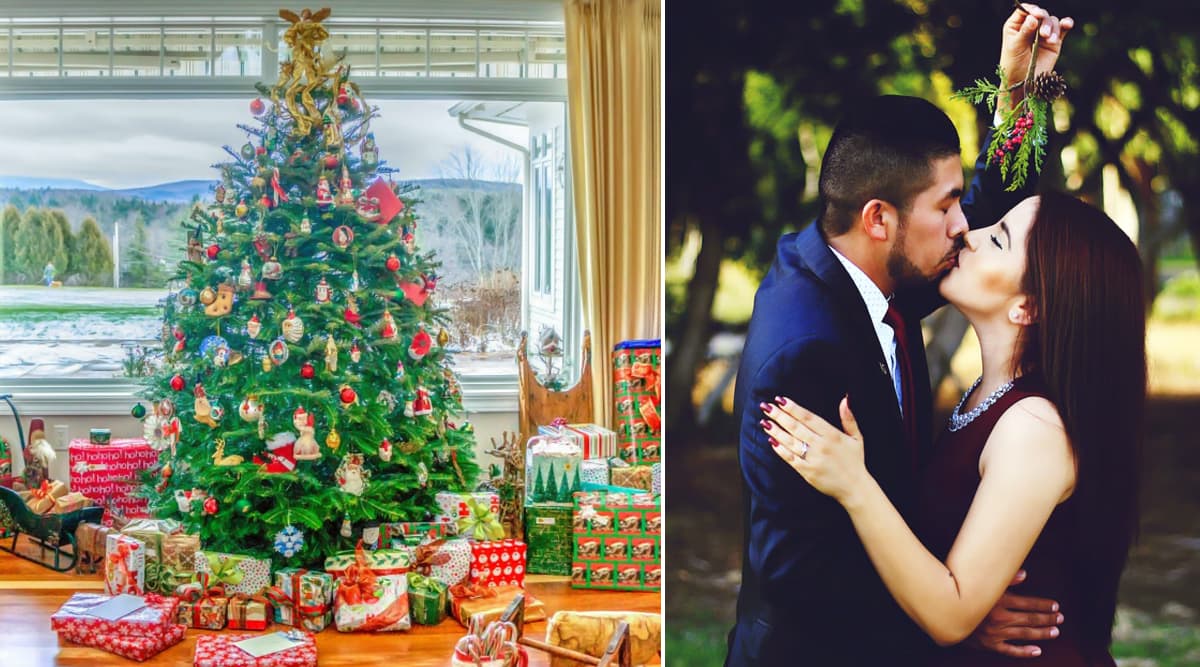 The season of merry is approaching us, and there are so many traditions to enthral us. But the most popular one is to decorate a bunch of mistletoe in your house, or wherever you place your Christmas tree. The idea is that if you meet someone underneath it, you will have to kiss her/ him. The festival brings a perfect opportunity to pop the question—'Will you marry me?' While she/ he will be stunned with your sudden expression amidst the festive cheer, the moment is sure to be cherished for long. There is a magic in Christmas, and you can enhance it even more by adding your romantic touch to the charm. Hence on the special occasion of Christmas 2019, here are six cute, yet romantic ways to propose your partner, and if it is a YES, kiss her under the mistletoe! Five Alternatives for Xmas Tree That Will Dazzle up Your Home This Holiday Season. 
1. Personalised Advent Calendar
We all love to countdown to Christmas with the help of an advent calendar. We know that the advent month has begun; it is not extremely late, you can still give it your personal touch. Make your own advent calendar and fill it with your partner's favourite things. You would perhaps want to put the ring on the last one, but don't! The idea is to keep the romance going until the special night of Christmas arrives and that is when you bend down on your knees and propose. Five Ways to Put Up DIY Eco-Friendly X'mas Tree at Home. 
2. Personalise the Christmas Tree
You might wonder that we are talking about personalising stuff too much, but it is acceptable! The feeling is personal, after all! And in whichever manner you propose, if you want to make it unique, you will have to add your individual touch on it. So for the Christmas tree, accessorise it with all the decorative pieces and hang a small card that reads, "Will You Marry Me?" with the engagement ring attached!
3. Christmas Stocking
When you are adding the mince pies out for Santa's arrival, why not make it special for your partner. Buy her a stocking this year and personalise the design with a "marry me?" message and behold her surprised expression. There is everything special about Christmas and make this year's a memorable one. Why Santa Claus is Always Dressed in Red Suit? Know The Real Reason Ahead of Christmas 2019. 
4. Go On a Christmas Day Walk
It is the cosy vibe and wintery feeling that spice up the passion between you even more during the festive season. If you want to keep it a special moment for just the two of you, take her out during the daytime and pop up the important question. You can later return to your family and friends and toast your engagement.
5. Christmas Treasure Hunt
A treasure hunt is a fun part and one of the best ideas to propose to your partner. If you are too confused or nervous creating your own, there are many Christmas treasure hunt ideas available online to make the game special. All the clues will lead to only one thing—the beautiful ring.
6. Christmas Dinner
The best way to rule anyone's heart is through their stomach. The festive dinner is the best meal of the year. So be the chef for the night and cook all her/ his favourite dishes. You can even personalise your better half's dinner setting with a "will you marry me?" card. You can't go wrong!
These are the six best ways through which you can propose your partner on Christmas night. Make use of all the decorations and be little more creative adding your personal touch, with however way you propose. But try to pop up the question when you are under the mistletoe. Romance will surely rule your festive spirit.