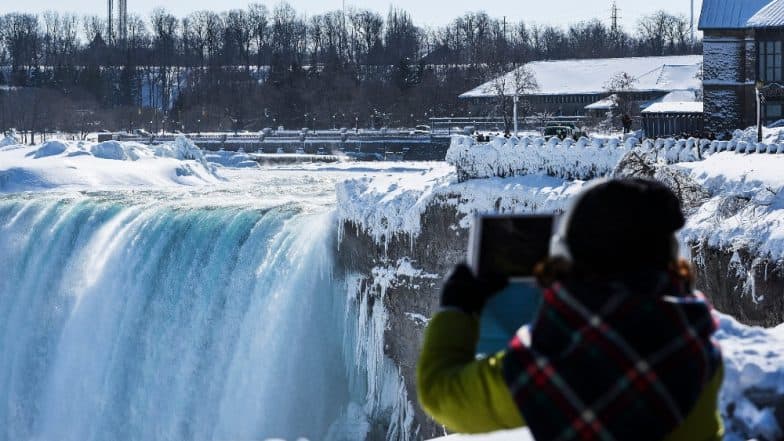 Niagara Falls, the mesmerising waterfall located on the borders of Canada and America which receive scores of tourists from around the world, has frozen. Parts of nature's beauty which is a combination of three waterfalls has stopped flowing as temperatures have below average. And now the icy waters have become even famous destination among tourists with people taking to social media with pictures of frozen Niagara Falls in the background.
Niagara Falls has frozen in the past also, drawing more tourists to witness the natural phenomenon. While major parts have turned ice, in some areas water continues to flow. A video posted on Facebook shows how Niagara and its surrounding areas have received a thick blanket of snow. While water continues to flow in some parts, fog and ice engulf some regions. Pictures of Frozen Dal Lake in Srinagar and Snowfall in Manali Makes Us Want to Rush to the Hills This Holiday Season!
Watch the video here:
Tough temperatures over the weekend in the Northeast caused the falls to turn into ice. Niagara Falls USA says, "This spectacular event is the work of prolonged frigid temperatures combined with some sneaky science." Depending on the intensity of the cold, the water turns to ice or not.  When extreme cold continued for longer periods in 2014 and 2015, enormous chunks of ice were formed. People had then shared pictures of the beauty calling it 'frozen falls'. Winter 2019: These Pictures of Snowfall From India And Around The World Would Make You Want to Head For a Vacation Now!
View this post on Instagram
An aerial view of Niagara Falls!
View this post on Instagram
Frozen beauty!
View this post on Instagram
With extremely cold temperatures, certain parts of the ice buildup can reach more 40 feet thickness. Winter 2019 laid a snowy carpet in many regions across the country. Snow also gave a boost in tourism in different touristy locations. Heavy layers of snow also came with troubles for many. Roadblocks, shutdowns, heavy traffic were among issues people faced due to snow.