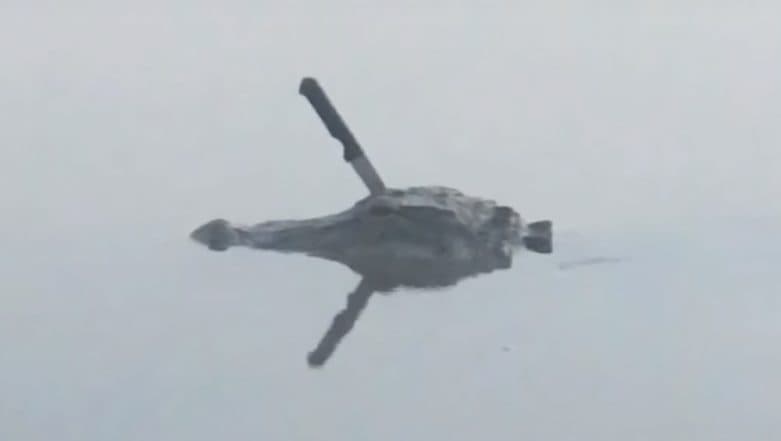 Alligator spottings are quite common for residents of Southern US States. The large reptiles are seen very often in the localities around the lakes and marshy areas, but a recent appearance of a reptile left residents in shock. An alligator was seen with a knife stuck in its skull at the Fort Bend County, Texas. The gator with a knife was spotted by two locals inside the Orchard Lake Estates in Sugar Land, Texas. A picture of the large reptile has left even internet users in shock and is now going viral on social media raising concerns about animal cruelty. Florida Man Returning From Night Shift Shocked to See an Alligator Welcoming Him! (View Viral Pic).
A woman named Erin Weaver took a picture of the alligator and the images have sparked concern for the reptiles in the area. She mentioned that she has seen alligators regularly but they aren't hostile. They duck away in the waters. Weaver told ABC13, "He kind of turned and came right towards me, and he swam right over here along the rocks here, and he sat there. And it was actually a knife—it looked like a steak knife—sticking out of his head." She also added that it was very close to his eye. Florida Woman Heard Knocks on The Door, Freaked Out to See 10-Foot Alligator Waiting Outside! Watch Video.
Watch Video of Alligator Spotted With Knife Stuck in Head:
Local residents have now raised concern about who could have wanted to hurt these large reptiles so badly. They have approached the wildlife management officials to do something about the creature and offer some help. Weaver believed that some must have done this on purpose. Subject to the intensity of the injuries, the alligator may be removed from the lake. They will have to take prior permission from Texas Parks & Wildlife. It is really shocking that someone would hurt the reptile so badly.