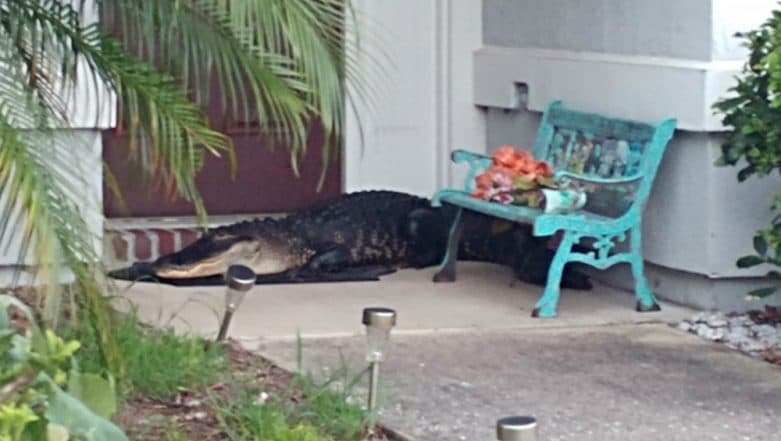 You are coming back home, late from work, and find out a giant alligator, welcoming you. Scary enough? This is what an Amazon worker, in Florida came across, who after his long tiring late night shift returned home, only to find a giant alligator, resting on his doorstep. Reportedly, measured 6-foot long, the giant water mammal was captured, blocking the entrance of the resident, who stood there shocked and still for a while. Identified as Michael Prestridge, after a short period of "cursing and laughing," he called the cops to get a trapper to remove the giant predator. The pic of the giant alligator is going viral and giving all the scary chills to people online. Florida Woman Heard Knocks on The Door, Freaked Out to See 10-Foot Alligator Waiting Outside! Watch Video. 
According to his Facebook post, Prestridge had 10 hours overnight shift and he came back to his Middleburg home at the early hours, hoping for some peaceful sleep. "When you get home from a 10 hour overnight shift at 6am to find THIS sitting on your doorstep," Prestridge captioned along with the photo of the alligator while sharing on Facebook. Massive Alligator 'Fabio' Spotted Strolling Across in Florida Reserve. 
View Pic Here
Going through his Facebook post, it was understood that after the scary sighting, Prestridge called the police officials, who then arranged for alligator catchers and eventually bade goodbye to the water mammal. Researchers call this season to be alligator mating, which begins in early April, with at least a month of courtship, before the mating phase follows in May or June. The beasts are out in search of potential partners.
Florida residents are coming across alligators recently. Last week, an alligator reportedly measuring 11 feet broke into the home of a resident of Clearwater, Florida, through a low window, situated in their kitchen. The Clearwater Police Department posted photos of the alligator, crawling inside the resident's kitchen, along with a cracked window that the animal broke to get inside.