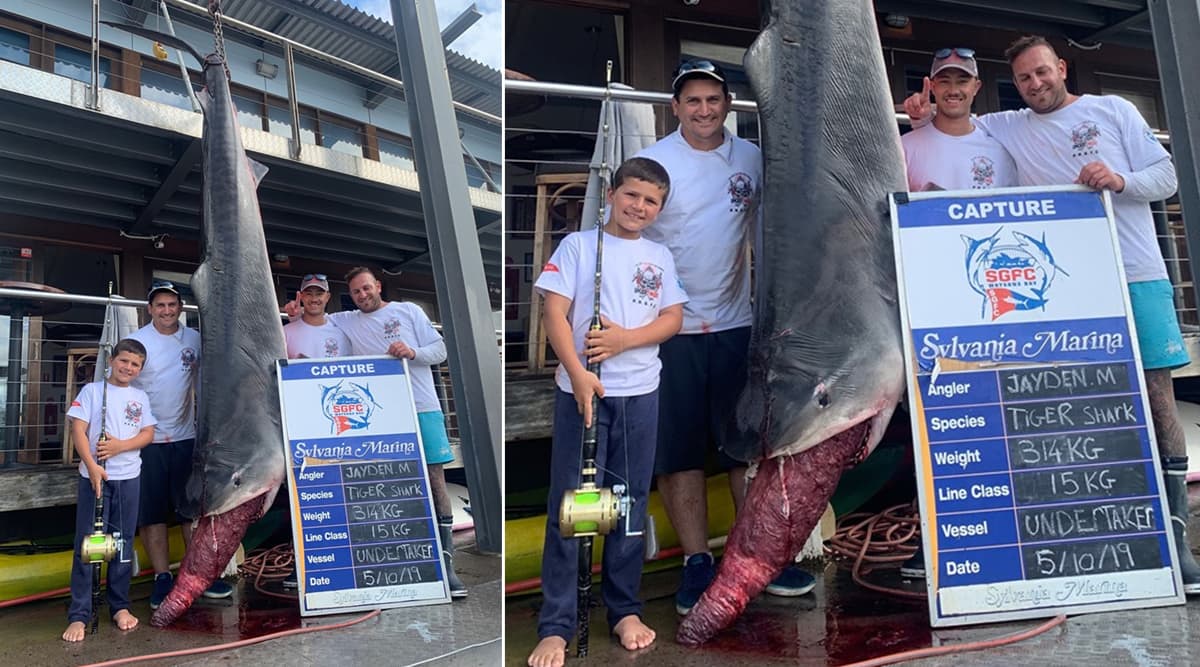 Jayden Millauro, eight-year-old fishing with his father caught a 314kg tiger shark off the coast of south Sydney last weekend. The giant sea animal followed them to the back of their boat. The mammal was following a line of bait that they had thrown into the water. Boat captain Ibby Dardas was also in the 7.3-metre boat called The Undertaker. As the fish followed them, Jayden managed to capture it. Photographer Captures Great White Shark off Mexico West Coast, Recreates Iconic 1975 Movie Jaws' Poster (See Picture)
The father-son said that the fish following them looked like Jaws in the iconic Spielberg film. While he caught the shark, Jayden said that he was nervous about seeing the giant fish approaching them. The Daily Telegraph quoted Jayden as saying, "I was thinking that I hope the crew can (get) the shark (on the boat) because I don't want to lose it. I was really excited when they got it." He added, "I was thinking that I hope the crew can (get) the shark (on the boat) because I don't want to lose it. I was really excited when they got it." They realised that they had probably created a world record after weighing the shark after reaching the shore. Florida Father Spots Shark Swimming Towards His Children on Drone Camera And Quickly Ushers His Family to Safety (See Pictures)
Pictures of Jayden And His Dad Posing With Tiger Shark:
Watch The Video Below:
Most eight-year-olds who go fishing are happy to catch a flathead, but young Jayden Millauro hooked something much bigger off the coast of Sydney... a massive Tiger Shark. @DaltsWorld #9News pic.twitter.com/LHX0c3MzvH

— Nine News Sydney (@9NewsSyd) October 13, 2019
They found out that the shark was two kgs heavier than the one caught by the previous record holder, Ian Hissey. In April 1997, Ian Hissey caught a 312kg tiger shark and held the International Game Fish Association's 'small fry' record for 22 years.  Jonathan Millauro said that they caught the shark near Brown Mountains, off the continental shelf. Meanwhile, Jayden, who has been fishing since the age of two, said that it was big moment for him.