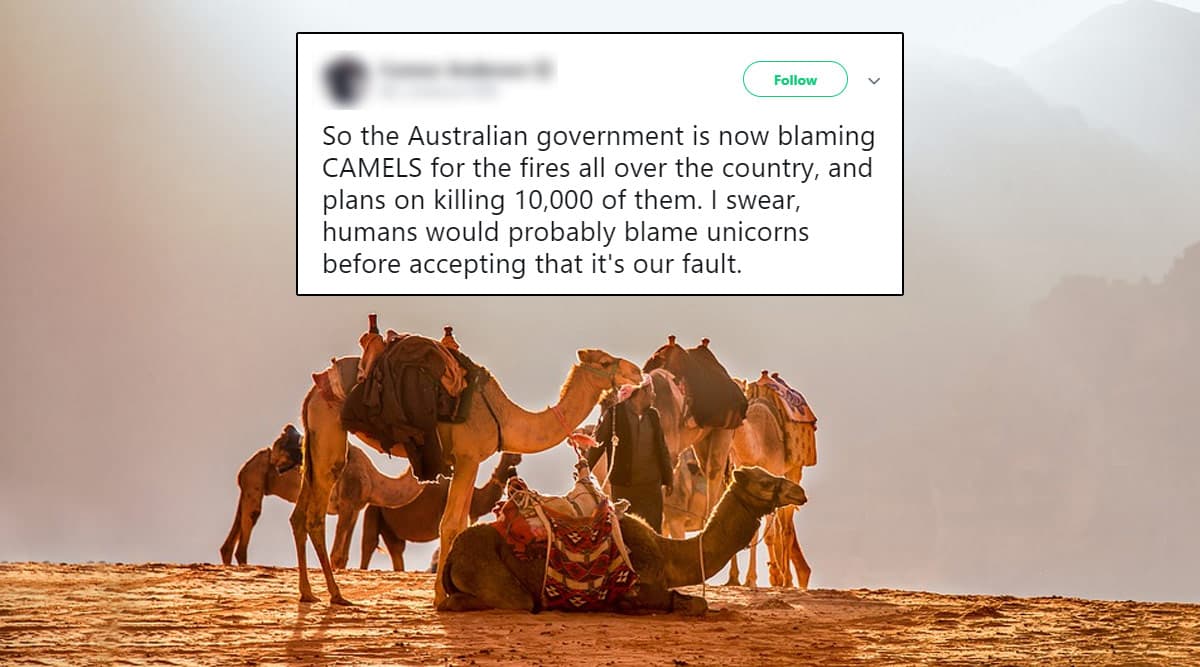 Australia is struggling to brave against the wild bushfires which have swiped out hectares of land. Among all the distressing reports of lost lives, damaged property and a loss of over a million animals, the authorities have made another decision to kill 10,000 camels. The reason given is, these animals are drinking a lot of water and causing trouble to the residents living in the drought-affected regions. The government has planned to begin a five-day campaign to kill almost 10,000  camels by shooting them from helicopters! The move has been slammed by many people on social media with even petitions being signed to save the camels. Australia Bushfire Donations: Here's How You Can Donate and Help Those Affected by Destructive Australian Wildfires.
The planned cull is supposed to executed starting Wednesday in South Australia. A severe drought condition in the region has forced the camels to search for water and vegetation. Aboriginal leaders in the Anangu Pitjantjatjara Yankunytjatjara (APY) have authorized these killings sighting these animals are a threat considering its also one of the worst bushfire seasons in Australian history. However, ecologists and people alike have slammed the move and are shocked at the audacity of such a decision. Australia Bushfire Crisis: PM Scott Morrison Announces 2 Billion Dollars for Relief Support.
Check Some Tweets Against Australia's Decision to Cull Camels:
Outrageous!
Australia has the largest wild Camel population in the World

Camels were introduced here in the 1800's to support explorers after they were used they were released into the wild

There is no excuse for this outrageous and unwarranted act of killing https://t.co/BVMMyuP52o

— Robb Edwards 🌱 (@RobRobbEdwards) January 7, 2020
Sense the Hypocrisy?
This is insane! Australia is crying rivers of tears over how many animals were killed in their fires, yet they are going to shoot Camels because they require a lot of water? Does anyone see the hypocrisy? https://t.co/a4QAsVQP2e

— Connercon (@connercon) January 8, 2020
When Will We Accept Our Fault
So the Australian government is now blaming CAMELS for the fires all over the country, and plans on killing 10,000 of them. I swear, humans would probably blame unicorns before accepting that it's our fault.

— Connor Anderson Ⓥ (@C_Anderson1998) January 7, 2020
Who is The Biggest Monster?
"More than 10,000 camels to be shot from helicopters because they drink too much water."

1 billion animals are already dead and now Aus Govt to shoot 10000 camels. An apocalyptic horror story. Some Homo Sapiens are the biggest monsters on this planet.https://t.co/5zl0tyEc0c

— Advaid (@Advaidism) January 8, 2020
Shame on Australia
Shame on #Australia for killing these beautiful camels for 'drinking too much water'! If anyone it's the humans that deserve to be culled #ShameOnAustralia https://t.co/OINZrpCYkn

— Madhura Mandal 🇮🇳 (@MandalMadhura) January 8, 2020
Somebody Stop This!
#SOS can somebody stop this: Wednesday more than 10,000 camels will be shot by Professional shooters from helicopters to prevent them from drinking too much water in drought-afflicted in Anangu Pitjantjatjara Yankunytjatjara (#APY)lands,South Australia, reports .@australian #SDGs pic.twitter.com/eNXd7GlH1s

— Parthiban Shanmugam (@hollywoodcurry) January 7, 2020
People even pointed out that camels were brought into the country in the 1800s for assistance in construction and development. Australia is thus a home to the camels over the years. Meanwhile, the estimate of total animal loss including amphibians, bats, and invertebrates, insects may reach over a billion in the Australian bushfires.