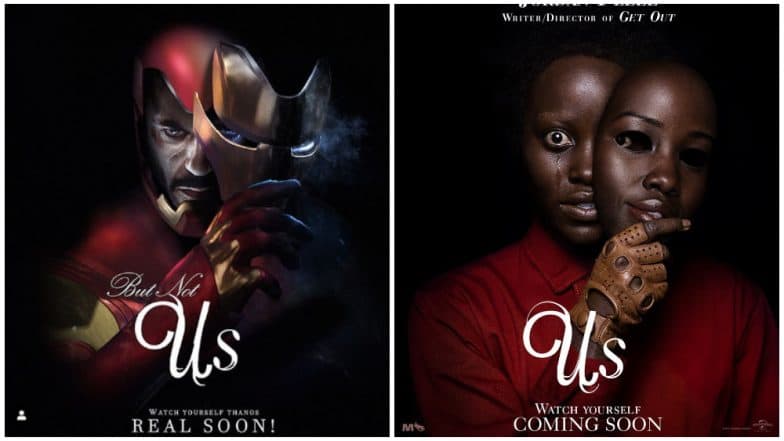 The only thing getting fans through 2018-19 is the upcoming movie, Avengers: Endgame. The first two promos, dropped recently on the internet, have only piqued the interest of the MCU fans. The dialogue from the latest promo, "Some people move on, but not us", has become an internet fad. But imagine if Avengers: Endgame was a horror movie, directed by Jordan Peele. Someone did imagine and left Robert Downey Jr impressed. A popular graphic designer on Instagram took to his page and shared a mashup picture of Iron Man and the upcoming horror movie, titled Us.
The fan art is getting all the love from the internet, especially after Robert shared it on his personal Instagram page, not forgetting to tag the artist. How cool is that? The dialogue popularised by the Super Bowl promo of Endgame is embellished on the poster, converging with the theme of Us.
Us is an upcoming horror movie, by Jordan Peele, the director of Get Out. The movie tackles with the idea of evil doppelgangers. A family of four is being chased by their doppelgangers, who want to kill them. The movie is set to release on March 29 in India, just sometime before Avengers: Endgame hits the theatres.
Avengers: Endgame will serve as the sequel of the superhero film, Avengers: Infinity War, at the end of which half of the universe was wiped out of existence by the main villain. The movie will follow the remaining superheroes on their quest to turn back the time.