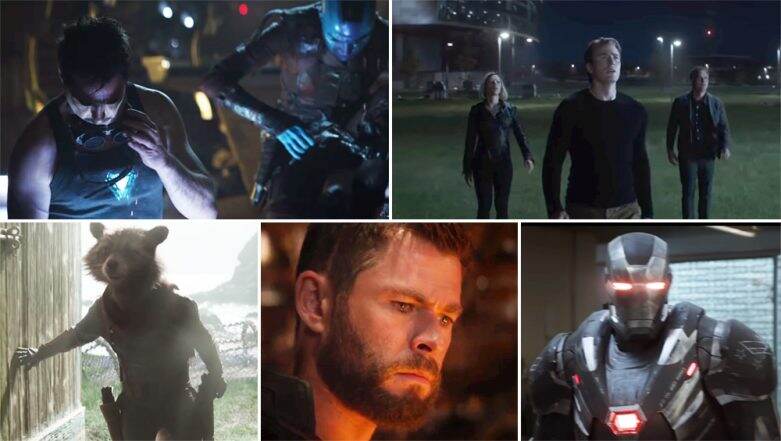 Marvel released the new Avengers: Endgame trailer at Super Bowl on Sunday and we simply can't keep calm. For all those whose hearts broke after watching Infinity War and the first trailer of Avengers: Endgame, there is major hope for them here. Releasing in April 2019, the last part of the Avengers series is one much-awaited film. This will also be one remarkable and memorable film as it marks Chris Evan's last appearance as Captain America. Avengers 4 Trailer Reveals Title to Be Avengers: Endgame – Watch Video
See the trailer below:
While the Avengers well and alive on earth are seen in therapy (Captain America), the ones stuck in outer space (Iron Man, Nebula) are seen working on an armour and Thor is getting ready to jump out of a damaged spaceship. We also see our favourite Black Widow in a gun range, doing what she does best, practicing shooting the bad guys.
We also spot characters like Ant Man, Rhodes, Raccoon Rocket, Bruce Banner and Hawk in the trailer, which then ends with a reluctant Captain America tighten the strap of his shield and the Avengers on Earth walking out like they are on a mission.
It is believed that a round 2 of the Avengers with Thanos will see the former use the space stone to go back in time and take a second shot at killing Thanos. Well, does that mean we will get to see some of those characters that perished in Infinity War? What are your expectations from Avengers: Endgame? Let us know your opinions in the comments section below.