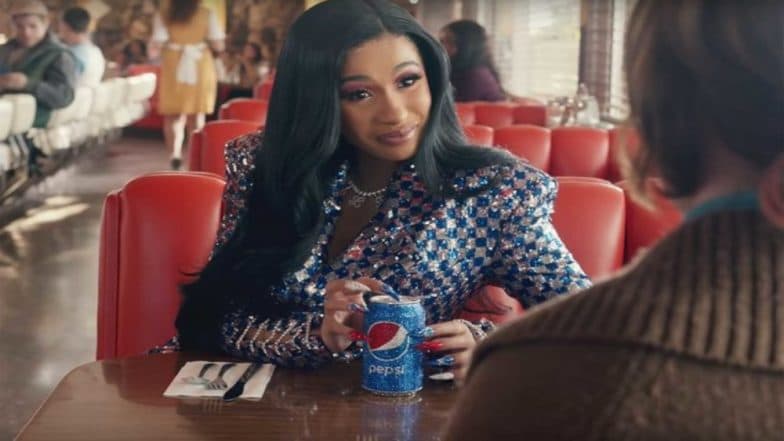 There were rumours doing the rounds last week that hip hop star Cardi B will be starring in Pepsi's Super Bowl ad. And this week, the reports are confirmed as the first teaser video of the ad is out. Pepsi has released two video teasers today one of which features Cardi and the other stars Steve Carell. There were few reports in the last week that she shot for a commercial and the ad would debut on February 3 during the 2019 Super Bowl. Cardi B Bedazzles in Abu Jani Sandeep Khosla's Design on the Cover of Entertainment Weekly's December 2018 Issue – See Pic.
Cardi B is seen wearing the colours of the brand and is sitting at a diner. It is just a 5-second clip which shows her tapping nails on the Pepsi can. It is a little vague teaser that ends with her signature word 'okurrr.' The Steve Carell ad also has him sitting in the same diner. It is a 26-second teaser in which he is reading some script and finds something totally hilarious. Cardi B Gives Us Major Hairstyle and Hair Colour Goals! (View Hot Pics).
Check Teaser of Cardi B's Pepsi Commercial for Super Bowl 2019
It is a really short teaser to wonder what's going on at this diner. But she sure is restless about something, or is the excitement for the games? One cannot ignore her matching appearance with Pepsi's brand identity colours. Shiny nails and shiny outsit, with nails tapping on the can, Cardi's going all out with the promotion.
Take a Look at Steve Carell's ad For Pepsi Super Bowl
Super Bowl LIII, the 53rd Super Bowl and the 49th National Football League (NFL) championship game, will be played on February 3, 2019, at Mercedes-Benz Stadium in Atlanta, Georgia. The buzz around the same has already started with these ad teasers being released every week.