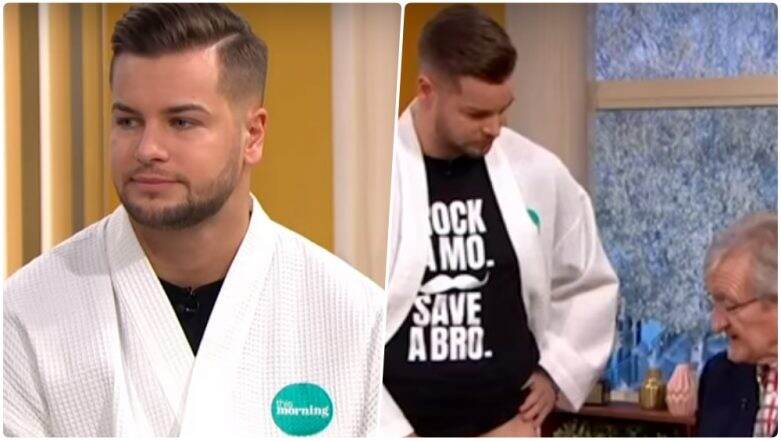 The former Love Island contestant, Chris Hughes has been making waves for a number of reasons. But his fans were not really ready to see something before the watershed, but Hughes had his testicles checked live on the British TV programme, This Morning. Yes, the TV personality appeared on the programme to raise awareness of testicular cancer and later participated in a live examination with the show's resident doctor Chris Steele. His bold move has significantly impressed his followers who took to Twitter to praise the Love Island hunk's bravery. What Is No-Shave November? Is It The Same as Movember? All Your Questions Answered. 
While participating in the quick check to raise testicular cancer and other related issues, the 25-year-old in the viral video was seen lowering his pants so that Dr Steele could show how an examination takes place. This act by the TV personality is one of the best things that we have come across as Movember is nearing its end. Chris dropped his shorts during the morning show and covered his penis with his hand while the 76-year-old doctor was showing how to self-examine. The 25-year-old also shared about his own shock health scare, when he found a problem with one of his testicles and how his cousin was diagnosed with testicular cancer. Movember Foundation Wants to Focus on Health of 50 Million Men This Year. 
Watch the video of Chris Hughes showing off his testicles to raise Testicular Cancer awareness. 
Chris explained to This Morning hosts, "I was around 14 and I noticed like a build up of veins and eventually got it looked at [six years later, aged 20] and they referred to hospitals and I ended up having three operations on my left testical, and that was more down to safety with infertility, because the veins take oxygen. My sperm count was quite low, I have had a hydrocele. I have had four operations on them."
Fans are all in praise for Chris Hughes!
This could save a life. Well done to both Chris's

— Pádraig McCann (@Padraig_McCann) November 28, 2018
Amazing . Well done this morning and the team.Chris so pleased and amazed you did this on live tv. Watched with my teenage sons after school it's good to highlight this. A simple check is all it takes.

— Kyla (@MichaelaCharle8) November 28, 2018
It's good to see that men are becoming more aware of checking themselves as I know someone who died because he waited to long to go see his GP as he was to embarrassed . Well done again to This Morning

— susan miller (@susanmi59642336) November 28, 2018
Chris further urged people to get checked and let "their issues sorted." Checking the testicles is something majority of men know they should do on a regular basis, but they don't. A recent report suggests that 68 per cent of men do not know how to properly self-examine their area, which Chris wanted to rectify by appearing on the programme. The former Love Island contestant urge all men to check themselves regularly, and there is nothing to be 'embarrassed' about. If you find anything unusual in your private part, it is always advisable to visit a doctor.