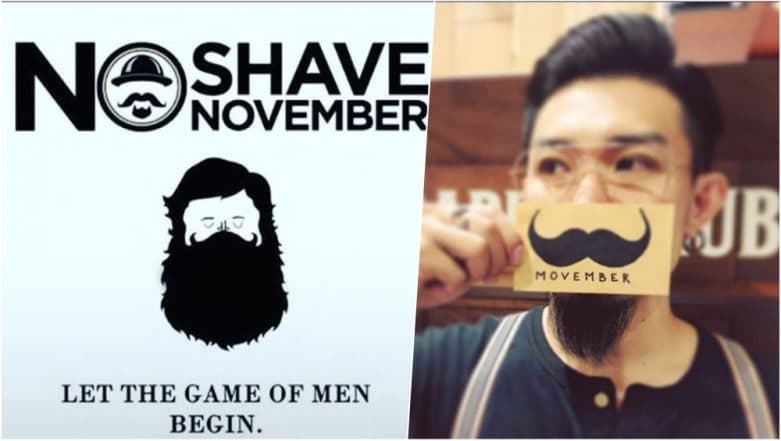 No Shave November is more than just donning a moustache or beard for a fashion statement. Many men are giving their razors off to raise awareness and funds for men's health. Movember is an annual event that encourages men to grow moustaches in November to raise awareness of men's health issues, particularly testicular and prostate cancer and suicide. According to US Centers for Disease Control and Prevention, men die on average five years earlier than women. No Shave November is asking men to donate the money they would have spent on shaving for the month. Understanding 5 Shocking Facts About Depression and Suicides in Men.
The term Movember is a portmanteau of November and 'mo', a slang term for moustache in Australian English. The Movember Foundation began in 2006 in Australia and is one of the top non-governmental funders of prostrate and testicular cancer research. The organisation has raised 387 million dollars across more than 20 countries worldwide as reported by CNN. Mark Hedstorm, Movember spokesman said his organisation expects up to 400,000 'Mo Bros' and 'Mo Sistas' to participate and hopes to raise 100 million dollars globally this year. Can Men Get Breast Cancer? Risks, Symptoms and Treatment -What Every Man Should Know.
Here's How You Can Participate in Movember Month
In early 2019, Movember plans to start a massive education campaign called 50 Million Men. As reported by CNN, the programme aims to reach 50 million gentlemen with crucial guidance about men's health. Hedstorm said that by 2030, Movember hopes its efforts will help cut prostate cancer by 50% and male suicides by 25%. The World Health Organisation estimates that 800,000 people take their own lives every year. And those committing suicide in the Western world, 75% are male.
If you are wondering how you can participate in the Movember month, just start a conversation with a friend in need. Go to Movember.com and commit to changing the face of men's health by growing a moustache to raise awareness and walking or running 60 miles for the 60 men we lose each hour to suicide.