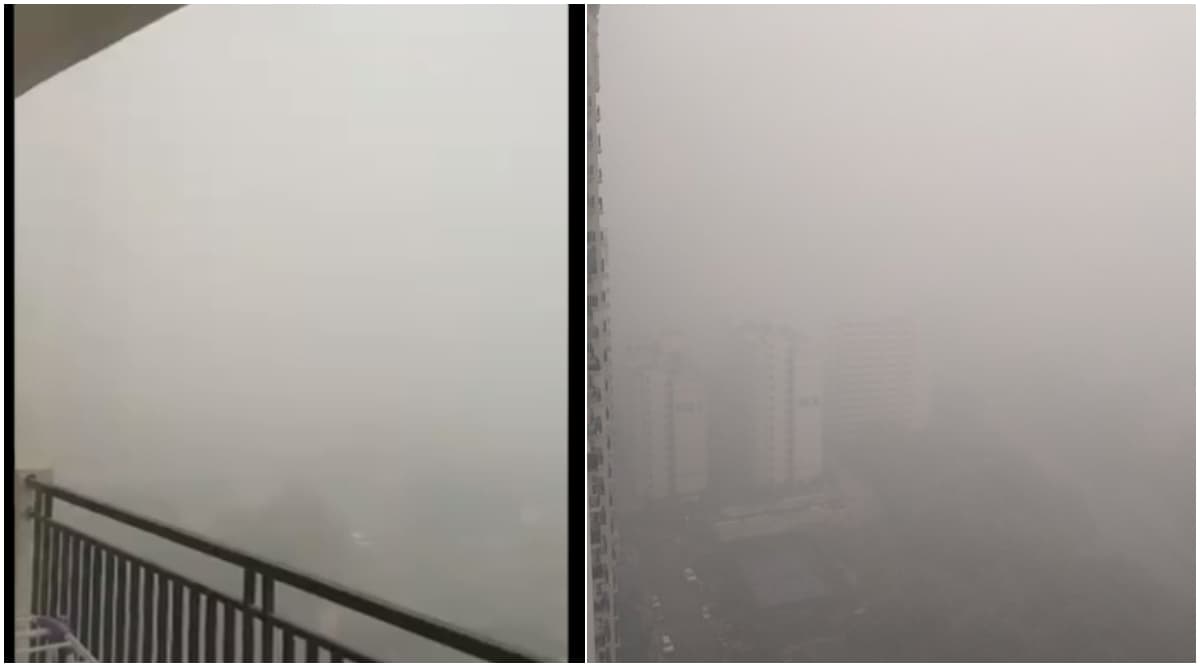 Delhi is reeling under severe air pollution and smog from the last few days. The situation does not seem to improve despite light rains in the national capital this morning. Residents have no choice but to stay indoors to be away from the hazardous air quality outside. Many of them have taken to social media to show the amount of smog that has accumulated and the low levels of visibility everywhere. Delhi Air Quality, Delhi Air Pollution have been trending topics on the internet this week. Many people are sharing pictures to show the depth of the situation right now. Shashi Tharoor Takes a Dig on Delhi Air Quality, Shares Picture Calling the National Capital 'Injurious to Health'.
The Environment Pollution (Prevention & Control) Authority has also declared a public health emergency in the city. The schools are ordered to remain shut till November 5. The Air Quality Index (AQI) in the Delhi-NCR region is recorded in the 'severe' range. Weather experts have said there could be a significant improvement in the wind speed and thus the pollution level might improve. Meanwhile, netizens have shared some pictures of the current situation of zeo visibility levels in Delhi. 'Delhi Air Quality' Continues to Trend on Twitter As Pollution Levels Rise to Emergency Mark in the National Capital, Check Viral Pics and Videos.
Check Pictures of Smog and Air Pollution in Delhi:
What Can You See?
ZERO visibility off the DND Flyway that connects Delhi and Noida right now. Total smog-out. #DelhiAirEmergency pic.twitter.com/uyETuaOFLL

— Shiv Aroor (@ShivAroor) November 3, 2019
Getting Worse Every Day
And its worse today#AirPollution pic.twitter.com/bwBJ7BPkt6

— Stuti (@StuteeMishra) November 3, 2019
The situation is worse than said. #DelhiPollution #DelhiAirEmergency #DelhiSmog #DelhiAirEmergency #DelhiChokes pic.twitter.com/jwmPVGvEMh

— Aishwarya AVSK (@AishwaryaAvsk) November 3, 2019
Not So Good Morning
Another day. Another smoggy morning... #AirQualityIndex #DelhiAirEmergency #AirPollution pic.twitter.com/DZ0no3aLTe

— Vineet Khare विनीत खरे وینیت کھرے (@vineetkhare) November 3, 2019
No Blue Skies
#DelhiAirEmergency #DelhiBachao #bringbackbluesky #pollutionkills

Delhi 2019!!

When u wake up on a Sunday morning

Where is our blue sky gone. The one which we were accustomed too.... pic.twitter.com/lSB0JKOinZ

— Sunil Grover (@Sunil57159855) November 3, 2019
Death Sentence?
Delhi-NCR this morning. Can't escape the burning smell even inside the home. No visibility. Buildings in the front have disappeared. This is collective death sentence. #DelhiAirEmergency pic.twitter.com/UzYXjRk8Dz

— Abhinav Prakash (@Abhina_Prakash) November 3, 2019
The videos and pictures are enough to show the worsening situation. Not just Delhi, a thick blanket of haze has engulfed Punjab and Haryana too. The major cause of this sudden pollution is the stubble burning fires in these states. The pollution levels are worsening in Bihar and Uttar Pradesh as well.