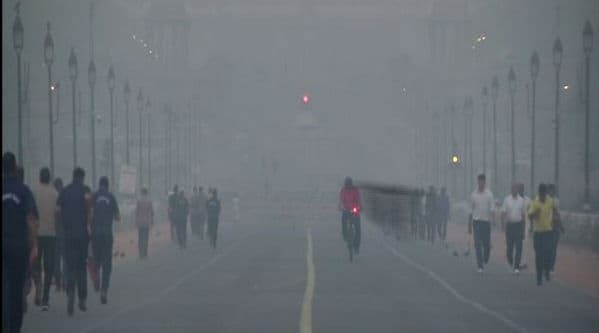 The air quality at the national capital is worsening with each passing day. The pollution level has risen to an emergency mark now because of which a Supreme Court-mandated panel has declared a public health emergency in the Delhi NCR region. In addition, any construction activity or firecracker burning have been banned till November 5, 2019. Citizens are worried as they continue to share images and videos on social media displaying the horrific condition of the metropolitan city. Twitter saw 'Delhi Air Quality' as its top trending hashtags today, November 1, 2019. Public Health Emergency Declared in Delhi NCR, Construction Banned Till November 5 as Air Pollution Rises. 
Environmental problems in Delhi are a threat to the well-being of the city's inhabitants. The Centre for Science and Environment (CSE) in an analysis post-Diwali, noted that the city's air "was much cleaner before Diwali compared to that in 2018." But how much is clean? It further stated that the air quality after the festival days could deteriorate to "severe category." And that prediction has a hit hard reality. In the past few days, Delhiites are waking up to a blanket of haze getting thicker, every day. Earlier today, the Air Quality Index (AQI) recorded at 412 in the national capital, which falls in the "very severe" category. 'Delhi Chokes' Trend on Twitter After Delhi Air Quality Becomes 'Severe'; Netizens Express Their Concerns Over Deteriorating Air Quality in National Capital. 
Here Are the Pics:
Best costume for Halloween ever ..!!#DelhiAirQuality pic.twitter.com/thd8RCOjXA

— Mrigshira Tripathi (@MrigshiraT) November 1, 2019
Gurgaon This Morning:
Gurgaon - this morning! #Pollution #DelhiPollution #DelhiAirQuality 😷 pic.twitter.com/XNM5JyLBUf

— Sarah Kadan (@kadansarah) November 1, 2019
Even Memes Are Hazed!
Posted from delhi#DelhiAirQuality pic.twitter.com/xn3hguzsvF

— Hitler (@fanof_zm) November 1, 2019
Time for Unison!
Lets Unite For Purifying Delhi

And Also At The Same Time Pray For Delhi And The Living Beings Out There 😞 Let Our Delhi Should Be Eco-Friendly Green n Healthier Environment 😊❤#DelhiAirQuality pic.twitter.com/beTKkAT1EC

— Sorted Indian (@SortedIndian) November 1, 2019
Another Shocking Image:
Feeling Sad And Tensed For Delhi@ArvindKejriwal Please Do Something#DelhiAirQuality pic.twitter.com/KoaaHFNvnt

— The Avinash Sharma (@TheAvinash321) November 1, 2019
Delhi is the sixth-most populated metropolis in the world and is categorised as one of the most heavily polluted cities in India. The latest images shared by NASA shows stubble burning in Punjab and Haryana, indicating an alarming situation. Overpopulation and the ensuing overuse of scarce resources put heavy pressure on the environment. The city also suffers from air pollution caused by road dust, industry and firecrackers.