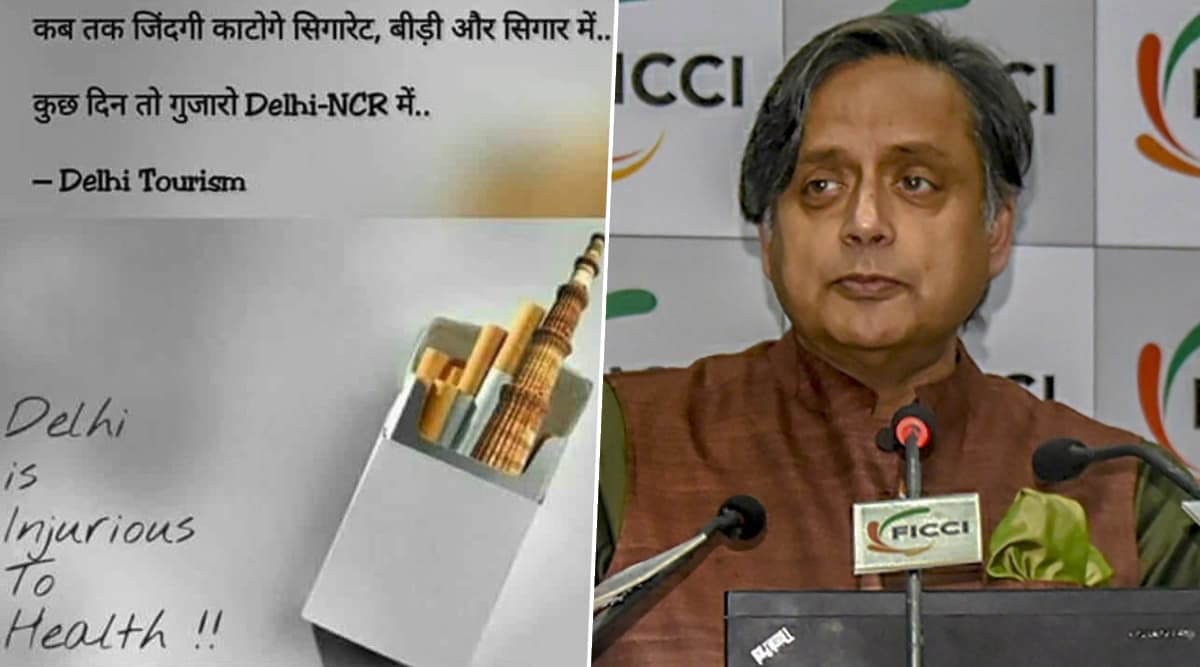 Indian National Congress leader Shashi Tharoor is quite active on Twitter. Other than teaching the internet new words every few days, he also partakes in the trends and issues that are being discussed online. As everyone is currently talking about the dangerous air pollution and degrading air quality in the national capital, Shashi Tharoor has posted an image which reads "Delhi is injurious to health." Placed in a cigarette box is the famous Qutub Minar and with few lines punning on Delhi Tourism. Shashi Tharoor Takes Part in #WaPoOnDeathNotices Trend, Calls Nathuram Godse an 'Eloquent Defender of Majority Rights' in Obituary.
The air quality update today also remains severe also. The rising pollution levels have prompted the Environment Pollution (Prevention & Control) Authority to declare a public health emergency in the city. The stubble burning in the neighbouring states of Haryana and Punjab have added to the rise in smog over the national capital. Schools have also been ordered to remain shut until November 5. As the problem becomes severe to tackle, Tharoor joined in with a sarcastic tweet, mentioning how Delhi Tourism will promote visitors to come here.
Check The Pic here:
— Shashi Tharoor (@ShashiTharoor) November 2, 2019
Very similar to the Gujarat Tourism ad, this image also mentions the tagline, "Kuch din gujaro Delhi NCR me.." With the iconic Qutub Minar placed in a pack of cigarettes, it tries to compare how death has come to Delhi in the form of degrading air quality. Although the picture has got more than 4,000 likes, a lot of people commented that he should be suggesting the measures instead of mocking the situation.
Exactly a month ago, when Tharoor shared something similar but for Swachch Bharat Divas, he was once again trolled by netizens.  He shared on his Twitter account of a lady mopping the surface of a brain and it said, "Some people seriously need this." Tharoor's understanding of the concept was not very liked by the netizens. The same has happened with his tweet on Delhi air quality.