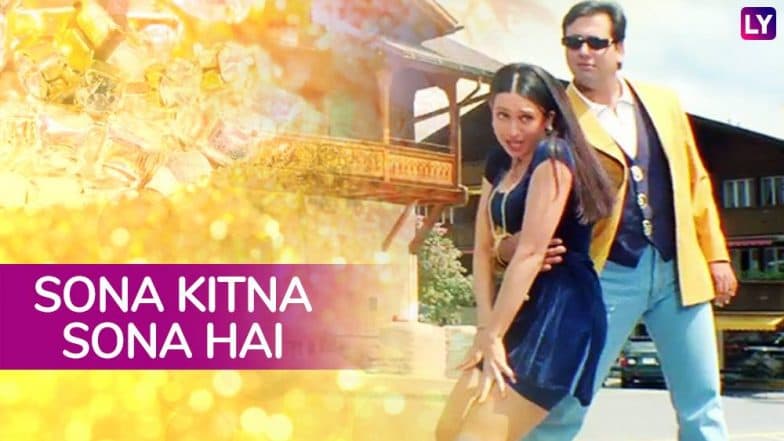 It's Dhanteras 2018 and it is that time of the year when you'll get your gold rush. Dhanteras is derived from words 'Dhan' meaning wealth in Sanskrit and 'teras' meaning 13th day. In the form of wealth, Hindu devotees believe that if you purchase gold and silver jewellery or utensils on this day it is equivalent of inviting Goddess Lakshmi at home. It will bring good luck and prosperity in the lives of the people. While people buy gold and silver, sending wishes to loved ones and wishing them wealth is also part of this festival. This year, we decided to do something fun. As we wish each other Happy Dhanteras, let's look at songs that have all the gold and silver in them. Dhanteras 2018 Funny Jokes, Memes & Diwali Images: No Money for Gold on Dhanteras? Celebrate Bonus-less Deepavali by Sharing These Hilarious Photos.
From 'Sona Kitna Sona Hai' to 'Chaandi Jaisa Rang Hai Tera', we have songs that can take us to next level of gold and silver. As we celebrate the festival of buying our sona and chaandi, why not add the extra flavour to the festivities with these songs! Dhanteras 2018: Gold Rates Increase Today on High Demand Ahead of Diwali and Wedding Season.
Sona Kitna Sona Hai
This Raja Babu song starring Karishma Kapoor and Govinda is definitely on top of charts when it comes to talking about songs on gold. Its first sentence itself has the word sona (gold) thrice in it. And this feet tapping number of the 90s stays as young as ever, even today.
Chaandi Jaisa Rang Ha Tera
The melody sung by Pankaj Udhas is what jewels are made of, literally! The lyrics with the words chaandi, sona, dhanwaan makes it a perfect Dhanteras song! Dhanteras 2018 Wishes & Greetings: WhatsApp Messages, GIF Images, SMS, Facebook Status & Cover Photos To Wish Happy Dhantrayodashi.
Chandi Ki Daal Par Sone Ka Mor
How can we leave out this Salman Khan starrer Hello Brother song when we are talking about sona chandi?
Ishq Sona Hai
Sona Sona baba Sona Sona baba Sona Sona Sona! That's lots of gold in one sentence, isn't it? The song from Biwi No.1, starring Sushmita Sen and Salman Khan is a peppy feet tapping number besides being one full of the gold and silvers!
We hope you liked our light take on the festival of Dhanteras. After all, festivals are about having some fun too! Happy Dhateras!