Dhantrayodashi or Dhanteras marks the first day of the five-day festival of Diwali. Dhanteras is being celebrated across the country today i.e. on November 5. People buy gold and silver jewellery and utensils on this auspicious day. On this day people celebrate the festival by greeting near and dear ones Happy Dhanteras. Those who cannot meet each other, send across wishes or greetings as WhatsApp messages, SMS, GIF images or on Facebook and other social media platforms. To celebrate the occasion, we bring to you a collection of Happy Dhanteras messages to share with your friends and family members. Wish them good luck, happiness and prosperity with these beautiful greetings. Dhanteras 2018 Muhurat to Purchase Gold: Auspicious Schedule & Best Time to Buy Jewellery, Silver Coins & Utensils on Diwali.
Dhanteras is derived from two words – 'Dhan' meaning wealth and 'teras' meaning the 13th day. Hence, Dhanteras is celebrated on the 13th lunar day of the Krishna Paksha in the month of Ashwin. On this day, people worship and perform puja of Goddess Lakshmi and God Kuber, known as the Gods of wealth. Dhanteras is believed to be an auspicious day to buy gold and silver jewellery or utensils. It signified welcoming Goddess Lakshmi to their humble abode. It is also said that Goddess Laxmi visits the devotees and bestow her blessings on people who choose to invest in gold on this propitious day of Dhanteras. Dhanteras 2018 Date, Muhurat & Significance: Puja Vidhi, Auspicious Timings & Importance of Buying Gold and Utensils on Dhantrayodashi.
Like on all Hindu festivals, puja is performed on an auspicious timing or shubh muhurat, likewise gold or any other jewellery is also bought on a specific time. On the day of Dhanteras, people not only buy gold, but many also invest in other household items like refrigerator, TVs, air-conditioner and other electronic gadgets. Several days before the festival of Diwali, there are massive sales held across retail stores and online platforms like Amazon, Flipkart, Myntra and E-Bay. This Dhanteras 2018 wish your family members by sharing these heartfelt Dhanteras quotes and greetings in person or by messaging them on Facebook, WhatsApp or SMS. You can also make the occasion special by sending GIF Images to them. Find below images of Happy Dhanteras wishes and greetings to share with your close people. Dhanteras Images & HD Wallpapers for Free Download Online: Wish Diwali 2018 With Beautiful GIF Greetings & Messages.
Happy Dhanteras 2018 Wishes, Messages & Quotes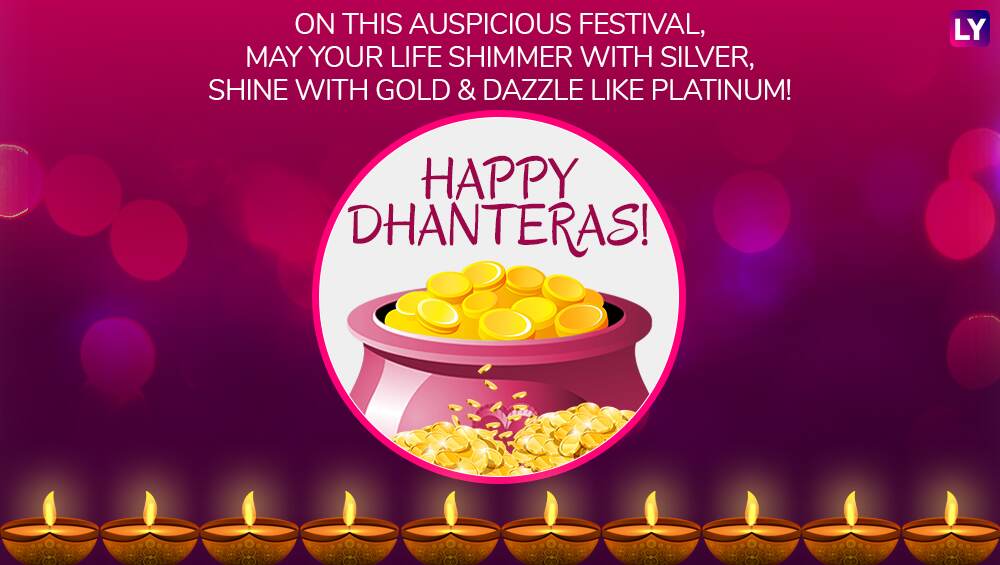 WhatsApp Message Reads: On This Auspicious Festival, May Your Life Shimmer with Silver, Shine with Gold & Dazzle like Platinum! Happy Dhanteras!
Happy Dhanteras!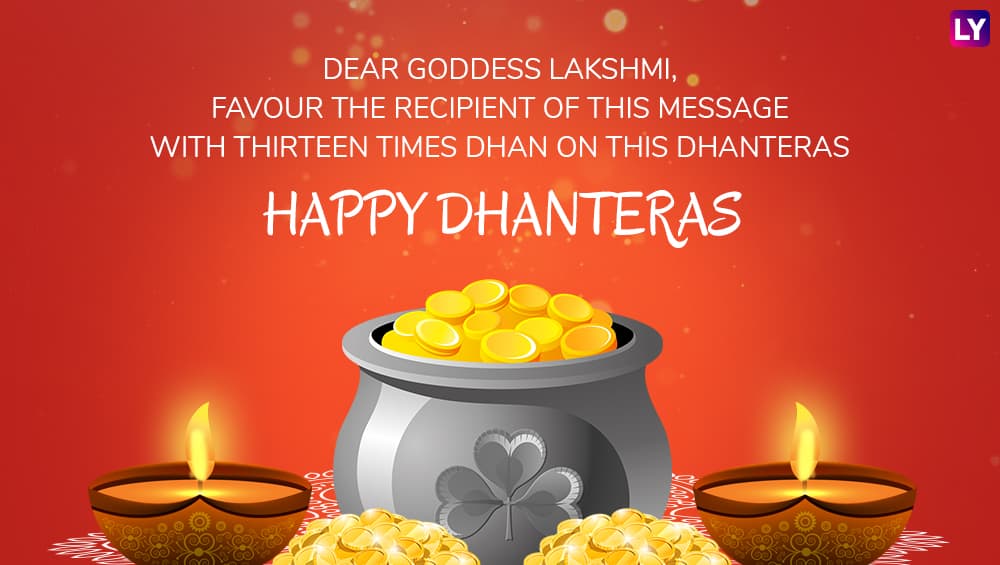 WhatsApp Message Reads: Dear Goddess Lakshmi, Favour the Recipient of This Message With Thirteen Times Dhan on This Dhanteras. Happy Dhanteras!
Happy & Prosperous Dhanteras!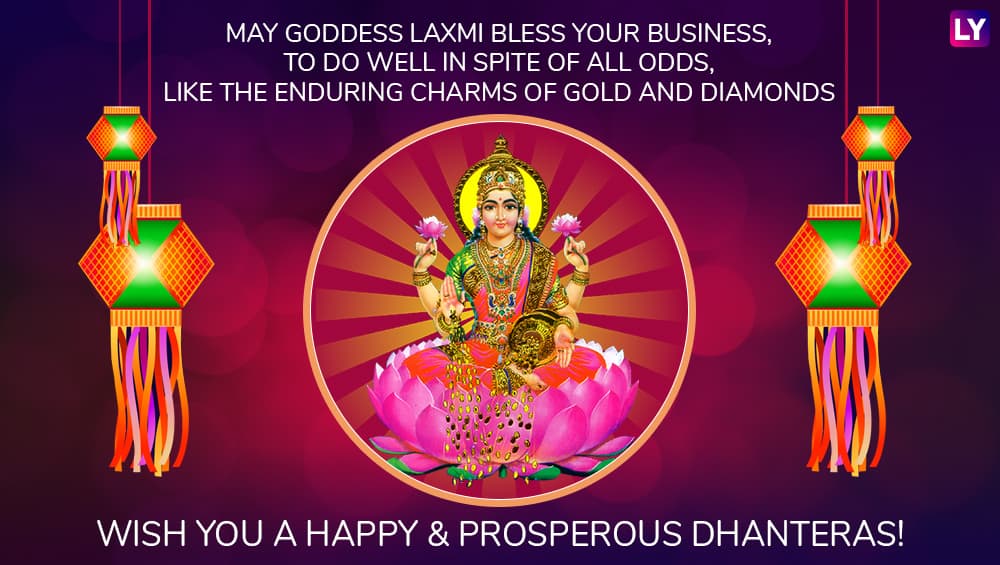 WhatsApp Message Reads: May Goddess Laxmi Bless Your Business, To Do Well In Spite of All Odds, Like The Enduring Charms of Gold And Diamonds. Wish You a Happy & Prosperous Dhanteras!
Shubh Dhanteras!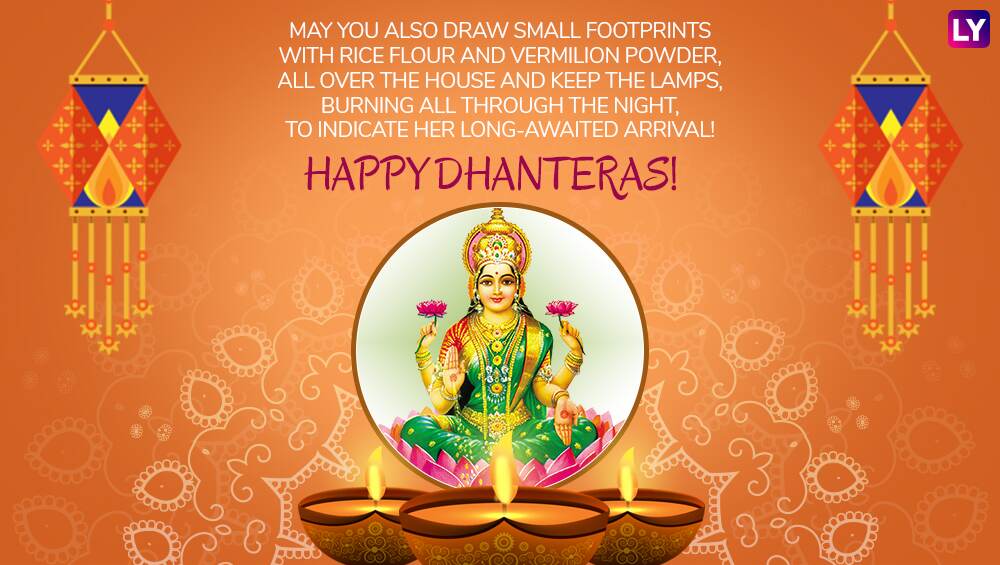 WhatsApp Message Reads: May You Also Draw Small Footprints With Rice Flour And Vermilion Powder, All Over the House and Keep the Lamps, Burning All Through the Night, To Indicate Her Long-Awaited Arrival! Happy Dhanteras!
Wishing You & Your Family a Happy Dhanteras!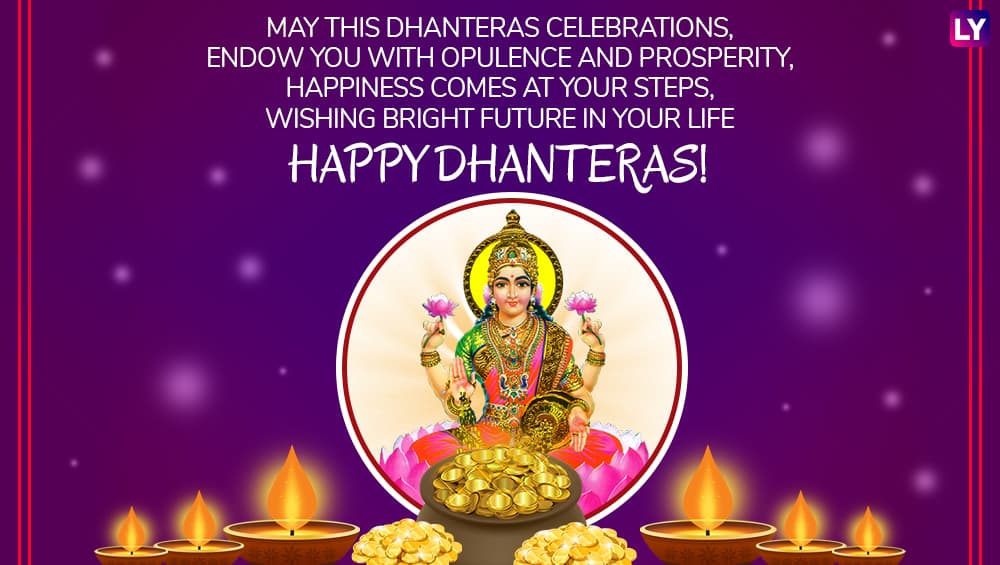 WhatsApp Message Reads: May this Dhanteras Celebrations, Endow you with Opulence and Prosperity, Happiness Comes at Your Steps, Wishing Bright Future in Your Life. Happy Dhanteras!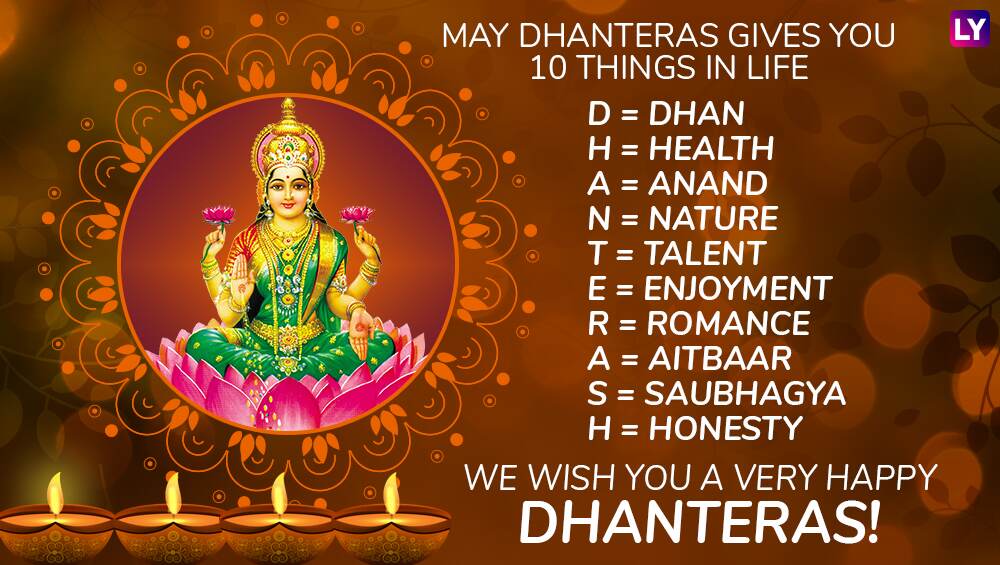 WhatsApp Message Reads: May Dhanteras Gives You 10 Things in Life
D = Dhan
H = Health
A = Anand
N = Nature
T = Talent
E = Enjoyment
R = Romance
A = Aitbaar
S = Saubhagya
H = Honesty
We Wish You A Very Happy Dhanteras!
GIF Images
Dhanteras is celebrated as it is believed that Goddess Lakshmi came out of the ocean during the churning of the Milky Sea. Dhanteras is also known as Dhanwantari Tiodasi or Dhanvantri Jayanti. Dhanteras is followed by Choti Diwali on November 6 and Badi Diwali or Lakshmi puja will be celebrated on November 7. Create beautiful rangolis and light up your house with diyas and lanterns on this auspicious occasion of Dhanteras and Deepavali. We at Latestly, wish you and your family, a very Happy Dhanteras and Diwali 2018!