Fact Check by PIB: 
एक सोशल मीडिया पोस्ट में दावा किया जा रहा है कि 1 अप्रैल से डाकघर द्वारा खाताधारकों से हर नकद निकासी पर ₹25 वसूले जाएंगे।#PIBFactCheck: यह दावा #फर्जी है। @IndiaPostOffice ने खाताधारकों द्वारा पैसे निकालने पर शुल्क लगाने की कोई घोषणा नहीं की है। pic.twitter.com/0MGJl7WjzX

— PIB Fact Check (@PIBFactCheck) March 10, 2021
Government and its various agencies have time and again cautioned people for false and misleading information. It has also warned people against such fake news. People are advised to verify such information with the relevant government authorities. They should only rely on official government sources and notifications for any such information.
Fact check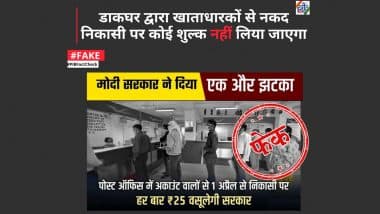 Claim :
A social media post claiming that the account holder will be charged Rs 25 for every cash withdrawal beginning from April 1 by the Post Office is going viral on the digital platforms.
Conclusion :
A fact check by PIB has found out that the claim is fake and the Post Office has not levied any such charge on the cash withdrawals.
(The above story first appeared on LatestLY on Mar 10, 2021 09:29 PM IST. For more news and updates on politics, world, sports, entertainment and lifestyle, log on to our website latestly.com).