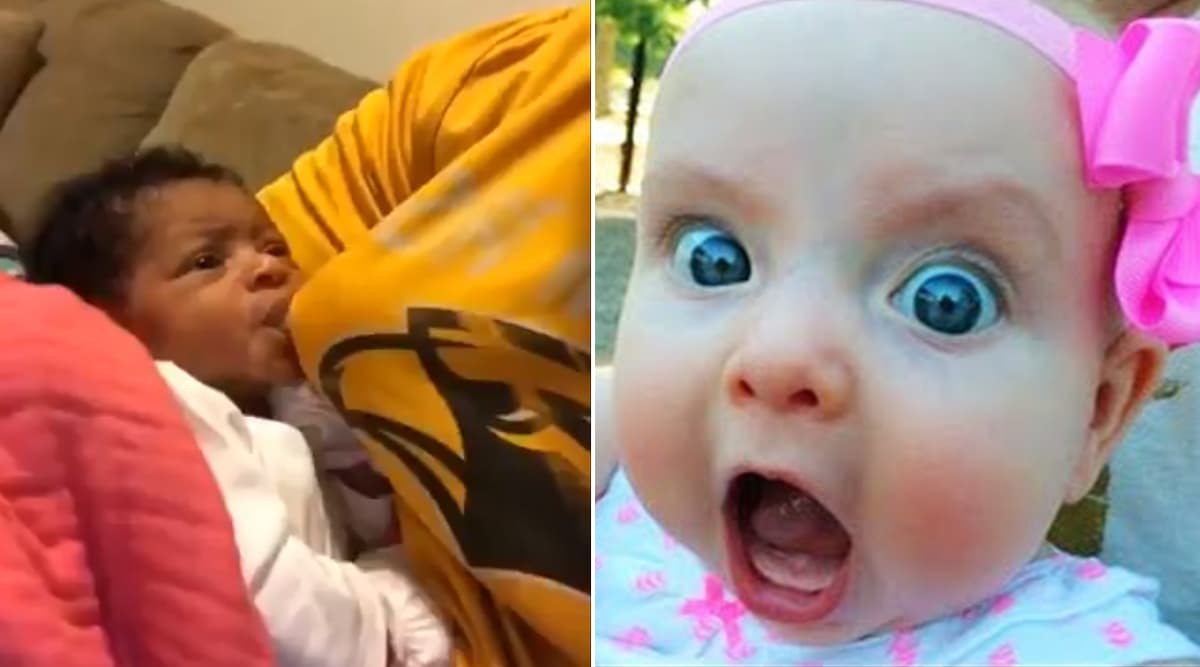 If you are under any impression that gives you the tiniest possibility of being done for the day, hold that thought! And watch this video that has gone insanely viral for providing the best hack to all the fathers out there. The eight-second clip features a man breastfeeding his baby daughter in the absence of her mother. Yes, you read that absolutely right! As hilarious it might appear at first, you cannot ignore the sweetness that the camera has captured. You must be wondering how he could do that. But it's simple! He slid the milk bottle under his tee that allowed the baby girl to suck her food. This latest hack video has cracked up the internet hard. Heartwarming Photo of a Father Feeding His Baby Daughter Goes Viral, Kickstarts Discussion on Equal Role of Parents in Raising Children. 
The story behind the viral video is equally sweet as it appears. The little one's mother was not around, and she was hungry. And it was difficult for her father to console her as she was not willing to drink milk from the bottle. "Her mama gone and she wouldn't take the bottle, so I had to trick her. This is so funny, I'm crying," reads the caption. As you can see, the trick did work well on the little girl, who is quietly drinking her milk. Baby Girl Steals Friend's Jacket, Viral Video of Adorable Banter Between Father and Daughter Delights the Internet. 
Watch the Viral Video:
He said

"Her mama gone and she wouldn't take the bottle, so I had to trick her" 😂😂😂

This is so funny, i'm crying 😂.

DAD of the YEAR ❤ pic.twitter.com/HVK7f8LbV6

— StanceGrounded (@_SJPeace_) November 17, 2019
The video was quick to go viral. Netizens seem to not have enough of such rare view, amidst the hustle of everyday life. People lauded his trick and hailed him the "best dad of the year." The clip has been viewed more than 4 million times, and the number is only going to increase. And the comment section is filled with Tweeple cracking up jokes and even praising the father.
Check Reactions:
Aw! Adorable! What a great dad!!

— Ginna (@vw_ginna) November 17, 2019
Laughing Out Loud!
"man, mama lookin a little different today but this milk too good to care" pic.twitter.com/iiMRWyNvJe

— Pudding cups (@dridriTheDon) November 18, 2019
Did You Notice That Skeptical Look?
This is so adorbs!😍 But fam, don't be fooled. Baby girl ain't really fall for it...look at her face. She's thinking, "Why this taste like fabric softener, tho'?!"😂😂😂 If ever a face showed skepticism, this is it!😀😀😀 pic.twitter.com/zrKkIxweqE

— Twin & her Hubs! (@CLE_SHONUFF) November 17, 2019
Smart Kiddo!
She's looking at him like, "this is weird, but I'll take it."😂

— Mbjohn (@mbjohn411) November 17, 2019
Isn't it adorable? This is the kind of support that every woman around the world needs. Bracing the stressful hours, it is fun to come across such adorable videos online. And everyone will love to return to home to witness beautiful father-daughter bond. Much like this one. Fathers must take note, here!