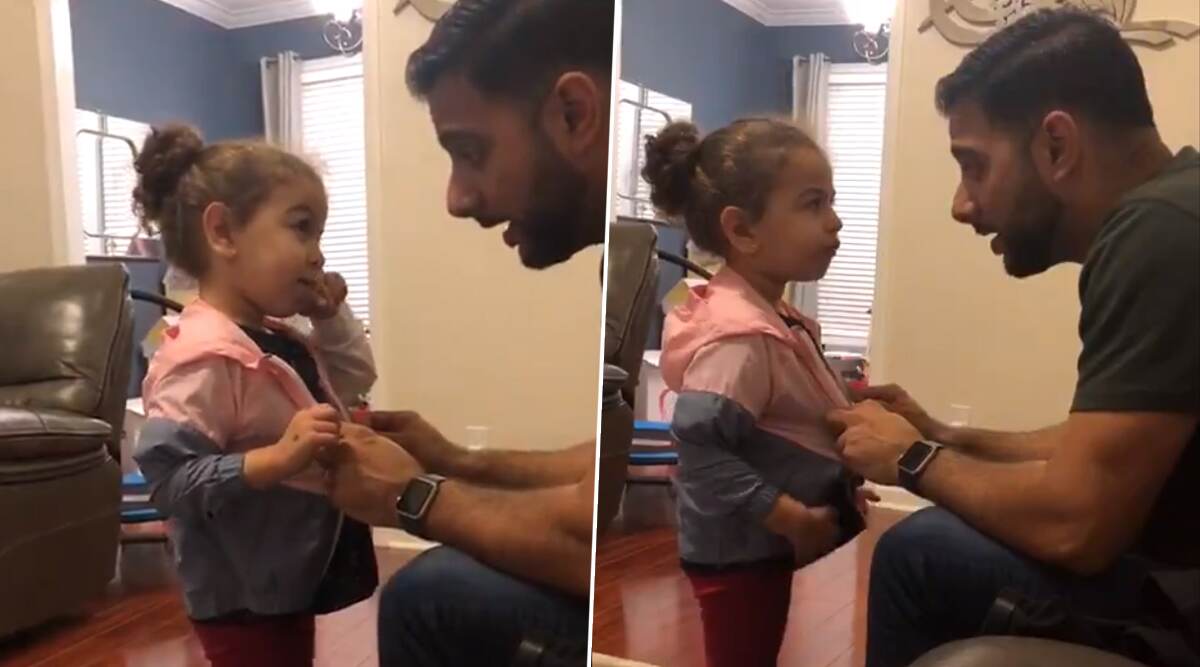 The internet is rife with videos of cute babies and their endearing antics. Such moments often tend to go viral, making our days so much better. The recent one to go viral is that of two-year-old Mila's. The tiny tot came back from school, wearing a pink and grey jacket, which did not belong to her. An adorable banter broke out between the father and daughter, which was recorded. Needless to say, it has delighted the internet. The clip has garnered more than 12 million views since it was uploaded. Baby Talking in Gibberish Complaining About His Mom Leaving For Work Without Giving Him Goodbye Kiss is Hilarious; Video Goes Viral. 
After Mila returned from her school, her father interrogates her playfully when he saw his daughter wearing a jacket that was not hers. But Mila is a smart one. She had all the answers to her father's questions ready. When the father asked her how much she paid for the jacket, she instantly responds, "From the jacket store for five moneys." When quizzed about the jacket's brand, she says, "Nike." The father was impressed by her prompt responses. But since the jacket does not belong to Mila, her dad explains why she shouldn't have taken it.  These Videos of Babies Not Recognising Their Dads After Shaving Beard are Adorably Cute. 
Watch the Viral Video:
so mila came home from school today with a random jacket pic.twitter.com/bAnBo3NOUf

— آيه (@samaraa0) October 31, 2019
Internet is in Love With Their Banter:
Well she paid 5 monies for it! It belongs to her now! Let her be great lol

— shea (@loveincocoshea) November 1, 2019
She Surely is the Cutest:
WHATS HER SIGN?! SHE IS THE CUTEST😭 Even with how calm she is 😭❤️

— 𝗷𝗲𝘂𝗿𝘆 (@linealhealer) October 31, 2019
Five Monies:
@Ireland0828 @docrocktex26 @rick00979 @LesaPamplin @Hopey_70 @granny_st AWWWH, 5 Monies 🤣🤣🤣 pic.twitter.com/e9G8urRfw6

— who?, what? (@pannlewis44) November 2, 2019
It is Mila's aunt who uploaded the video on Twitter. Although, the clip is a few days old now, it has been going viral. Twitter users are impressed with her daddy who set primary parenting goals by handling the situation in a calm manner. In the follow-up tweet, Mila's aunt revealed that the jacket belonged to one of Mila's classmates, and it was returned to her the next day. We cannot stop gushing over the good little girl, obliging her father.