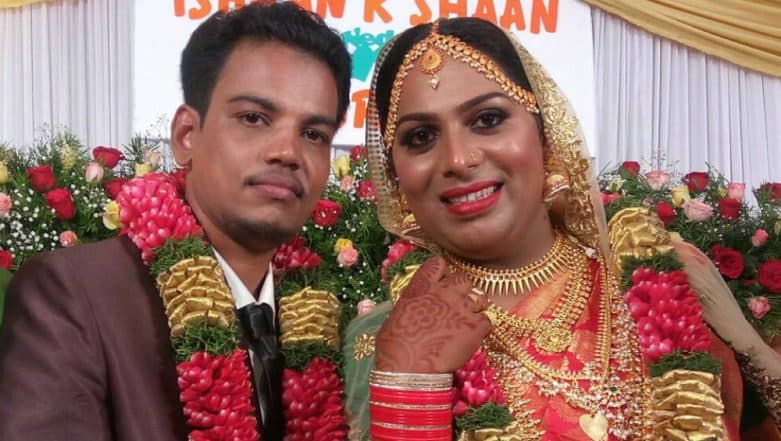 When it comes to gender and sexuality India is a mass of contradictions. While inter-caste and inter-religion relationships often lead to death; same sex or trans marriages are unimaginable. First of all, it takes a lot of courage to accept one's own identity and to protect oneself, the situations could be daunting. Trans Indians face a lot of harassment and hardship. And that is why, it is a treat and a victorious moment for the Lesbian, Gay, Bisexual, Transgender, Questioning (LGBTQ) community as the first Hindu-Muslim legal trans couple in Kerala got married on May 10, 2018. Ishan got married to Surya in Thiruvananthapuram.
Ishan aged 33, who underwent female to male surgery married Surya, 31 years who identifies herself as a woman trapped inside a man's body. The wedding ceremony was attended by the couple's friends and family as they come forward breaking the norm. Ishan and Surya got married under the Special Marriage Act at Mannam Memorial Hall, Thiruvananthapuram. Reportedly, the nuptial ceremony was also attended by the LGBTQ right activists, social worker DR. T.N. Seema, popular transgender actress Sheetal Shyam, dubbing actress Bhagyalakshmi.
Earlier to last month, the couple opted for a register marriage. Members of the Transgender Justice Board, Ishan and Surya, nurtured their years-long friendship into love and now marriage. Twitter is flooded with the pictures of the newly-wed couple.
They look so happy!
Ishaan and Surya, trans couple from Kerala, officially tie the knot after their gender affirmation surgery. Say, theirs is the first such wedding in the state! Marriage has been registered, and supported by their respective families. @ndtv pic.twitter.com/SzFWhJYQPo

— Sneha Koshy (@SnehaMKoshy) May 10, 2018
As the supporters pose for a group photograph...
— Jisha Surya (@jishasuryaTOI) May 10, 2018
Love is in the air!
Kerala's first legal trans-couple wedding: Transgender couple Ishan K Shan and Surya got married in Thiruvananthapuram on Thursday. Photo: S. Mahinsha

Kerala as a society is making headway for gender equality and LGBTIQ rights#KeralaLeads pic.twitter.com/WCCppLW1py

— A Lenin (@AiyoSaar) May 10, 2018
Beautiful couple ever...
Breaking the norm! Transgender-couple in Kerala gets legally married – Big win for LGBT community in India https://t.co/y83cNnaDFX via @gayindia pic.twitter.com/4LVen78pue

— GayDelhi (@gaydelhi) May 10, 2018
This month so far has hosted some beautiful and glorious marriages. And the wedding of Ishan and Surya in Kerala has proved to be a major step taken for the Indian LGBTQ community. The nuptial was just like any other regular event but with a different zealous of energy and joy in the air. We wish the couple to have a great and happy married life!