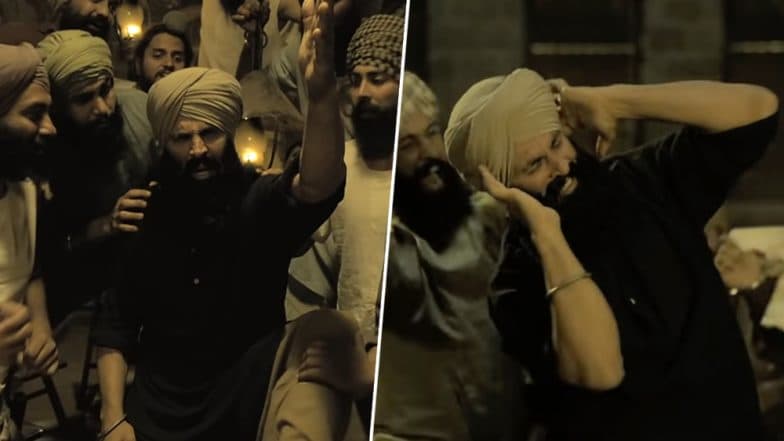 The song of the year is here! Akshay Kumar is back in his comfort zone, making his fans go gaga over his energetic and comic self. Although his next film Kesari is based on the 1897 Battle of Saragarhi, the song "Sanu Kehndi" is like a breath of fresh air. Giving us a bit of "hawan karenge" vibes, the peppy track is the camaraderie between the Sikhs who are having their own light moments. However, giving to the stressful situation between India and Pakistan, the netizens are slamming the makers of this Anurag Singh directorial for releasing the track amid this. Akshay Kumar Reveals the Most Challenging Part of His Role in Kesari.
The Twitterverse is clearly not in the mindset right now to to enjoy a song or dance on it. The fans asked the makers whether they could not wait for the situation to be in the control and then promote their film? Calling it 'wrong timing', the fans are not ready to buy the song as of now, although some of them have appreciated it. Check out the tweets here.
Timing Matters
Not the right time to release this!

— SAURABH BANERJEE (@sauravbanerji) February 27, 2019
Released Amid the Tension
Big fan of yours sir bit I really don't think this was the right time for such tweet with all the tensions going on in between India and Pakistan 🙏

— Kapil Garg 🇮🇳 (@kgarg_10) February 27, 2019
Sarcastic enough...
Your whole nation is crying and you are sharing songs wow it's amazing.

😂😂😂

— Nokhaiz Javaid (@nokhaizjaved834) February 27, 2019
Promote Later!
Inka apna raag chalu hai. Abbe the country is in a grim situation. Promotion baad mein kar liyo

— Mumbai कर (@DigitusMedialis) February 27, 2019
It's All About the Business, Is It?
Business as usual. Tweet something against these escalating Tensions too. People listen to Bollywood. Bollywood should come together on this!

— Shweta sahay (@sahayshw) February 27, 2019
Humble Request
Requesting you to stop all promotions with immediate effect. Country is in a grim situation.

— Rudra Pradhan (@direwolfey) February 27, 2019
Restraint Expected
Some restraint from you in such a critical period would have been nice..

— Gaurav Anand (@ganand1612) February 27, 2019
ICYMI, Watch Sanu Kehndi Song Here:
Composed by Tanishq Bagchi and written by Kumar, the song shows us Akki as Havaldar Ishar Singh, cheering up his friend along with others. However, definitely the agitated fans are in no mood to tune into the song. Do you think the makers should have been a bit conscious about releasing the track at this moment? Tell us your take in the comments section below.